Lens on Nandaram Market fire-safety system
After the 2008 fire at the 13-storey Nandaram Market, a few measures had been taken but they were inadequate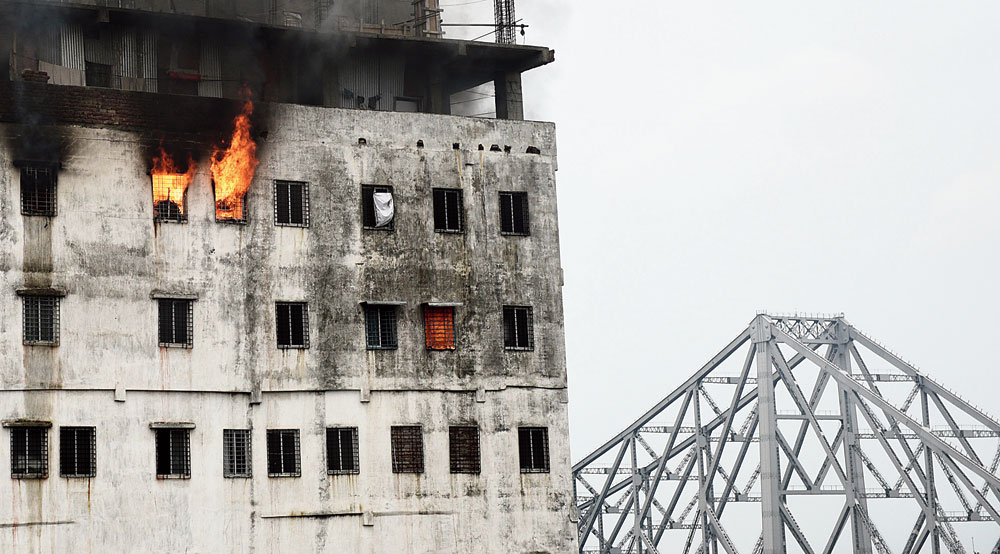 Flames leap out of adjacent windows of the ninth-floor godown of Nandaram Market on July 13
(Telegraph picture)
---
Calcutta
|
Published 24.07.19, 08:54 PM
|
---
Director general, fire services, Jag Mohan will lead a team of fire brigade officers to Nandaram Market on Sunday to identify the shortcomings in the building's fire-fighting system before drawing up a report.
While making the announcement on Wednesday, fire services minister Sujit Basu said that a few measures had been taken after the 2008 fire at the 13-storey Nandaram Market, but they were inadequate.
During the latest incident of fire on July 13, firefighters had noticed that sprinklers at the building in Burrabazar didn't work. The provision for water was inadequate.
After the report is prepared, the government will set a deadline within which all measures have to be put in place. "The team will check whether provision of water could be increased by installing two tanks of 5,000-litres each on the market's terrace," Basu said.
"There are other areas that the team will oversee, including the condition of the electrical wirings," he said.
On July 13, a fire broke out at a readymade garments godown on the ninth floor of the market bringing back memories of a 100-hour inferno in 2008 at one of Calcutta's biggest trading hubs. Eight fire tenders had battled for almost four hours to douse the fire, which appeared to have been sparked off by a short-circuit.
Firefighters struggled to fetch water after the reservoir on the terrace ran out of stock. Several traders had alleged that the sprinklers didn't work. "After the visit of the team, we will draw up a separate guideline for the market operators on what measures they would have to take and the changes required to be done," Basu said.
He had convened a meeting with representatives of several markets on Wednesday. Some of the traders from Nandaram Market were also present.
A fire department official said on July 13 that they had brought in a sky-lift that could reach 55 metres but it couldn't be used owing to lack of parking space.
"We would request all market committees to ensure there is no plastic or tarpaulin in the way of firefighters," Basu said. "We are also in talks with the Calcutta Municipal Corporation to find a way out of this problem."