Left rally, individual voices for Teesta
Rally was led by CPM state-secretary Mohammad Salim, Front chairman Biman Bose and leaders of other allies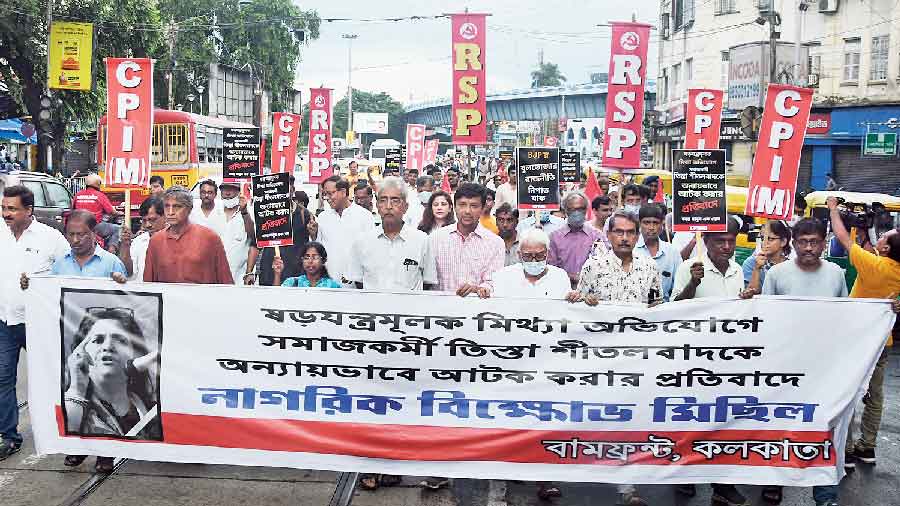 The Left Front rally in Calcutta on Sunday protesting against the Saturday arrests of human rights activist Teesta Setalvad and former Gujarat IPS officer RB Sreekumar
The Telegraph Picture
---
Calcutta
|
Published 27.06.22, 02:56 AM
|
---
The city on Sunday saw many voices — political and apolitical — to back jailed activist Teesta Setalvad and to demand her release.
A rally triggered by the arrest on Saturday of human rights worker Setalvad and former Gujarat senior cop R.B. Sreekumar by Gujarat's Anti-Terrorism Squad began at Park Circus and concluded at Entally on Sunday evening.
The rally was led by CPM state-secretary Mohammad Salim, Front chairman Biman Bose and leaders of other Front allies. Citizens' rights worker and actor Badshah Moitra also participated in the rally.
According to the CPM, it is the first political outfit to have formally registered a protest against these arrests made on Saturday.
Its general-secretary Sitaram Yechury took to Twitter to condemn the action of the Gujarat ATS.
Human rights outfit Association for Protection of Democratic Rights on Monday will hold a five-hour meeting at the Hazra crossing in Calcutta, condemning the statements made by the Supreme Court against Setalvad, and demanding her immediate release along with that of Sreekumar.
"It is uncalled for, for a Supreme Court judge to make comments such as those made against Teesta Setalvad. We would register our protest against the comments of the apex court," APDR member Ranjit Sur said.
"We will also condemn the way both Teesta and the former IPS officer were arrested on Saturday and would demand their immediate release," he added.
Setalvad and Sreekumar were arrested after the Supreme Court dismissed a petition appealing a lower court's refusal to file a case against Prime Minister Narendra Modi for his role, as then chief minister, in Gujarat's anti-Muslim violence of 2002.
Setalvad was one of the petitioners.
The Joint Forum Against NRC, an organisation of individuals and activists fighting against the contentious citizenship matrix of the Modi government, also issued a statement condemning the arrests.
Veteran thespian Bibhas Chakraborty said that an organisation — Artists, Cultural workers and Intelligentsia Forum — of which he is a part, would issue a statement condemning the arrests.
Chakraborty said he has spoken to the secretary of the Forum about the statement, which will be released soon.
Actor Kaushik Sen said that he believes it is time for every citizen to rise in protest in their individual capacity. Sen said he was preparing a statement that would be read at the start and end of the next two shows of his theatre troupe.
"If we organise a mass rally now, political parties will try to shift the focus. The Left parties will question why the civic society has not protested against the death of (Left-leaning student leader) Anis Khan. The BJP will ask where we were during the alleged post-poll violence (after Assembly elections in 2021). Hence it is best to protest in an individual capacity," Sen added.
Trinamul has not issued any official statement over Setalvad's arrest. But its state general-secretary Kunal Ghosh said India is undergoing an "undeclared Emergency".
"We don't want to comment on the court's decision, but then even Prime Minister Atal Bihari Vajpayee had said that (Narendra) Modi had not carried out his responsibilities as the Gujarat chief minister," said Ghosh.
"They have made these arrests out of rage," he added.