Lawyer will reply to charges: Amartya Sen
Disappointed at state of affairs in Visva-Bharati, says Nobel laureate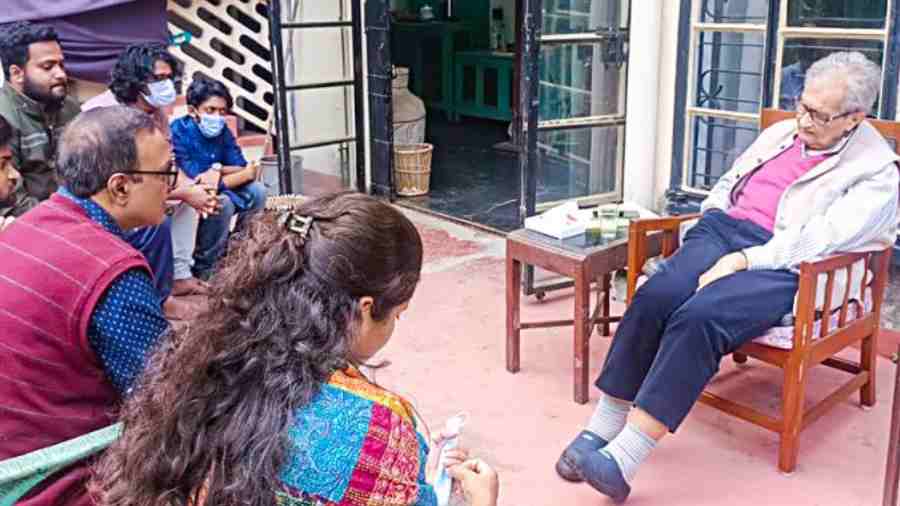 Amartya Sen speaks to a group of Visva-Bharati teachers and students at his Santiniketan home Pratichi on Thursday afternoon.
Picture by Amarnath Dutta
---
Calcutta
|
Published 27.01.23, 02:59 AM
|
---
Nobel laureate Amartya Sen on Thursday said his lawyer would send a letter to the Visva-Bharati administration in response to the university's communication that accused him of unauthorised occupation of 13-decimal land on the campus and asked him to return it.
"A letter from the lawyer was sent earlier and another letter will certainly reach (the university authorities)," Sen told reporters shortly after a meeting with a group of Visva-Bharati students and teachers at his Santiniketan home, Pratichi, on Thursday.
Asked about the state of affairs at Visva-Bharati, Sen said: "I am really disappointed."
The seven-member team of teachers and students had earlier told the economist about the "deteriorating state of affairs" on the campus ever since Bidyut Chakrabarty took over as vice-chancellor four years ago.
Visva-Bharati had on Tuesday sent a letter to Sen accusing him of encroaching on a stretch of campus land and asking him to return it at the earliest.
Many on the campus see the move as a "ploy" to harass Sen, a critic of Prime Minister Narendra Modi, the chancellor of the university. Chakrabarty has been accused by many of trying to saffronise the university.
Before sending the letter to Sen, a Visva-Bharati alumnus, the current campus administration had named the economist on a list of purported encroachers on varsity land.
The first letter from Sen's lawyer to the university administration was sent in January 2021, after the campus authorities had verbally accused the economist, on various media platforms, of illegal occupation of land.
In that letter, Sen's lawyer had described the charge as false and asked the university administration to withdraw it.  
Sen had then sent a letter to vice-chancellor Chakrabarty saying the allegation against him was false and asking him to have it withdrawn. Sen had described the attempt to list him as an "encroacher" as "a crude attempt at harassment — or worse".
After receiving the letter from Visva-Bharati on Tuesday, Sen had told The Telegraph that he would consult his lawyers before replying.
"If the lawyer thinks that a false accusation (like this) needs to be responded to, then I will.... I will be guided by law because we are dealing with a very crooked charge," Sen, the Thomas W. Lamont University Professor and Professor of Economics and Philosophy at Harvard University, had said on Tuesday.
The letter, he had said, was "frivolous" and contained several "false statements".
Sudipta Bhattacharyya, an economics professor recently sacked by Visva-Bharati on charges of "gross misconduct" amid allegations of a "vendetta" by Chakrabarty, said Sen was "not at all worried about such a petty move by Visva-Bharati to harass him".
"We assured him that the larger community of Visva-Bharati is with him and that the allegation levelled at him was the VC's way of trying to please his bosses in Delhi," Bhattacharyya, who was part of the team that met Sen on Thursday evening, said. 
During the conversation, which lasted about 30 minutes, the students and teachers told Sen that Chakrabarty was taking harsh and punitive actions against students, teachers and old-timers who dared raise their voice against him.
A member of the team said that during the meeting, Sen had expressed dissatisfaction with how the institution was being run.