'Late start to anti-Modi protests'
Dadri should have been wake-up call: Swara Bhaskar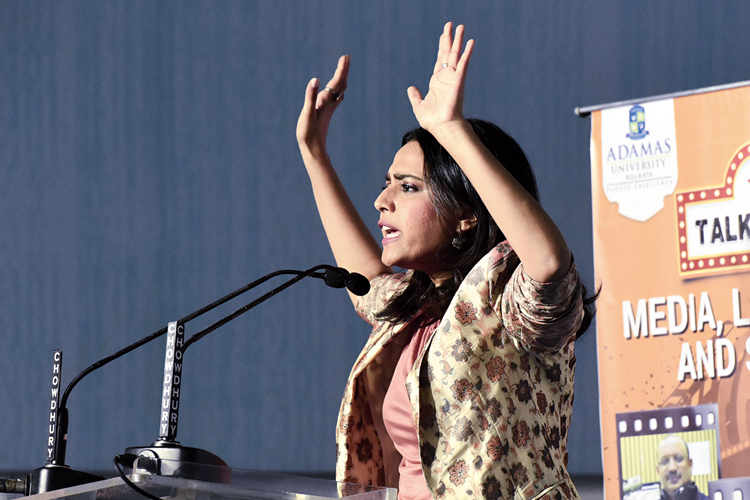 Actress Swara Bhaskar speaks at the 44th International Calcutta Book Fair on Tuesday.
Pictures by Sanat Kumar Sinha
---
Calcutta
|
Published 04.02.20, 08:38 PM
|
---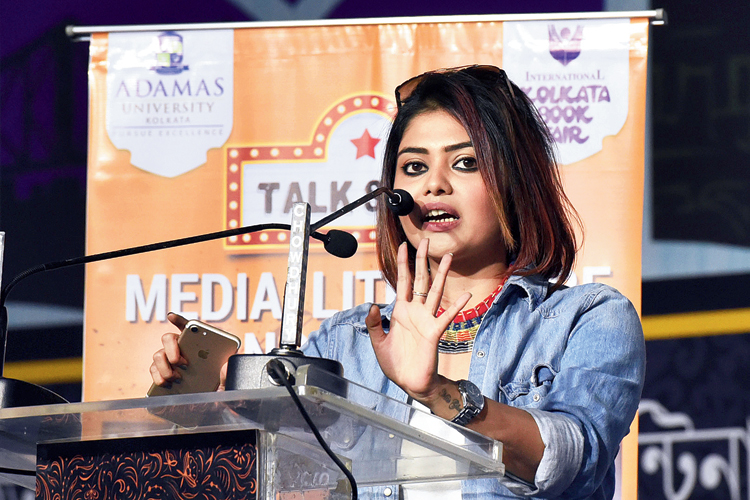 The protests against the Modi government have started "late", actress Swara Bhaskar said at Calcutta Book Fair on Tuesday.
The protests, she said, should have started right after "Mohammad Akhlaq was lynched in Dadri" over a piece of meat.
"I think the protests are happening late. I think we should have been on the streets after Mohammad Akhlaq was lynched over a piece of meat. I think that was the moment when we should have hit the streets. I think we took too long. But it is better late than never," Swara said on the sidelines of a programme at the fair.
Akhlaq, 50, was dragged out of his house on the outskirts of Delhi in September 2015 and lynched by a group of over hundred men following rumours that he had kept beef at home.
The protagonist of films such as Nil Battey Sannata and Anaarkali of Aarah, Swara has been among the few voices of protest from the Hindi film industry.
Asked later why she thought the protests should have started earlier, she told Metro: "I think if we had protested earlier, there would have been — obviously I can't predict where we would be — but there would have been some resistance. A resistance could have been built and the kind of normalisation of hate that we see, there could have been some pushback to that."
Swara sees "great hope" in the scale of protests unfolding now. "I see this as a moment of great hope. I just want to thank all the protesters of India, the students, the women. I think they have awakened the conscience of our country."
She sees hope in the fact that people have come out, even if late, when the Constitution is under threat. "I mean, can there be a bigger act of service, a bigger act of patriotism and a bigger act of selflessness than this?" she asked.
"These are women who were silent when their own communities were being attacked, lynched, when the Babri Masjid ruling had come. When was it that these women chose to hit the streets? When our Constitution is in danger. They are not on the streets for themselves. They are there for the future of our country."
Swara, who had graduated with English honours from Delhi's Miranda House, did her master's in sociology from Jawaharlal Nehru University.
When Nil Battey Sannata was released in 2015, she spoke out against the sedition charges slapped on Kanhaiya Kumar, Umar Khalid and other student leaders.
While doctored video clips of the leaders shouting what were dubbed as anti-national slogans were being played out in sections of the media, Swara knew something was wrong in them.
She said the Narendra Modi government had been able to use its narrative "to their advantage to polarise communities" but a counter-narrative of constitutionality and love for the country was also emerging.
"I think India is waking up to our own stories and our own voices. That is what you see in places like Shaheen Bagh and Park Circus. The protests have sprung up everywhere. There we are trying to shape our narrative of unity, a narrative that respects diversity and which understands the value of our Constitution," said Swara.
Actress Saayoni Ghosh, who participated at a panel discussion on "Media, literature and society", which was also joined by Swara, said "gone are the days when one could stay apolitical.... I will continue to take a political stand come what may. If that means I will not get work, so be it."
The discussion was moderated by the pro-vice-chancellor of Adamas University, Ujjwal Chowdhury.