Landslide hits NH10, isolates Sikkim, Kalimpong for 8 hrs
Every year, especially during the monsoon, cave-ins occur on the highway regularly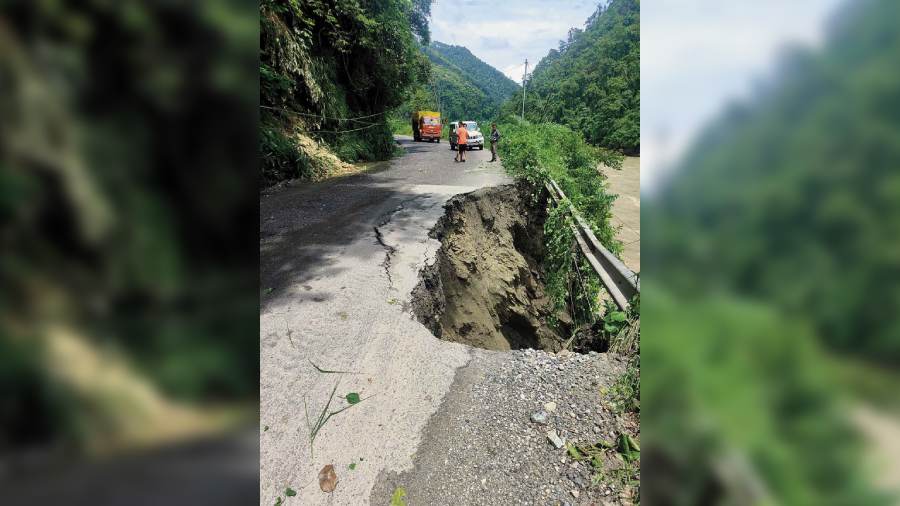 The cave-in on NH10 at 29th Mile on Tuesday.
Picture by Passang Yolmo
---
Siliguri
|
Published 03.08.22, 01:57 AM
|
---
Sikkim and Kalimpong were isolated from the rest of the country for around eight hours on Tuesday in terms of road connectivity because of a landslide along NH10, the principal highway that is known as the lifeline of the Himalayan state.
"Around 7am, a landslide occurred at Birickdara, which is around 30km from Siliguri and is in Kalimpong district. Boulders and rubble, along with trees, rolled down the mountainside and blocked the road. We suspect the intense rainfall which the region experienced in the past couple of days triggered the landslide. As a result, traffic halted along this stretch of NH. We engaged excavators and could clear the road for one-way traffic around 3pm," said Subodh Chhetri, executive engineer of the state public works department (NH-IX division).
Hundreds of vehicles bound for Sikkim and Kalimpong from Siliguri and vice-versa had to take a detour via Lava-Algara and Peshok Road.
Sources in the state PWD said while the road had been completely blocked at Birickdara, a portion of the same highway caved in at 29th Mile, located 30km ahead.
"It has become a vulnerable stretch as the width of the highway has come down by 10 metres. Vehicles are moving in single file in this area. We are monitoring the situation," said an official.
In north Bengal, NH10 is known to be prone to landslides. Every year, especially during the monsoon, landslides and cave-ins occur on the highway regularly.
On June 20, a landslide at Andheri Jhora had blocked the highway and disrupted traffic for more than 10 hours. Another landslide that occurred at Kalijhora near Sevoke — also on NH10 — on June 27 had brought traffic to halt for some hours.
"Some of the stretches have become precarious. At localities like 29th Mile, restoration work could be possible only after the water level of the Teesta (the river runs parallel to the highway) drops," the PWD official said.
In July and August last year, there were 15 landslides at 29th Mile.
Repeated landslides have led to questions as to when the Centre would carry out repairs and anti-slide measures along the highway.
"NH 10 is also strategically important as it is the principal road to connect Sikkim, a state that sits on the China border. The Centre, along with the state governments of Bengal and Sikkim, should take necessary initiatives," said a retired army officer. 
Earlier this year, Darjeeling MP Raju Bista had claimed that the Union ministry of road transport and highways had allocated around Rs 1,000 crore for rebuilding the highway. "We have been bearing the brunt of landslides year after year. It is high time that the Centre initiates the rebuilding work," said Mrinal Rai, a Kalimpong resident.