Land papers not needed for dole application in Bengal
So far, nearly 45 lakh of a total of 72 lakh farmers in the state have been enrolled in the Krishak Bandhu scheme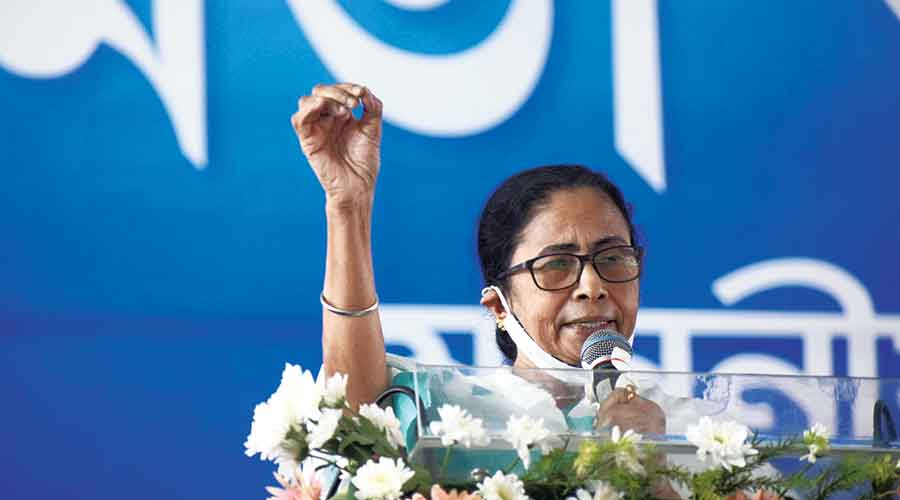 ---
Calcutta
|
Published 04.12.20, 02:27 AM
|
---
Mamata Banerjee on Thursday said land documents would no longer be required to apply for financial assistance under the state government-run Krishak Bandhu scheme and the dole could be given based on farmer's self-declaration of the plot's ownership.
Under the scheme, farmers across the state are offered Rs 5,000 per an acre annually. So far, nearly 45 lakh of a total of 72 lakh farmers in the state have been enrolled in the scheme.
"The farmers are facing trouble in obtaining mutation certificates (which establish one's ownership of land) on time and getting enrolled under Krishak Bandhu. I have asked the chief secretary to enrol farmers based on self-declarations. We want to bring all farmers under the scheme," the chief minister said.
Mamata said the state would start giving financial assistance to farmers — irrespective of their ability to prove land ownership — based on their self-declarations. She added in case it was found they submitted false declarations, they could be asked to pay a penalty.
According to sources, the chief minister initiated the step primarily for two reasons.
First, she wanted to counter the BJP's propaganda that the Bengal government was denying farmers PM-Kisan, a similar central scheme, by not implementing it in the state
"To counter the allegation, the chief minister has to ensure that all 72 lakh farmers in Bengal get the benefit of the state's scheme. The relaxation will surely help the government achieve the target," said a bureaucrat.
Another reason, sources said, is to send out a message to the farmers' community in the state that Mamata's government is more farmer-friendly than the Narendra Modi dispensation.
"The chief minister is protesting against the farm laws and also showing that she is sensitive to the problems faced by farmers," said a source.
Mamata's initiative to make the farmers' unrest an issue in the state was apparent on Thursday morning when she put out a tweet demanding withdrawal of the farm laws.
"I am very much concerned about the farmers, their lives and livelihood. GOI must withdraw the anti-farmer bills. If they do not do so immediately we will agitate throughout the state and the country. From the very start, we have been strongly opposing these anti-farmer bills," the chief minister tweeted.
In another tweet, Mamata said she would convene a meeting of her party leaders on the farm laws, dropping a hint that she was preparing to launch big scale agitation to mount pressure on the Centre.