Calcutta civic polls on December 19, no word on Howrah as yet
Counting possibly two days later; Mamata to name nominees soon, but Opposition in disarray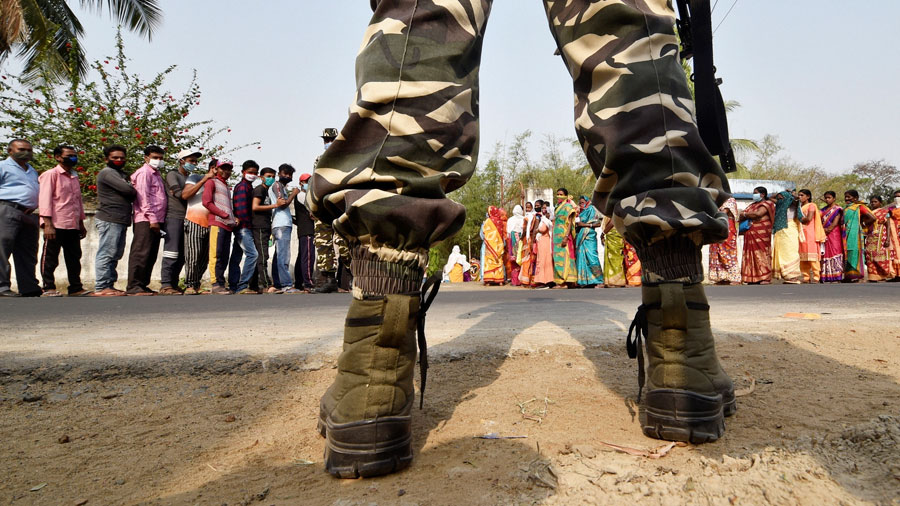 ---
Calcutta
|
Published 25.11.21, 02:42 PM
|
---
The state election commission on Thursday announced December 19 as the voting day for the Calcutta Municipal Corporation elections which were stalled last year following the Covid pandemic and Mamata Banerjee's perceived fear of anti-incumbency.
While announcing the decision, the state poll panel chief, Saurav Das, did not mention whether Howrah Municipal Corporation will also go to polls on the same day, as a new Bill passed by the state Assembly  reinstating the Bally municipality, carved out of Howrah, is embroiled in legal tangles.
According to Das, elections to  144 wards in the Calcutta Municipal Corporation will be held with all Covid restrictions in place.
Counting of votes, which is still tentative, will be held on December 21. The state poll panel will announce the decision later.
Chief minister Mamata Banerjee, back from her trip to the national capital, is likely to announce candidates for the coming polls in a day or two.
The Opposition camp is in  disarray with the BJP not finding enough candidates, while the Congress and the Left parties are unlikely to ink a deal. The CPM had decided on leaving around 30 seats for the Congress, while some Left partners like Forward Bloc are adamant on fielding candidates against Congress nominees as well.
The model code of conduct comes into effect from Thursday onwards with the notification of polling. The state poll panel has set the time limit for campaigning till 7pm, after which no meetings or padyatras will be allowed. For door-to-door campaigns, the parties will be allowed a maximum of five persons.
For the 144 wards, polling will be held in 4,742 booths and 385 additional booths in 1,707 polling premises. The contentious issue of holding polls under the cover of Central security forces is yet to be decided.
Given the violence in Thursday's polling in urban local bodies of Tripura, and Bengal's own tradition of muscle-flexing and blood-spilling on polling days and post-elections, the Opposition parties, particularly the Congress and the Left, will raise the demand for Central forces.
In 2015, when the last CMC polls were held, Trinamul had won 123 out of the 144 wards. Four years later, comparative analysis of booth-wise results of the Lok Sabha polls revealed BJP was leading in 50 of the Trinamul-run wards in the CMC including Mamata's backyard ward 73.
In a related development, in a hearing at the Calcutta High Court on a petition questioning why the state was not holding polls to all the civic bodies, the state government informed the bench that polling in 117 municipal bodies will be held by April 30.
As the notification for the CMC election has been issued, the court  asked the petitioner to submit a fresh petition listing their demand on the next hearing on Monday.