Knight talk
'I remember wanting to bowl like Shane Warne,' says Kuldeep Yadav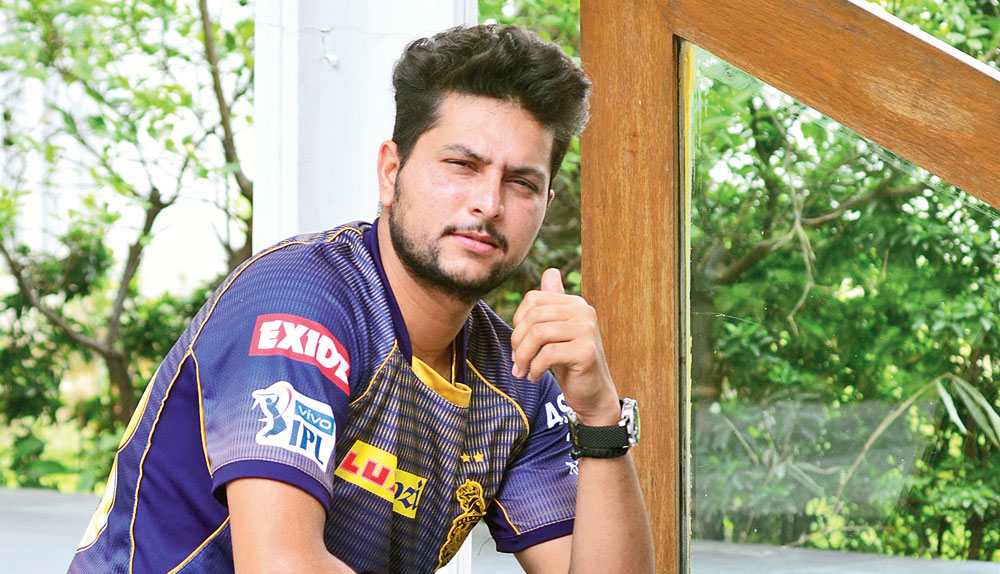 Kuldeep Yadav at ITC Sonar
Picture: Arnab Mondal
---
Published 16.04.19, 01:41 PM
|
---
Sunday might not have been funday for Kolkata Knight Riders, but Monday morning drove away those blues as one of the team's most prized bowlers, Kuldeep Yadav, made it to the World Cup 2019 squad of 15, along with KKR skipper Dinesh Karthik. The Telegraph caught up with the left-arm chinaman for a chat at ITC Sonar.
How were you bitten by the cricket bug?
I remember when I watched the 2005 Ashes. It brought about the passion for cricket in me. I remember wanting to bowl like Shane Warne.
So, who were your cricketing icons while growing up?
I've loved watching Sachin paaji (Sachin Tendulkar). When I began bowling, I started following Shane Warne and he was my idol.
What was your first interaction like with Sachin Tendulkar? It must have been a fanboy moment!
Ummm... I was definitely very nervous. I bowled to him in the nets and took his wicket, after which he spoke to me for half-an-hour in the dressing room. That was very motivating and I learnt a lot.
Eden Gardens holds a special significance for you since you made a hat-trick here (vs Australia, 2017)...
Eden has always been great for me and it's been a lot of fun bowling here. It's the kind of wicket I like and has tremendous history attached to it. Being one of the biggest grounds in the country with a huge capacity, every time I walk onto the ground it's an unbelievable experience.
What do you like about Calcutta the most?
The people are really nice and loyal to the sport and to their team. If you go to watch IPL matches in other states, you might not find people as loving towards their team as people here are towards KKR.
Have you picked up any Bengali?
I haven't picked up any Bengali, but I have tried the food, especially the mishti doi. I've been here for a few years now, par mujhe zara bhi Bengali nahin aati! (Chuckles)
Which Knights do you hang out with after practice?
I chill the most with Nitish (Rana), Rinku (Singh) and PC bhai (Piyush Chawla).
Which of your fellow Knights would you pay to watch?
Ummm… Ye toh sochna padega ki team mein kaun hai… (laughs). The way Andre Russell is batting, I'd definitely pay to watch him from the stands.
Who is the prankster in the team?
Rinku and Chris Lynn are a bit naughty (smiles).
And the disciplinarian?
Gauti bhai (former KKR skipper Gautam Gambhir) used to be one, but no one's really a disciplinarian now.
Who loves partying the most?
Hundred per cent Carlos Brathwaite.
Have you introduced any of the overseas players to Indian food and culture?
The overseas players love Indian food like butter chicken, so I have introduced them to quite a few Indian dishes. There have been plenty of instances of such bonds being formed. I have shared a few experiences with Chris Lynn.
Tell us one excuse you have given to skip practice...
Actually, I really like going to practice and never skip it. Even if I'm unwell, I go for practice and after spending 15 minutes on the ground, I feel energised. When you aren't playing, you are...
Abhi tak to woh time aaya nahin (smiles)… but I watch a lot of films. I enjoy watching horror movies. I also like fishing, so if I get time, I go with a friend of mine to fish.
Your favourite SRK film?
I liked both Pardes and Swades.
Do you remember the first time you met Shah Rukh Khan?
I think it was six years ago. I was a bit nervous. But he's really humble and down to earth and it felt genuinely great to meet him. Now we are quite close. Bohot nek dil ka aur supporting insaan hai woh!
Since you tend to travel a lot while playing, what are the must-haves in your suitcase?
I bring a lot of clothes with me. While I like shirts, T-shirts and jeans, I am most fond of shoes. I carry around four to five shoes wherever I travel and I pick up more from the places I visit. When I am on a flight, I need my iPad and my earphones and most definitely my phone. Aur bhai flight mein khana to chahiye hi chahiye (chuckles).
What is your favourite travel destination?
Ummm… I have a slightly different dream. I want to go to the moon, to be honest (smiles). I have always wanted to travel to another planet, which might not happen. I love Paris and I'm planning a trip. I like other European countries too because they have this football craze.
So do you play football?
I used to play quite a bit as a kid, but then I broke my leg, after which I haven't really played (chuckles). I religiously follow the sport though. I'm a fan of FC Barcelona. Among the players, I really like Neymar.
If there was one comfort food you could cheat on your diet with, what would it be?
Ghar ka rajma chawal (smiles)!
Which app do you use the most?
There are so many important apps now like WhatsApp and Instagram. I think I use WhatsApp the most though.
Is there a song or a musician you love listening to the most?
I mostly listen to Punjabi songs. I'm a fan of Diljit (Dosanjh), Hardy Sandhu and (Satinder) Sartaajji among others. Ammy Virk is my good friend and we are very close.
Are you reading anything right now?
Time hi nahin milta book padhne ka (smiles). I have Shane Warne's autobiography (No Spin: My Autobiography) with me though.
What are you watching?
I just started Game of Thrones. I am still on my first episode. I have watched some great content that people recommend, but this was on my watch list.
What would you be if you weren't a cricketer?
I wanted to become a pilot since childhood. So if I wasn't a cricketer, I would've probably been a pilot.
Have you ever googled yourself?
I have. But I search myself on YouTube more. Whenever I feel like watching some bowling I go to YouTube (laughs).