Kashmir workers brought back home
State arranges for travel of 133 labourers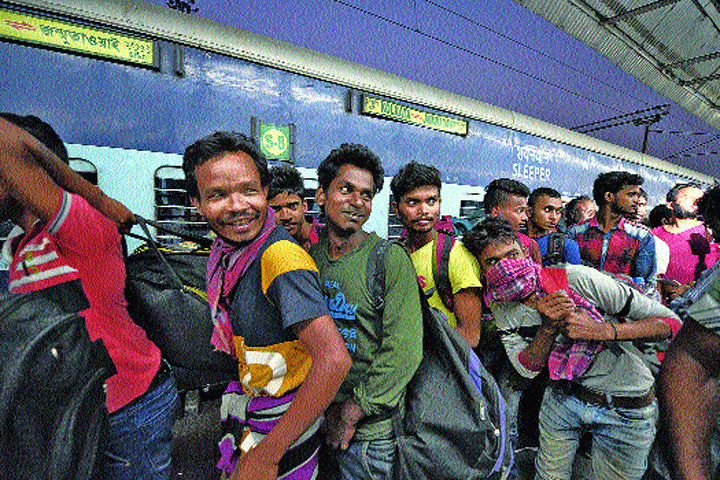 The labourers from Kashmir after their arrival at Kolkata station on Monday
Gautam Bose
---
Calcutta
|
Published 04.11.19, 07:39 PM
|
---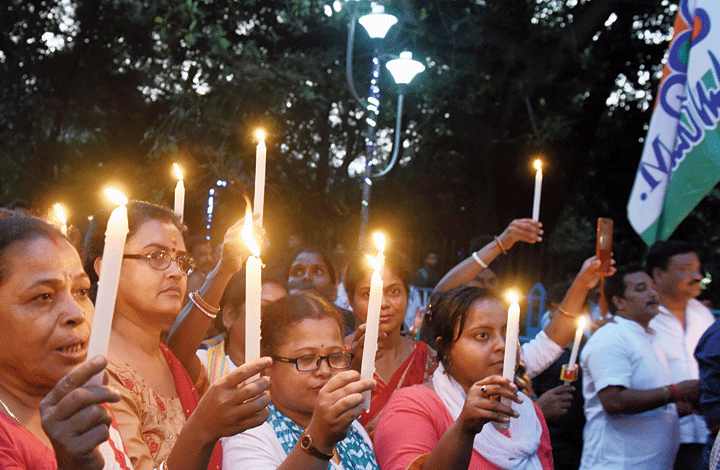 Sources close to the chief minister said the skill development programmes had been planned for the workers in their districts before firming up alternative livelihood sources for them. After the Kulgam killings, the BJP pointed to the dearth of job options in Bengal and asked why labourers had to leave.
Thirty-five year old Abdul Feroz, who hails from Kushmandi in South Dinajpur, said he had been working in plywood factories in Kashmir for three years. According to Feroz, he had been employed this time in Himalaya Veneer
Industries in Khanda, barely a minute's drive from Pulwama town.
"I had started working two years back. They used to pay me Rs 20,000 per month. We would also get bonus and we quite liked the place because of the weather," Feroz added.
Things changed after word about the murders of the five Murshidabad labourers in Kulgam came. Feroz and the others immediately asked the owner of the plywood factory to clear their dues, telling him they wanted to return home as soon as possible.
"The owner not only paid our dues in full but also paid us some extra money as travelling expenses," Feroz said.
According to him, Kashmir's factories paid much more than what workers like him could possibly earn at their Bengal village.
"At the most, we can hope to make Rs 150 per day working as masons and farm hands," said Feroz, who has a nine-month-old daughter and wife at home.
Like Feroz, Rul Amin Mustafa from Muraroi in Birbhum said he had worked in a plywood factory in Kashmir and had gone there as he could earn more and send money home. "I could pay most of my creditors, barring a few, once I started working in the factory. After the killings (in Kulgam), things changed for us and everyone wanted to leave," said Mustafa.
Asked if they would ever go back to the Valley, both Feroz and Mustafa chorused that they were "happy to be alive" and would need some time to think about it. "We want government help. We have lost our livelihood," said Mustafa.
Additional reporting by Snehal Sengupta
Over 100 labourers from Bengal were brought back home from Kashmir on Monday by the Mamata Banerjee government, the largest batch to arrive since last week when five workers from Murshidabad were shot dead by suspected militants.
Five workers from Assam also arrived with the Bengal group of 133 on Monday. Calcutta mayor and senior minister Firhad Hakim received them at Kolkata station after they arrived in special coaches of the Jammu Tawi Express before being sent to seven districts in special buses.
The largest contingent of 102 labourers was from South Dinajpur. The five from Assam were also helped with their travel back home.
"The brothers (the workers) were in panic, and so were their families. Nobody wants their sons killed. Now their families will be relieved," Hakim said as some of the workers hugged each other.
The Bengal government had been working on the return of the labourers. Those who came on Monday had expressed their desire to do so. Krishna Gupta, Bengal's resident commissioner in Delhi, and senior police officers, including director-general Virendra, got in touch with the labourers with the help of the CRPF and other agencies.
In Calcutta, state officials were asked to keep all arrangements ready so that the workers could head home without any delay. Five buses from state transport corporations were kept ready to ferry the labourers home, some 700km away in north Bengal's Cooch Behar.
"We had been living in constant fear there (in Kashmir). We are happy that the state government listened to us and helped us come back," said Samidar Rahman.
The Kashmir group was in the last two coaches of the Jammu Tawi Express that also had two senior officers from Bengal escorting and providing the workers with basics like food and water.
"It seems as if there are flashes of lightning," said Shahzan Ali, one of the labourers while referring to the flashguns that went off the moment the train stopped.
Once out of the station, the workers were herded into an enclosure where the buses had been parked. Hakim addressed them there. "There is no security in that zone (Kashmir). Political leaders have been arrested. We will help all of you find jobs in this state," he said.