Kartik 'mothered' by women of red-light zones
The festivities continue for three nights culminating in collective dancing and feasting each evening till next morning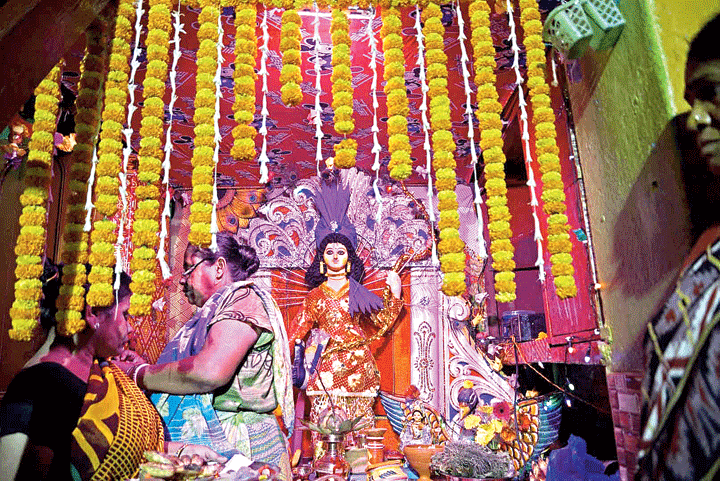 Kartik puja in Rambagan, north Calcutta
Picture by Ankit Datta
---
Calcutta
|
Published 17.11.19, 08:19 PM
|
---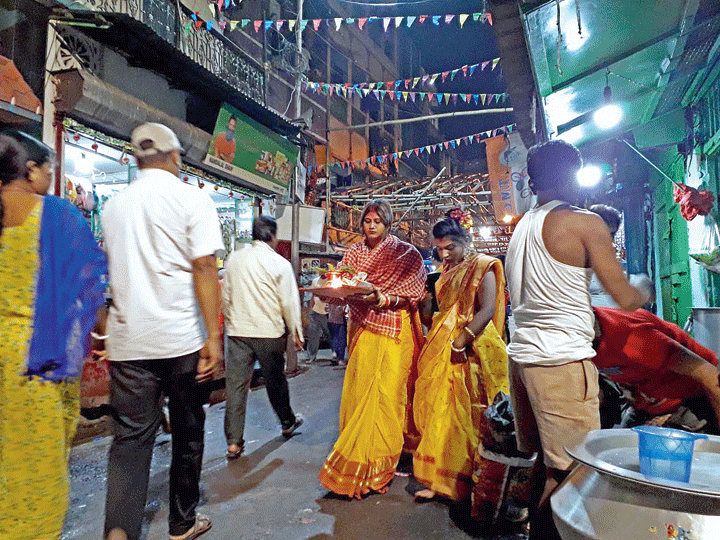 The dark and dank alleyways of the red-light zones in Calcutta are bright with strings of tiny LED lights and alive with the catchy beats of drums and banjos on Sunday evening for the resident ladies are celebrating Kartik puja in a big way, as they have done for years now.
Imam Bux Lane in the heart of sprawling red-light district Sonagachhi in north Calcutta is lined with mostly old houses, many of which have weathered a century and more, and sitting at the entrance to each is a bevy of girls in everything from saris and tights to "nighties" and jeans.
Some of the entrances twinkle with hundreds of LED lights and they lead to tiny courtyards surrounded by verandahs and rooms that are their workplace. The none-too-clean street resounds with loud drum music. The small-time traders in their hole-in the-wall establishments, passersby and children look around as a procession of radiant women wearing off-white saris carrying lamps and offerings and accompanied by musicians arrives.
In the middle of the road is a pandal with a largish image of Kartik — apart from being the paragon of male beauty, he leads the army of the gods — astride a peacock, carrying a bow and arrow in his two hands. Matronly Kajal Bose, secretary of the central committee of Durbar Mahila Samanway Committee, a collective of 65,000 sex workers of Bengal led mostly by peers, says this particular puja is celebrated by a group of women, but till last year, Kartik was worshiped by at least three or four residents of each building.
The festivities continue for three nights culminating in collective dancing and feasting each evening till next morning. One needs a budget of Rs 30,000 to Rs 40,000 to worship Kartik, but this was not possible this year as their earnings have dropped drastically. For sure, the Prime Minister was blamed for it.
About 10,000-12,000 women (including "flying" ones who come and go) live here. Among them are many Muslim women, like Abida Bibi, who has retired from the profession and is involved with Durbar activities. Elderly Abida is from neighbouring Rambagan or Rupagachhi and she vouches for the fact that all the women, irrespective of caste and religion, worship Kartik and have fun.
While making the rounds of the mouldering buildings, our first stop was in a house packed with girls. Age notwithstanding, Abida matched steps with the young men and girls who were swaying to the eardrum-shattering jangle of the banjo.
Durga Charan Mtra Street, Abinash Kabiraj Street, Masjidbari Street and Imam Bux Street meander through this red-light area, said to be the largest in Asia.
Khagendranath Mukherjee, 71, who has been performing this puja for the past four years, says Kartik is mainly worshiped by childless couples in Bengal, and in Sonagachhi, the puja is organised entirely by the leading ladies.
Kajal Bose says when a girl chooses to become the "mother" of Kartik and organises the puja herself, she selects a man close to her to represent the "father". When they celebrate collectively, they choose a "mother" and "father" amongst themselves. Together they smear sindoor and turmeric paste on the cheeks of Kartik and on their own cheeks as well.
Thereafter, they visit neighbouring houses to invite the residents to their puja. They leave the house in procession accompanied by musicians and visit the nearby Sitala temple to bring home the benedictory "Sri" made by the priest with rice paste (pituli) and sindur.
The procession heads towards the Hooghly in the evening. There they take a dip in the turgid river and fill a pitcher with water which is carried on their heads on their way back home. This is a well-established tradition, and beyond that they know little about this puja organised entirely by women.
Dilip Saha, a resident of Katwa, who used to teach Bengali in Katwa College and Burdwan University, has an explanation. He says Kartik puja is synonymous with Katwa, which was the meeting point of Burdwan, Nadia, Birbhum and Murshidabad districts. Before the advent of trains, traders used the waterways for transport.
Till the mid-1950s, there were a couple of brothels in the Chunripatti area of Katwa, frequented by traders and local landlords. The resident girls celebrated Katrik puja in a big way, no doubt bankrolled by their moneyed clients. The Labandgola area was gentrified by the 1960s, but memories lingered.
"Perhaps the women did it from a secret desire to become mothers," says Saha, who has been studying the traditions of Katwa for a long time.
Romesh Chandra Dutt, the Indian civil servant and political and economic thinker, once lived in Rambagan, near Sonagachhi.
Here, in a tiny room, where the main piece of furniture was a bed, the resident ladies were worshipping two images of Kartik, as they had defaulted last year. They had offered fruits and homemade sweets to the divinity with matinee idol looks, who is often depicted in some old houses where Durga puja is celebrated wearing a top hat. Here, he wears a turban.
We arrived at one house in Sonagachhi with the mandatory courtyard in the middle and plastic water pipes leading from ground level to the balconies above.
Here, Kartik was wearing an embroidered shawl to keep him warm. Lalu Pal, a young man whose mother was busy upstairs, said with a smile: "The women here work hard throughout the year. This is the only break they get and so they try to have as much fun as possible."