JU vice-chancellor 'assaulted', won't name culprits
Suranjan Das was caught in a scuffle between two student groups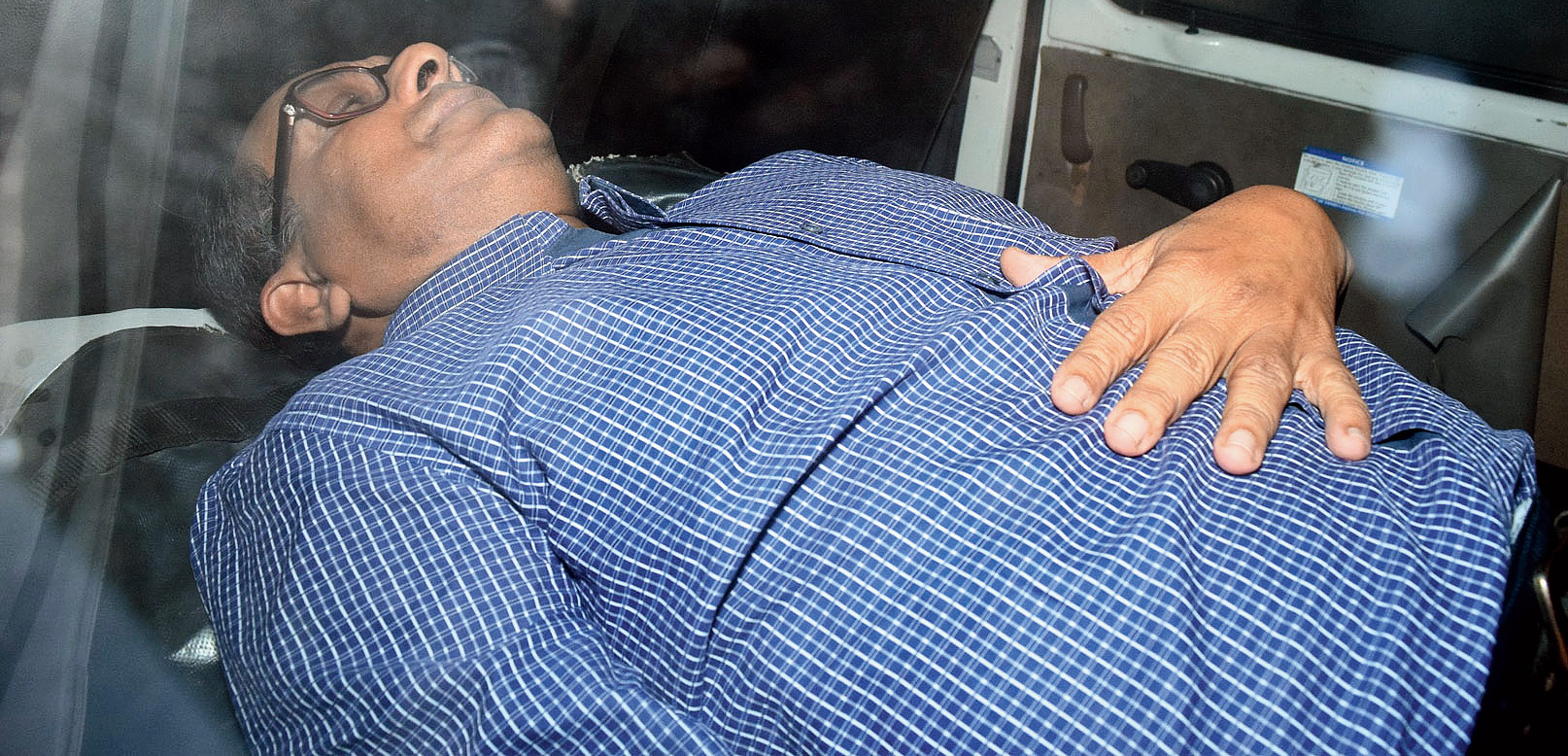 Suranjan Das, vice-chancellor of Jadavpur University, being taken to AMRI Dhakuria after being allegedly assaulted during a scuffle involving two groups of students on the campus on Tuesday.
The Telegraph picture
---
Calcutta
|
Published 19.02.19, 09:12 PM
|
---
Jadavpur University vice-chancellor Suranjan Das was stretchered out of the administrative building and hospitalised on Tuesday after being allegedly assaulted while trying to intervene in a scuffle between two groups of students.
Das had stepped out after a meeting of the executive council and was getting into his car when some students allegedly tried to prevent him from leaving. They were demanding student union elections.
At the same time, another group was raising slogans demanding that the report of the probe into a complaint of molestation be made public by the authorities.
According to Das, a scuffle between the two groups forced him to step in. "I got down from the car and was trying to stop the scuffle when I was assaulted. I know who the assaulters were but I told police that I wouldn't name them. Let the students realise what they have done," Das said from AMRI Hospitals, Dhakuria.
Hospital officials said Das was admitted around 6pm.
"In the emergency registration form, he gave a declaration that although he got injured during a scuffle between students, he was not willing to press any charges or lodge a formal police complaint. He was administered the necessary medicines and sent for an X-ray each of his right shoulder, chest and hip-bone areas, which he possibly injured when he fell down," AMRI said in a statement.
"His blood pressure shot up a bit and doctors are keeping him under observation, given his pre-existing conditions like hypertension and high blood sugar, for which he takes regular medicines. His condition is stable, doctors have said," the statement added.
The executive council meeting had been convened to discuss the demand for student union elections.
Student bodies like the Faculty of Engineering & Technology Students' Union (Fetsu) and the Faculty of Arts Students' Union have been demanding that campus elections be held as quickly as possible. The state government has yet to issue a notification on conducting polls across campuses.
Trouble started just as vice-chancellor Das was about to leave Aurobindo Bhavan, the administrative headquarters, at 4pm.
"The students who were demanding polls would not let the vice-chancellor leave until the poll dates were discussed. A group of Trinamul Chhatra Parishad members approached him seeking details of the probe into a molestation complaint filed by a student. The VC got caught in the scuffle," said a member of the executive council.
Pro vice-chancellor Pradip Ghosh said: "The students are refusing to understand that JU cannot announce a poll schedule on its own."
Avik Das, the general secretary of Fetsu denied allegations of union members being involved in any scuffle. "We came to say that the university should let us know when polls would be held. VC Das was leaving the campus without holding any discussion. When we objected to this, he agreed to have a discussion with us. Then we heard that he had suddenly taken ill."
Mebbar Hossein, convenor of the TMCP unit at JU, said: "We wanted to speak to him about the probe report. But Fetsu representatives did not allow us to do so and surrounded the VC's car. Our supporters were also beaten up."