Jesuits offer free ventilator, undertake vaccination drive in hills
Fr Stanley Varghese said they had also decided to convert the century-old institution into an isolation centre for children if the need arose in the days to come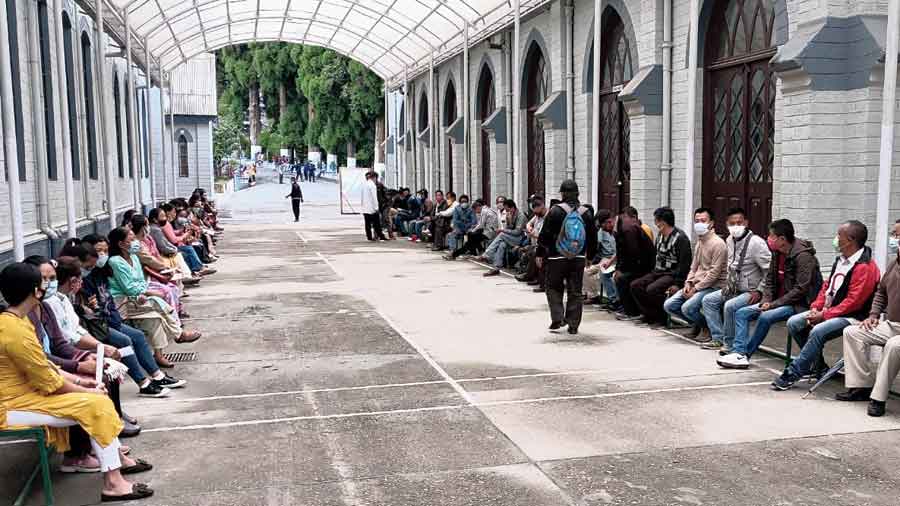 The free vaccination camp at St Joseph's School (North Point) in Darjeeling
Telegraph picture
---
Darjeeling
|
Published 31.07.21, 01:10 AM
|
---
The Darjeeling Jesuits of North Bengal has handed over a ventilator worth Rs 38 lakh to Darjeeling Sadar Hospital and undertaken a vaccination drive for 600-odd tea garden workers for free.
Fr Stanley Varghese, the rector of St Joseph's School (North Point) run by the Jesuits, said they had also decided to convert the century-old institution into an isolation centre for children if the need arose in the days to come.
The Jesuits had started the Sursum Corda Covid Care Centre at the St Joseph's College Hall from April 20 and it was officially shut on Friday because of a drop in Covid-19 cases.
"We had received a ventilator worth Rs 38 lakh from a well-wisher in New York. We did not have to use the ventilator at our care centre and handed it over to Darjeeling Sadar hospital for its use in the ICU today," said Fr Varghese.
The Jesuits also held a two-day free vaccination camp which ended on Friday for tea garden workers at St Joseph's School in Darjeeling.
"We realised that a lot of tea garden workers were having to spend a lot of money to travel to the town areas for free vaccination. Besides, jabs were not always available either. We also found out that the infection was slightly higher in rural areas and therefore, we decided to hold a free vaccination camp," said the rector.
Many social organisations had in the past tied up with private hospitals for paid vaccination drives. During such drives, social organisations also sponsored some jabs. But this is the first time that the organisers are sponsoring the entire jabs of a camp.
For private centres, the Union government has fixed the price of a single jab of the vaccine at Rs 780, which seems unaffordable for many tea workers.
The North Point school authorities tied up with Laali Guras, a social organisation that sponsored 200 of the 600 jabs.
Sources in the administration said of the 13 lakh peopled aged above 18 in Darjeeling district, around 6 lakh had been administered the first dose while around 2.3 lakh had received the second jab as well so far.
In Kalimpong district, of the 2.09 lakh peopled aged above 18, around 1.2 lakh have received their first jab, while about 49,000 have been administered the second dose too.
"We are looking at holding another free vaccination camp in the first week of August at the school," said Fr Varghese. The project has been christened North Point Vaccination Drive.