Jai Shri Ram chant… recent import to wage war says Nobel laureate Amartya Sen
Amartya Sen addresses lecture titled 'Kolkata after Independence: A personal memoir'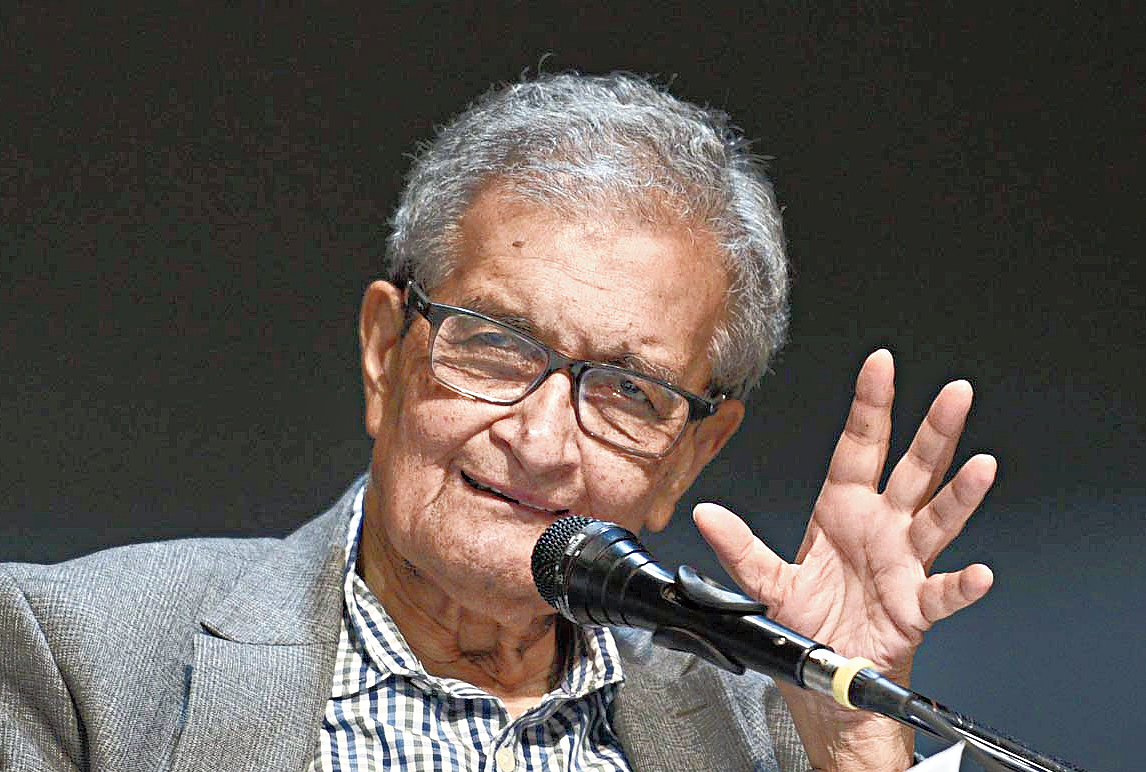 Amartya Sen speaks to a packed audience at Jadavpur University.
Picture by Gautam Bose
---
Calcutta
|
Published 05.07.19, 09:22 PM
|
---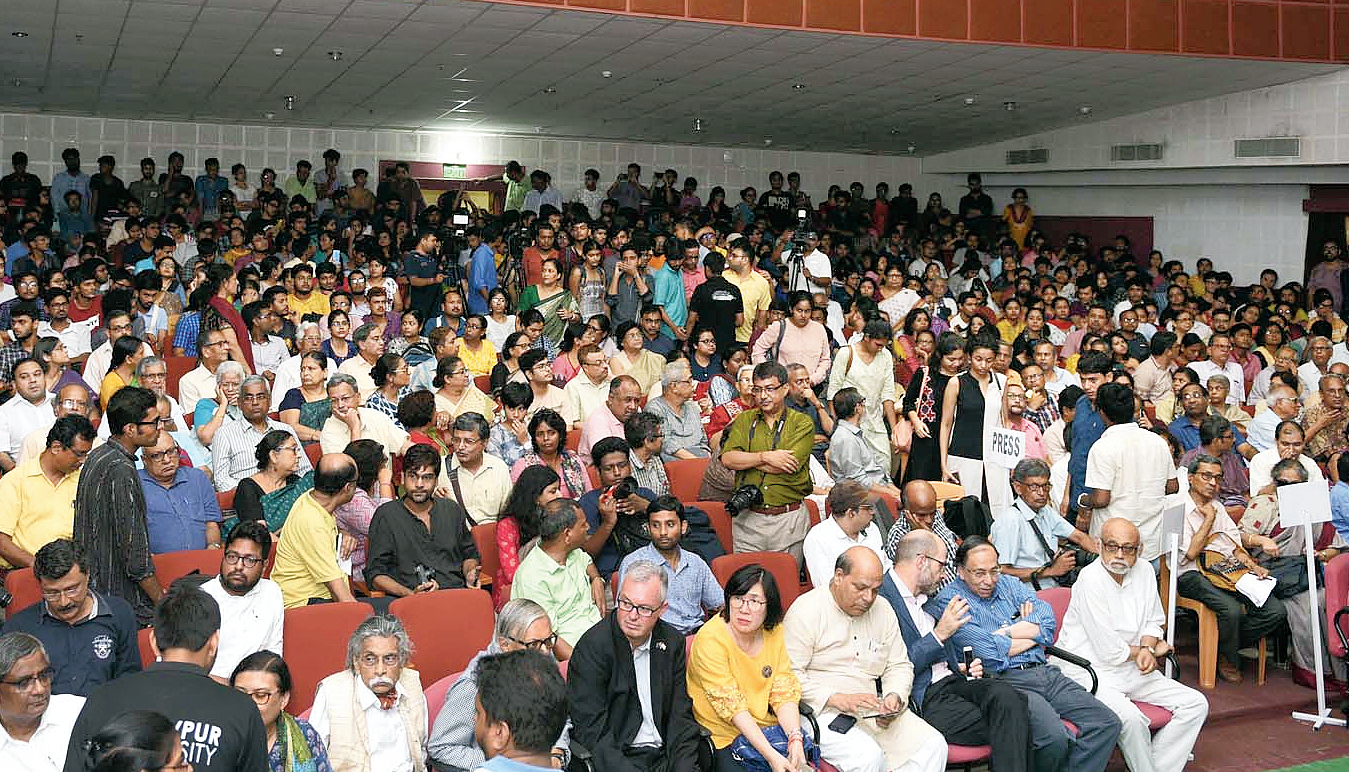 Coffee House
Sukhamoy said there was also the famous Coffee House across the street for catching up with each other. It was an amazing place where we enjoyed conversations as well as serious learning from prolonged discussions. I remember hundreds of arguments there on politics, which provided many of the central themes for our arguments. I cannot describe adequately how greatly I in particular was helped in learning from being there. More than direct transmission of snippets of knowledge, there was an impact of closely-knit argument, and refuting each other with conviction.
In between Presidency and the Coffee House, there was the College Street…. The numerous bookshops that dotted the Coffee House corner of the College Street, sometimes called the College Square, provided enough sources of enjoyment as well as education. My favourite was a bookshop called Dasgupta's, which I knew as a kind of library. Mr Dasgupta, the proprietor, was remarkably tolerant of us reading books without buying them…. He sometimes even allowed Sukhamoy and me to borrow a book to take home for one night on condition that we do not soil it in any way. We would often wrap the cover of the book in newspaper. A friend of mine asked him: 'Do you not mind that Amartya can't afford to buy many books?' To which Mr Dasgupta replied: 'Why do you think I sell books? I would have been making much more selling jewellery.'
Left but not dogmatic
Part of the student community of Presidency College was politically quite active. Though I could not develop myself enough enthusiasm for any political party to join it, the quality of sympathy and egalitarian commitment of the Left appealed to me greatly. It also appealed to many of my friends. Many of the politically interested fellow students with whom I spent time were involved with the Students' Federation on the Left of politics but did not join the Communist Party. I found the idea of party discipline with a fixed set of hardened beliefs quite obsolete and yet the egalitarian and, I emphasise particularly in these days, secular commitments of the Left offered something at our times which no other students' political group could match...
Calcutta itself, despite its immensely rich intellectual and cultural life, provided many constant reminders of the proximity of unbearable economic misery. I found myself naturally aligned to the Left, but at the same time resented its dogmatism, including its recurrent vilification of parliamentary democracy.
The "Jai Shri Ram" chant is not a part of traditional Bengali culture and a 'recent import' being used to 'beat up people', Nobel laureate Amartya Sen said at Jadavpur University on Friday.
Hundreds of students, teachers and enthusiasts, who had packed the Gandhi Bhavan auditorium, broke into applause as Sen said what he thought of the chant that has become Bengal's talking point.
Sen was at the university, where he began his teaching career and started the economics department at the age of 23, to give a public lecture titled 'Kolkata after Independence: A personal memoir'.
In the words of Partha Chatterjee, professor of anthropology and South Asian Studies at Columbia University who presided over the session, it was a 'very personal account of his understanding of what this city was like in the years of his youth'.
Excerpts:
Jai Shri Ram
During his lecture, Sen had spoken of the riots in Bengal before and after Independence, including the Great Calcutta Killings of 1946. When the house was opened for questions, a reporter asked him about "his observations on the emergence of the 'Jai Shri Ram' chant and its counter, 'Jai Bangla'". Another reporter asked Sen if there was a parallel between the communal polarisation that the state saw in the 1940s and 50s and that the state is seeing now.
Sen said: "Pratham katha hochchhe jeta 'Jai Shri Ram' bolchhen seta khub prachin Bangali baktabya boley toh shunini. Idaningkaler amdani. Lokke prahar korte hole takey diye bolano hoy. Eta noy je Bangali sabhyatar sange kono jog achhe. Jemon Ram Nabami; ekhon shunchhi naki Kolkataye khub Ram Nabami hochchhe. Agey hoyechhe boley shunini. Amar char bochhorer natni ke sedin jiggesh korlam, ei je deb debi dyakho, tomar kake pochhondo eder moddhe. Onek chinta kore bollo Maa Durga. Ta amader deshe Maa Durga-r ja protipotti, tar songe thik ei Ram Nabami-r tulona kora jete parena…. Ei gulo hoechhe idaning khetre juddho korbar jonno….
(First of all, to my knowledge 'Jai Shri Ram' is not a very traditional Bengali chant. It's a recent import. People are asked to chant it as a ploy for beating them. It's not as though it has a connection with Bengali civilisation. Like, for instance, Ram Navami; I hear that Ram Navami is being observed widely in Calcutta nowadays. Haven't heard of it being observed earlier. The other day, I asked my four-year-old granddaughter who was her favourite among the gods and goddesses she saw. She took a while and said: Maa Durga. So, the stature that Maa Durga enjoys here cannot be compared to Ram Navami…. These are recent imports to wage a war.)"
He added: 'Outside elements were there in the 1940s also. I don't think there would be a similarity in the slogans then and now. But there is a similarity in the motivation.'
Why economics
Sen: It was a monsoon-bled day in Calcutta in July 1951 that I registered in Presidency College to do economics and mathematics. I came from being schooled in Santiniketan and had originally planned to do physics and mathematics in Calcutta. In changing my field, I was partly influenced by my growing political interest and involvement… the obstinate idea of working for a different kind of India. Not as poor and unjust as the country around me. My decision was consolidated further through my personal friendship with Sukhamoy Chakravarty, who was already studying in Presidency College…. To say that Sukhamoy was brilliant would be a gigantic understatement. He was clever in a breathtaking way, extremely sharp in his analytical reasoning and astoundingly well informed on almost any subject. Sukhamoy like me was interested in politics. He chose economics, he told me, because of his deep involvement in politics and interest in Marxian thinking.
When I arrived at Presidency College, I spotted Sukhamoy at the top of the central staircase...the staircase was famous already. The venue where Netaji Subhas Chandra Bose had allegedly sternly lectured the principal of the college on the evils of the British Empire. Sukhamoy came promptly down the staircase and joined me, he wanted to show me around. I felt very comfortable about being in Presidency College and about doing economics and of course, about Sukhamoy's presence.