Jadavpur University pro-VC states cop-call stand
In 2014, Ghosh was then the university's registrar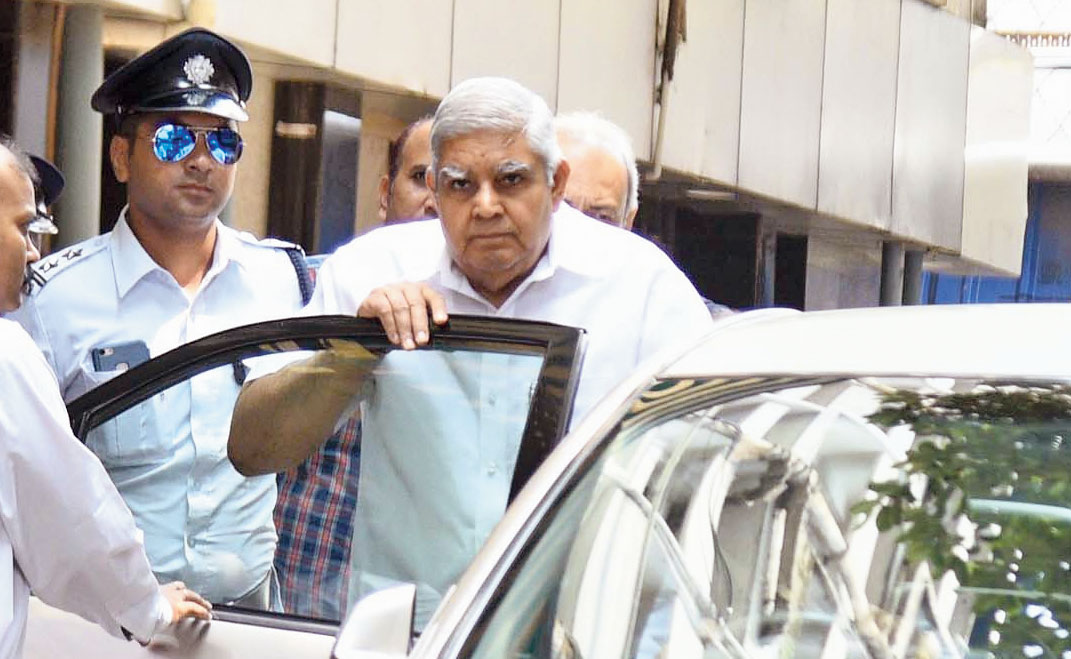 ---
|
Calcutta
|
Published 21.09.19, 09:30 PM
---
When chancellor Jagdeep Dhankhar went to see Jadavpur University pro-vice-chancellor Pradip Kumar Ghosh at AMRI, Dhakuria, on Saturday, he enquired about the possibility of calling police to quell student protests on the campus, the governor got the response he would be familiar with by now: "not after 2014."
Multiple sources told Metro that chancellor Dhankhar during his visit to Ghosh's cabin raised the topic in "another attempt to convince the university authorities about the need to call police" to deal with exigencies like controlling the mob on the campus.
Before calling on Ghosh, the governor met vice-chancellor Suranjan Das, who is undergoing treatment for "aggravated hypertension" at the same hospital since Thursday when the standoff between protesting students and Union minister Babul Supriyo took place at Jadavpur University.
Unlike on Thursday, when he allegedly raised his voice when Das had refused to call in the police to end the standoff, he was mild this time.
A source quoted him as telling Ghosh: "I can understand that it is not your job to control the mob. Perhaps you could leave it to the police to deal with the situation. The police in plainclothes could be engaged to do the job."
The chancellor, sources said, after exchanging pleasantries with Ghosh raised the topic on the need to call the police to the campus on a conciliatory note.
Sources said Ghosh used the occasion to again explain to the chancellor why the university was against calling the police to the campus.
Ghosh said: "I would like to draw your kind attention to the pitfalls of calling the police to the campus. In September 2014, we had tried this following a students' unrest. But this had led to a sustained students' unrest over the next four-and-a-half months. The move triggered an indefinite hunger strike by the students.
"We believe in negotiation and dialogue with the protesters to resolve a situation. Calling the police, in uniform or in plainclothes, to the campus only aggravates the situation."
In 2014, Ghosh was then the university's registrar.
On September 16, 2014, VC Das's predecessor Abhijit Chakrabarti had called the police to the campus to end a siege by students in which the VC and several senior teachers and officials were being gheraoed overnight.