Items seized from stalls at Pous Mela
VC leads Visva-Bharati team that seeks to evict overstaying traders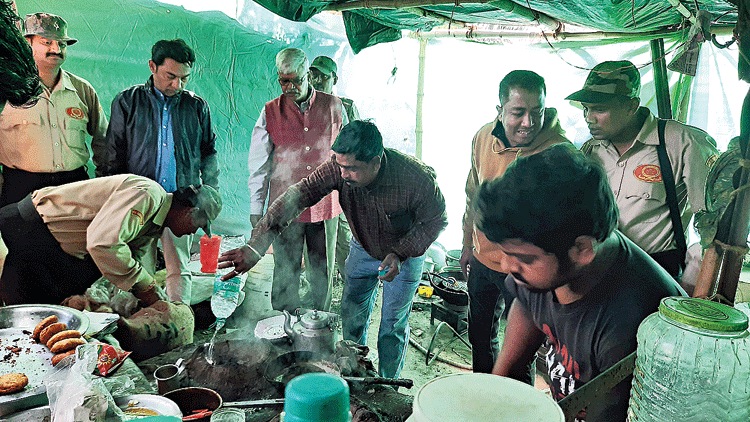 ---
---
Visva-Bharati officials led by vice-chancellor Bidyut Chakrabarty on Sunday forcibly tried to evict traders from the Pous Mela and seized their items as they didn't vacate the ground even after the conclusion of the fair on Friday.
The eviction drive was carried out a day after the officials had requested the stall owners with folded hands to leave the ground. There were over 1,500 stalls at the four-day fair, but around 600 of them continued to be at the 30-acre ground.
Chakrabarty was accompanied by 60-odd former servicemen who were posted as security guards and students during the eviction drive.
Varsity sources said they wanted to send a strong message that informal extension of the winter fair, as used to be the norm in the past years, would not be tolerated anymore.
A team of over 150 persons visited stalls that continued to sell items and seized gas cylinders, clothes and blankets.
The sources said the traders had been given a two-day window this year to dismantle their stalls. But despite the warning, a large number of them stayed on doing business.
Anirban Sircar, officiating public relations officer of the varsity, said on Sunday: "The traders had agreed to honour the condition of vacating the grounds within two days. We requested them on Saturday, but they continued their sales as usual today. We will hand the items back to them only after taking a ground clearance."
The traders alleged that the varsity officials and "men in uniform" had tortured them and snatched their commodities.
"We were given 48 hours to dismantle stalls. But before the deadline ends, Visva-Bharati officials looted our belongings. They tore up our tents in the name of dismantling. It was illegal as our things were taken away without consent," said Tahzood Khan, a garment merchant from Bolpur.
Witnesses said the ex-servicemen were seen seizing gas cylinders from vendors who had overstayed and pouring water on coal-fired ovens.
Leaders of the Bolpur Byabasayee Sangh criticised the varsity's move.
"It is unfortunate that the organisers of the Pous Mela looted items from poor stall owners. Who has given them the right to seize items? We are planning to lodge a police complaint," said Subrata Bhakat, Sangh treasurer.
"There is no question of looting. The traders have already given us letters saying they have received their items from us," said PRO Sircar.
The Visva-Bharati officials closed three entrances to the fairground and deployed security personnel to bar new visitors.
By evening, almost all traders had vacated the ground.