Mamata accuses 'outsider goons' of defiling Coffee House
The chief minister said she was appalled at how the 'bohiragawto goondas' had the audacity to enter a place of such socio-cultural significance to Bengal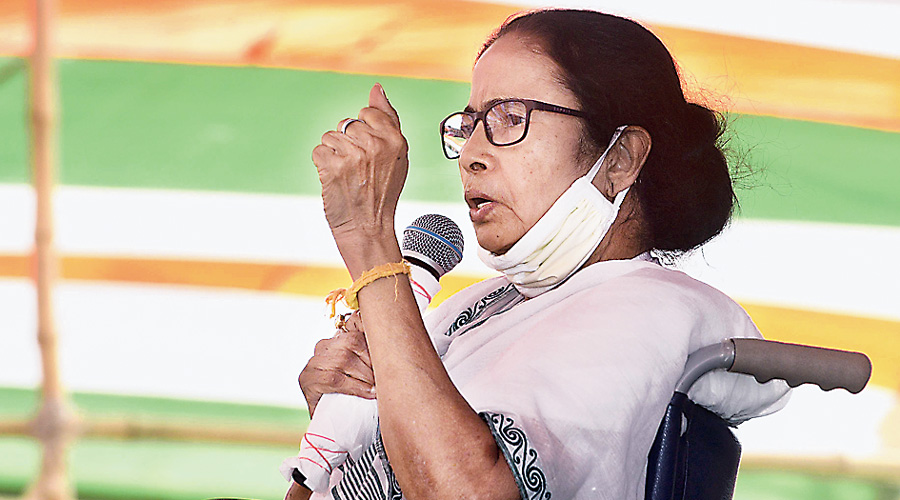 Mamata Banerjee in West Midnapore on Thursday.
Telegraph picture
---
Calcutta
|
Published 19.03.21, 02:25 AM
|
---
Mamata Banerjee on Thursday accused "bohiragawto goondas (outsider goons)" of defiling the Coffee House in College Street and described as "very disturbing" the trend of the BJP importing such elements to Bengal.
Addressing the last of her three rallies in West Midnapore on Thursday, the chief minister painted an unpalatable picture of those she dubbed "bohiragawto goondas".
 "Goon after goon is coming here, putting a tilak on the forehead, chewing pan masala, red juice dripping from both ends of the mouth," Mamata said at Kalaikunda.
The goons are  "threatening 'Dekhey nebo, phatiye debo, merey debo, dakhol korbo (Will fix you, smash you, kill you, will occupy)'", Mamata added.
"The Coffee House, even the Coffee House of that iconic Manna Dey song," she added, referring to Coffee House-er Shei Adda ta Aj ar Nei.
The chief minister said she was appalled at how the "bohiragawto goondas" had the audacity to enter a place of such socio-cultural significance to Bengal, before which she used to "bow my head in reverence" from a distance in her days as a student of Calcutta University.
"Imagine, the Coffee House! There, too, the goons went and parked themselves. These goons went to a place like the Coffee House," she said.
On Monday, a group of BJP supporters wearing saffron T-shirts and chanting "Jai Shri Ram" had defaced "No Vote to BJP" posters pasted on the walls of the Coffee House.
Since Wednesday, Mamata has been publicly appealing to the "No Vote to BJP" campaigners, urging non-BJP electors not to waste their votes by casting them for any party but hers.
At Thursday's rally, the chief minister obliquely referred to Tajinder Pal Singh Bagga, a controversial BJP spokesperson who had led the group to the Coffee House.
"The man that has been named, he is a rioter, lives in Delhi. Bohiragawto goonda! I take full responsibility when I say this, that man is a bohiragawto goonda. His name begins with B. I'm not even going to take his full name. It rhymes with agga (command). I will not take his full name, a goon like that is not worth it," Mamata said.
"But remember, such audacity, went to invade Coffee House. Do they even know who used to go there, who still go there?"
The chief minister said the Coffee House and such landmarks of Bengal's culture meant a great deal to her.
"I find it very disturbing. Those with blood on their hands, corruption in every petal (of the lotus, the BJP's symbol), filthy language, bringing outsider goons, vowing to invade Bengal," she said.
"All in the name of so-called parivartan (change). Even that slogan is a bad copy. It was my slogan from 2011. Why no originality? Can't you put your brains to some use?"