INTTUC president dodges query on minimum wages for tea workers
Party insiders hint at significance of Dola Sen's visit to the tea belt before upcoming election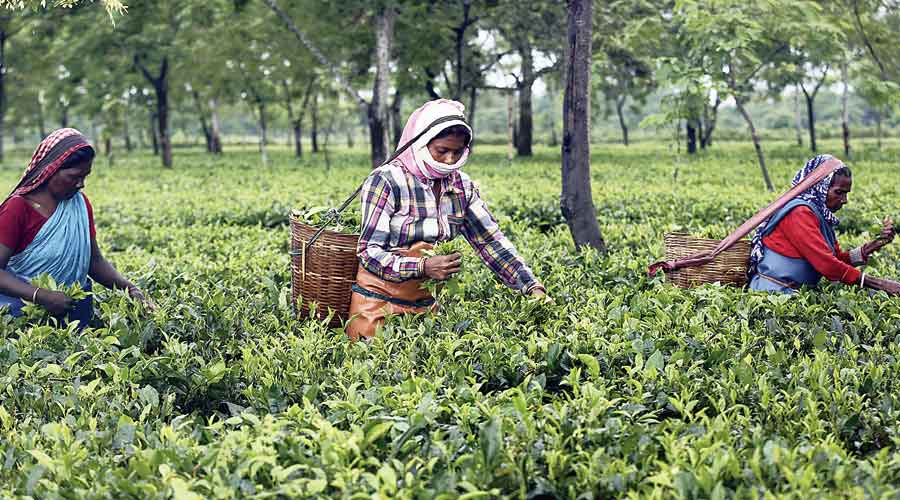 ---
|
Siliguri
|
Published 17.08.20, 03:19 AM
---
The president of Trinamul's trade union front Inttuc on Sunday came down heavily on rival tea trade unions here on Sunday but dodged a direct reply on fixing minimum wages for over three lakh tea workers of the state.
Inttuc president Dola Sen, who was here on Sunday to hold meetings of her trade union, said: "In the tea industry, some trade unions under the banner of Joint Forum resort to movements to prove their own existence. They are losing their foothold and so indulge in such activities. Tea workers are aware of it and they have realised that it is the Mamata Banerjee government that has stood by them."
The Joint Forum is an outfit of 26 tea unions other than Trinamul-backed ones.
Sen stressed the state's intervention that saw a hike in tea workers' daily wages from Rs 67 in 2011 to Rs 176 now.
The Inttuc president, however, dodged a direct reply when asked about minimum wage. Back in 2015, the state government had formed a committee to fix and recommend the minimum wage rate for tea workers. It has not yet reached a decision so far.
"It is necessary to consult with experts, work on parameters and consider a number of factors before fixing the wage. The demand was never raised when the Left were in power. We hope it will be decided in due course," said Sen.
She also spoke on doles by the state government to the tea population in the form of food grain and infrastructure upgrades such as drinking water facilities and roads.
Sen's visit to north Bengal at a time when the BJP plans to recast its focus in the tea belt from where it got overwhelming support in the Lok Sabha polls last year, is significant, hinted Trinamul insiders.
"The chief minister (Mamata Banerjee) has many decisions and announcements for the tea belt, but we could not win the support of most tea workers and their families. It seems that Trinamul now intends to engage its trade union arm to garner support ahead of the Assembly polls," said an insider.
In north Bengal's tea belt, Trinamul and Inttuc also face the problem of plenty trade unions — at least three trade unions claim to be affiliated to the Inttuc. In the past, even Mamata had said there should be only one union.