Mamata writes to PM on setting up more oxygen plants in Bengal
'Delhi's indecesiveness putting a strain on Bengal's existing resources of PSA units'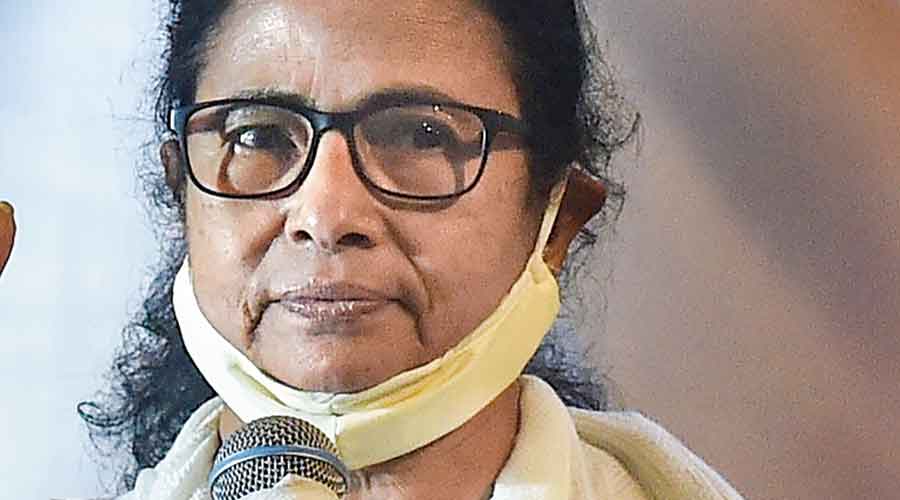 Mamata Banerjee.
File picture
---
Calcutta
|
Published 14.05.21, 06:12 PM
|
---
Chief Minister Mamata Banerjee has sought clarity from Narendra Modi on the installation of oxygen generation plants in Bengal and other states, an initiative that could mitigate the crisis of oxygen that has thrown up a serious challenge in the fight against the raging Covid-19 pandemic.
"…PSA plants are meant to enable the hospitals to make oxygen out of the air in the environment, and PSA plant is a great apparatus for a hospital needing to serve patients in dire need of oxygen," the chief minister wrote in a letter to the Prime Minister on Friday, highlighting the urgent need to set up such plants that use pressure swing adsorption technology.
Mamata reminded Modi that although the Centre has been contemplating the project, there has been little progress on it even after a year into the pandemic.
"Priorities are being fixed and re-fixed, implementing agencies are being settled and unsettled, quota for West Bengal is being downwardly revised and further downwardly revised every day," she wrote.
PSA plants enable absorption of nitrogen from ambient air by using specific absorbents like zeolites, activated carbon, molecular sieves and others to concentrate oxygen, which thus generated can be supplied via a dedicated pipeline or compressed to fill cylinders.
Mamata said there was no clarity on the project on how and when it would be implemented. "We were told we shall get 70 PSA plants. Now we are told that we shall get four in the first phase, with no clarity on the remaining PSA plants," she wrote.
"I request you to kindly get the priorities, implementing agencies and the quota fixed justly, fairly and quickly. Our own supplementary PSA installation plants by our state agencies and on the strength of our own funds are getting disturbed because of the indecisiveness at Delhi," she added.
The Bengal chief minister had earlier complained to Modi about increasing allocation of oxygen to other states from Bengal's share.
In early May, production of medical oxygen in the state was around 560 MT, while consumption was recorded at 470 MT, which is likely to touch 550 MT as the number of Covid positive cases go up.
Till Thursday evening, Bengal had 20, 839 new Covid patients.
Mamata had said that even after the state chief secretary raised the issue with the Union health secretary, the Centre continued to ignore Bengal's demands.
"Government of India has increased allocation to other states, from the total production in Bengal during the last 10 days, from 230MT to 306MT… keeping the allocation for West Bengal constant at 308 MT," the chief minister wrote a week ago.