Revival of Adi Ganga in BJP to-do list
'Industry will surely come from Gujarat, Maharashtra'
In Amit Shah's to-do list for Calcutta is the rejuvenation of Adi Ganga and a plea to UNESCO for Heritage City tag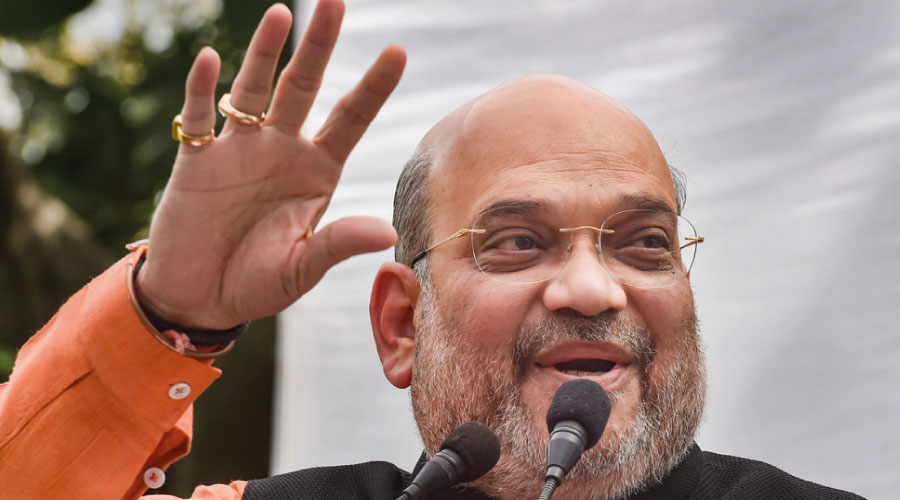 ---
Published 19.04.21, 02:22 AM
|
---
TTOnline: You once said that Didi was a successful mass leader, but a failed chief minister. Why do you see her as a failure?
She has failed in all respects. Take law and order. The deterioration of law and order in Bengal during Mamataji's time has probably not happened anywhere else. I can say this on record that at least during the communist era, thugs did not go so far. They did not sit on their heads, there was a control over them. Maybe they were under the cadre, but that was unconstitutional too. But they were there. Now, the thugs are sitting in the driver's seat. And she has failed to stop this intrusion. She has failed to provide drinking water in all homes. She has failed to provide security to women. Now, her government has even stopped sending Bengal statistics to the National Crime Records Bureau. Why? Because these figures are shameful. The education system has collapsed. A great tradition of Bengal was spiritual consciousness. No work has been done on that front.
People of Bengal are no longer afraid of the police. They don't hesitate to chase them away.
People should not be afraid of the police. But this is what happens when police are under a political umbrella. If the police do their job independently, bad people will be scared of them while good people will enjoy their protection. But this is not the case in Bengal now.
I want to say something which many Bengalis will not like to hear. But I think it is my responsibility as a leader of this country to say it. Infiltration is now a problem in North Bengal. And if it continues like this, infiltration will be a problem in Calcutta too after 10 years. Remember I said this. Can any country function like this? Livestock (cows) is being smuggled. What will the poor do? The economy has been ruined. The ecosystem has been ruined. How much more land has Mamatadidi managed to bring under irrigation? I have been touring Bengal by helicopter and I have noticed that barely 20 per cent of land is green. Gujarat is able to generate three crop cycles. And here (Bengal), there is no shortage of water. Yet, why is there no improvement? The Ganges, flowing from the Himalayas, is ensuring that the land here stays fertile.
Bengal had such a flourishing jute industry. Why didn't the communists and Mamata Banerjee revive the jute industry? Not a single jute mill has been modernised. The only thing they did was to issue circulars making buying jute compulsory. There should have been modernisation over time. New seeds of jute should have been tested in agricultural centres. But nothing happened. Mamatadidi met me in Odisha once, and I asked how many new varieties of rice had agriculture scientists discovered in the last 10 years? She had no answer. If that's the case, what is the agricultural university doing? The government has a responsibility. New varieties of the top 10 crops of the state have to be found. Production must increase. This is why I say Mamatadidi is a failed administrator.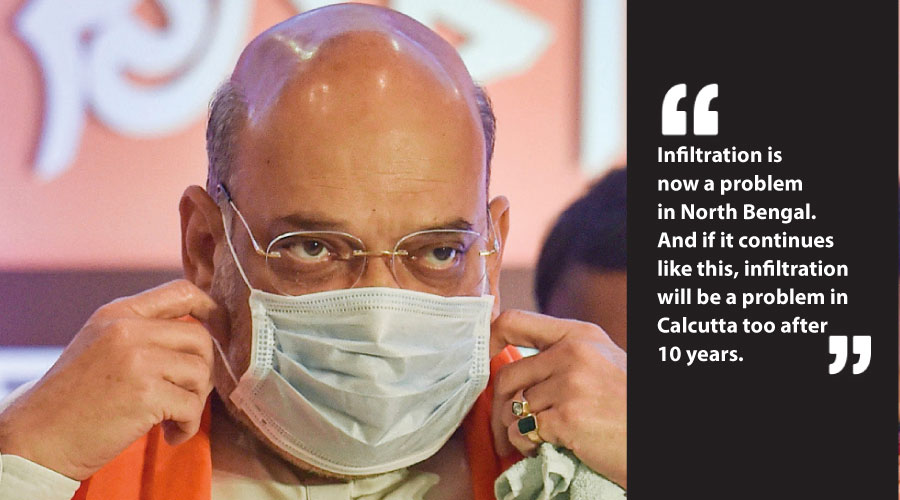 But we have surplus electricity in Bengal. We sell electricity to other states!
Demand is low. So, electricity is in surplus. Selling electricity outside isn't the hallmark of a good state. On the contrary, high per capita demand for electricity is indicative of how good a state is. That is the measure of development all over the world. Per capita electricity demand, per capita income and per capita savings — these are the three criteria for development.
Will industry come?
Yes.
From Gujarat?
Definitely. Industry will come from Gujarat and Maharashtra. Those who want to send their products to eastern India will not do so from Gujarat because it won't be profitable in terms of transportation. They have to build a factory here. That will pave the way for goods to reach the whole of north-east, Bihar, West Bengal and even countries of the East. Now nobody thinks of Gujarat-Bangla, Maharashtra-Bangla. Only Didi thinks like that. Dalmias and Birlas manufactured products here. But according to Didi, they are all outsiders! But they contributed to Bengal's economy.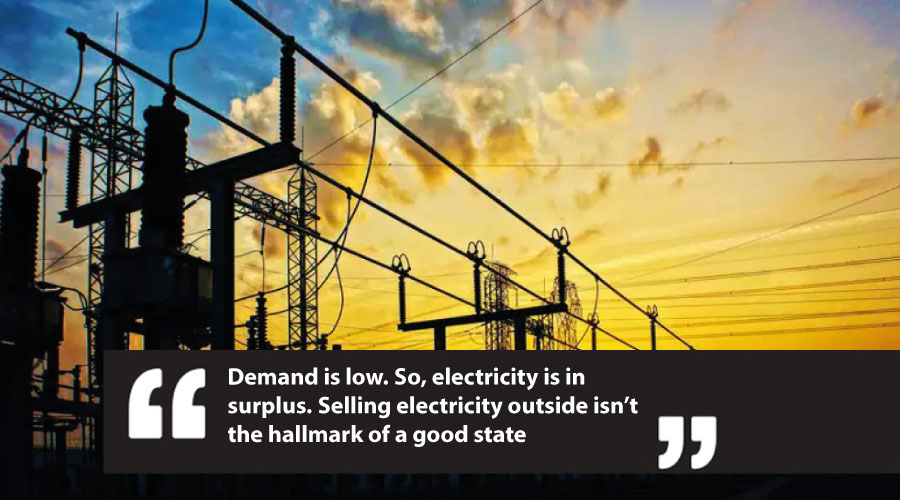 When did you start paying attention to Bengal? You have been coming to Bengal since 2016. When did you think that nothing was happening in Bengal?
There are two parts to this. First, I was my party's president. As a result, it was my job to ensure my party's presence in each and every booth in the country. As a result, I wanted my party to reach every corner of Bengal. But how to do so? By studying the state in great detail. That's what my team did. That's when these shortcomings came to light.
Second, we made a list of priorities. In terms of security, which state would be good to have a government in? In terms of development? In terms of education? Where there are possibilities? Normal answer: West Bengal.
And Calcutta?
There cannot be change in Bengal unless there is change in Calcutta. A lot should have been done for the development of Calcutta. But nothing was done. We have, therefore, created a fund of Rs 22,000 crore. We will fix infrastructure, develop 10 multi-storied parking lots and file a petition with UNESCO to declare Calcutta a Heritage City. We will ensure the rejuvenation of Adi Ganga in Kalighat and thereby re-establish the sanctity of the Kali Mandir. Mamata Banerjee's government has dumped the 'Namami Ganga' project for Barahanagar, Bali and Howrah in the Ganges. We will rescue the project. We have also set up funds for flood control in Ghatal, Kandi and North Bengal. We have plans to set up a board for the development of Jangalmahal, Sundarbans and North Bengal. We will also revive various languages like Santali, Rajbangshi and Gorkhali. Such efforts will give an impetus to the preservation of Bengal's cultural diversity.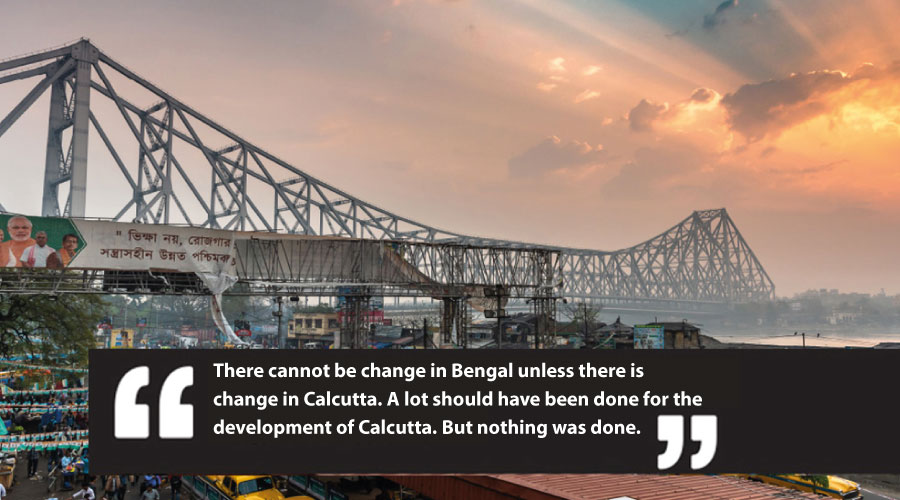 You haven't invested the amount of time you have in Bengal anywhere else.
See Abheekji, I have plenty of time on my hands. I am the most free person in this world (laughs). I am 56 now, still have plenty of time.
You claim you will form a government with more than 200 seats in Bengal. But how will Amit Shah benefit? Can I ask a naughty question?
Do it!
Does a BJP win in Bengal mean Amit Shah will be closer towards prime ministership?
I have no benefit in conquering Bengal. What's beneficial for the country is beneficial for me. How can I distinguish myself from the country? And on the question of prime ministership, all I can say is that my party does not think that way. That is not the culture of my party. If we win in Bengal, it will be the victory of our national party president and Prime Minister. My role is that of a party worker. When I was party president, others worked. I got the credit. Now we are all trying together. Credit will go to Modiji and Naddaji (laughs). There is no confusion about this. It's better to be clear (laughs again).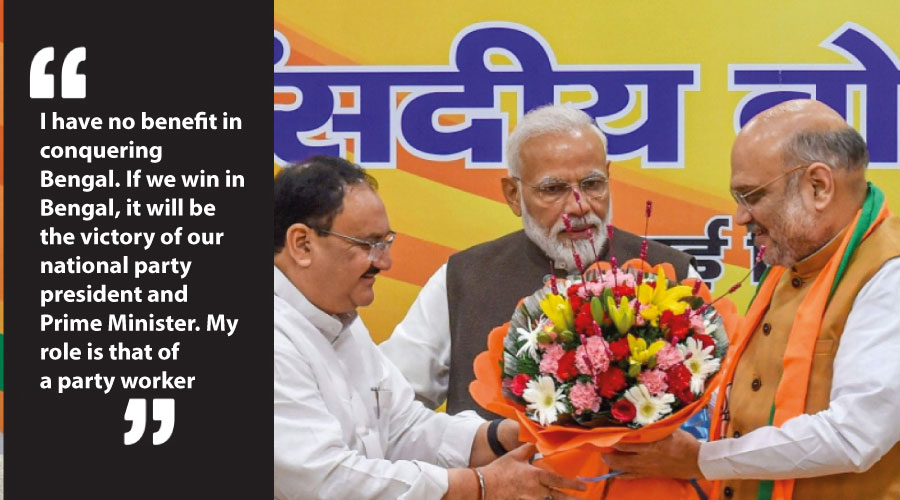 Five years from now, where does Amit Shah see himself?
I see myself in the BJP. You see, the party determines our role. Personally, I don't think about it.
If you win West Bengal, there'll be no challenge left. What will be the next challenge of Amit Shah?
No not at all, there are lots of challenges. Odisha is left. Telangana, Andhra Pradesh, Tamil Nadu and Kerala are left. There are many states left on the other side of the Vindhya mountains. There is a lot of work.
I have taken up a lot of your time… Thank you.
Thank you.
Concluded