In Bengal, people start using hazardous bridge shut for 33yrs
British-era Murshidabad bridge reopened as main bridge is shut for repairs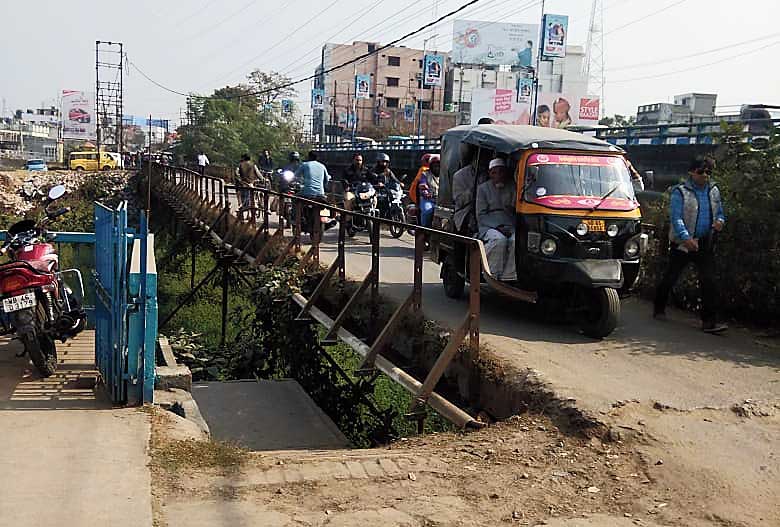 The British-era iron bridge being used in Jangipur. The concrete bridge next to it is closed for repairs.
(Samim Aktar)
---
Jangipur
|
Published 10.01.19, 09:16 PM
|
---
A barricaded British-era iron bridge in Murshidabad declared hazardous by the PWD in 1985 has been brought back into use amid questions on whether local authorities are turning a blind eye.
The bridge, shut to all traffic over 30 years ago, straddles the Kharkhari river and connects Jangipur with NH34. Unofficially, a narrow footpath has remained open to a smattering of pedestrians and two-wheelers.
"I've never seen this bridge used like this in my 18 years here. Everyone knows it's dangerous. There were signboards from 1985 clearly stating the bridge is hazardous but locals have torn them down," said Yakub Ali, a sari shop-owner.
When the bridge was closed nearly 34 years ago, a newer concrete structure — the Ram Sen bridge — running parallel to it was inaugurated by the PWD and has since been the main conduit to and from Jangipur. Approximately two weeks ago, the Ram Sen bridge was partially closed for overdue repairs, which did not go down well with locals.
The vulnerability of poorly maintained bridges became an important issue in Bengal after the collapse of the Majerhat bridge last year.
Tufan Das, 27, plies a nine-seater auto rickshaw on the route between Muraroi and Raghunathgunj in Murshidabad. He said: "I don't know who opened it up, but now that it's open, why shouldn't we?"
The pair of bridges is less than 2km from Jangipur's sub-divisional administrative office. Asked, SDO Kritika Sharma was caught unawares of the violations occurring a shout away from her office. "I was not aware the bridge has been forcefully opened. I will ask for a PWD report right away and inform the police," she said.
"I am not aware of the current illegal usage. The police should look into the matter. In any case,the Ram Sen repairs will be completed within five days," said Sanjay Kumar Pain, assistant engineer at the Jangipur PWD.
Jangipur sub-divisional police officer Prasenjit Banerjee was initially adamant no four-wheelers were plying the bridge. Shown photo by this newspaper to the contrary, he said: "Okay, I will place a police officer there tomorrow."