IIT students in Sunderbans to plant mangroves
They chose a place in a remote island of Gosaba as the area was severely affected by Yaas, which hit the Bengal coast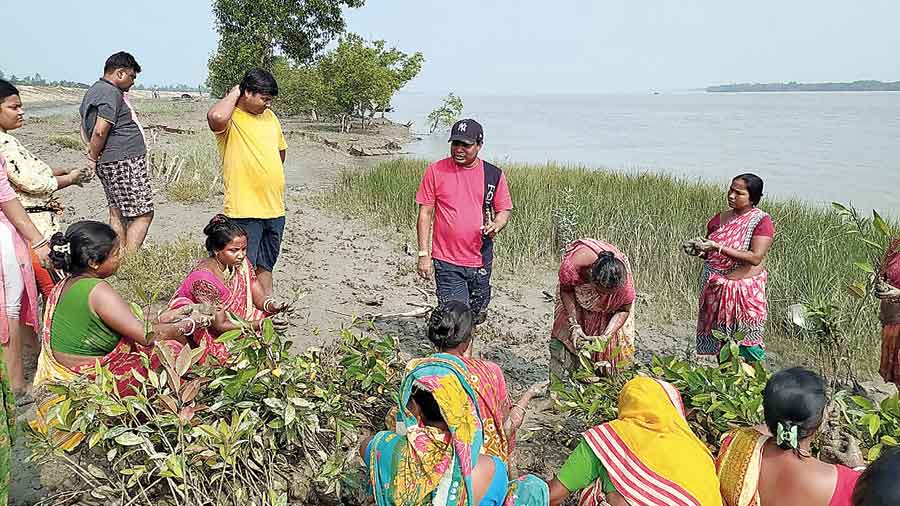 IIT-Kharagpur students on Friday plant mangroves at Parashmani village in the Sunderbans's Satjelia island, along with local women.
Hedaytulla Purkait
---
Bolpur(Birbhum)
|
Published 11.10.21, 12:01 AM
|
---
A group of students from IIT-Kharagpur planted 10,000 saplings of mangroves at a village in Satjelia island of the Sunderbans, which had suffered damage during Cyclone Yaas this year in May.
For this venture, the students raised money through crowdfunding online.
The students, mostly research scholars of various departments of the IIT, said they chose a place in a remote island of Gosaba in the Sunderbans as the area was severely affected by Yaas, which hit the Bengal coast.
Sources said around 30 students of the IIT had formed a platform named Vision-Prabaha to focus on the environment and help people hit by natural calamities.
In the aftermath of Yaas, the group of  students also helped out people in two affected islands, Ghoramari and Kumirmari of South 24-Parganas.
"During our visit to this region after Yaas, we understood that we have to work towards a permanent solution. Then we came to know about Umashankar Mondal, geography teacher and activist who has been planting mangroves since Cyclone Aila (in 2009), and we were inspired by him. We planted 10,000 saplings for now and want to ramp it up in the future," said Biswarup Mondal, a research scholar in chemical engineering  of IIT-Kharagpur.
Biswarup, accompanied by three other research scholars Saptarshi Kumar Lahiri of civil engineering, Bijan Kumar Das of the Centre for Ocean, River, Atmosphere and Land (CORAL) sciences and Atanuka Paul of chemistry went to the Sunderbans on Friday for the task with the help of local people, mainly women, in and around Parashmani village under Lahiripur gram panchayat of Gosaba. This region falls under Satjelia island.
The students planted three types of mangroves, locally known as byne (Avicennia alba), kankra (Bruguiera gymnorrhiza), and garan (Ceriops decandra), over a stretch of two hectares by the banks of the Garal river in the area.
The students said they had purchased the 10,000 saplings for around Rs 70,000 from a nursery and carried them on a hired boat to reach the remote village of Satjelia.
"We took help of a crowd-funding platform online, besides contributions from our friends and well-wishers. We have plans to continue the drive. We are the four who went physically to participate in the plantation, but the rest are with us, always," said one of the four students.
Umashankar, a geography teacher and mangrove activist who earned the soubriquet "Mangrove Man" for his contribution of 12 years in mangrove plantation, guided the group to get people for plantation and arrange the saplings.
He also raised funds from various organisations to distribute new clothes among over 1,000women and children in the Sunderbans, who had actively participated in the mangrove plantation with him after Yaas.
"I thought we should give some gifts to those who planted mangroves voluntarily with me the entire year. I am happy that students from institutions like IIT-Kharagpur came up to participate in mangrove plantation to save the habitat of these remotest pockets of the Sunderbans," he said.