IIT Kharagpur e-rickshaw promises to score over totos
Institute floats start-up for vehicle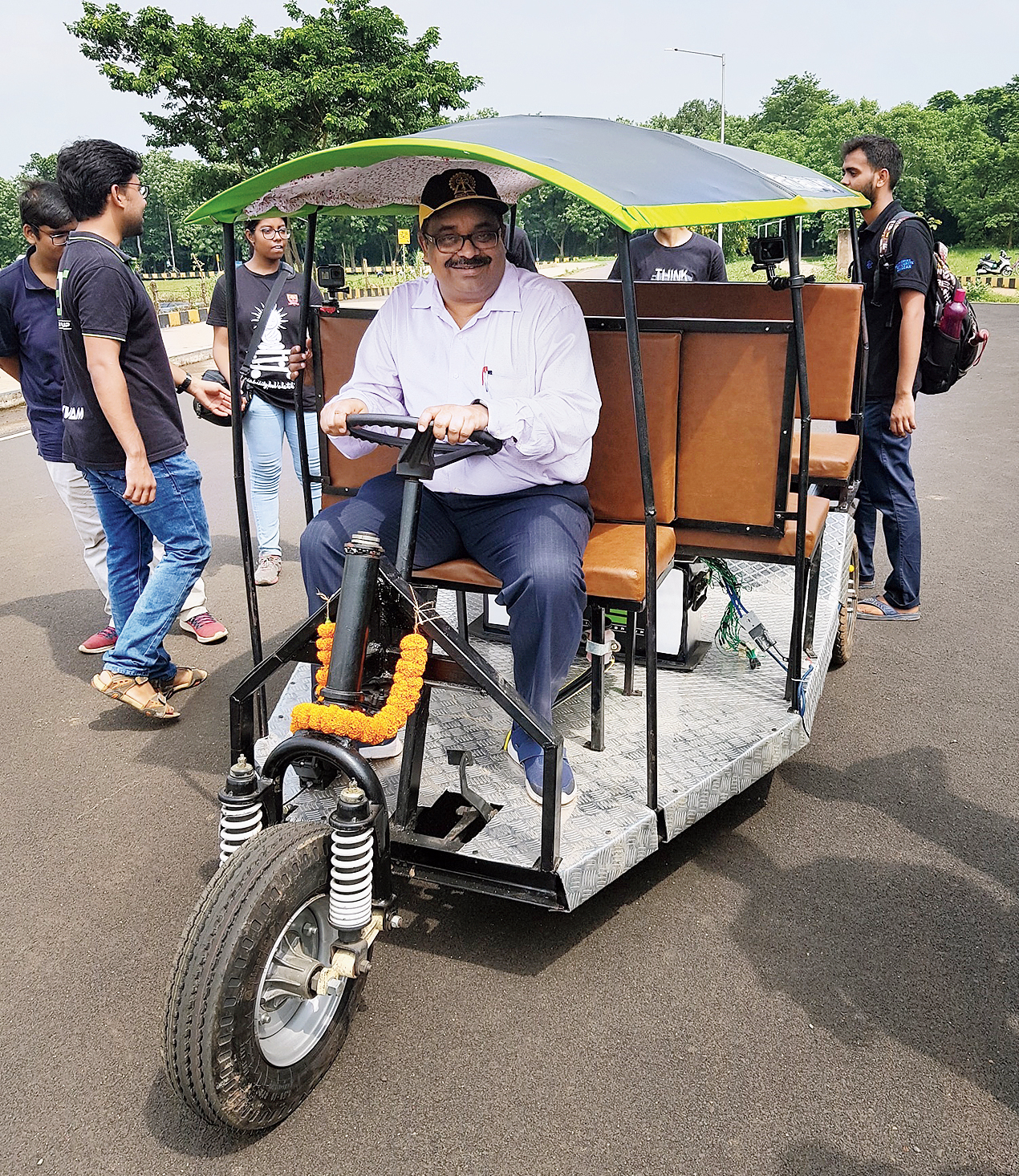 Partha Pratim Chakraborty, former director of IIT Kharagpur, on the e-rickshaw on the campus.
(Picture sourced by correspondent)
---
Kharagpur
|
Published 17.09.19, 09:14 PM
|
---
IIT Kharagpur has developed an electric three-wheeler that promises to be better than existing e-rickshaws — totos — in load-carrying capacity, sturdiness, maintenance cost, speed and manoeuvrability.
The e-rickshaws dotting the streets on the city outskirts and the districts are manufactured by small units, which run without a licence and registration.
The IIT team involved in the project has built the e-rickshaw from scratch, instead of retroffiting an existing one. The tech school has floated a start-up for commercialisation of the vehicle and is trying to raise funds for making a commercial prototype of the vehicle.
The concept prototype had a successful test run on the IIT campus and it steals a march on the available e-rickshaws in terms of safety, reliability, performance, and comfort, said Vikranth Racherla, a professor of mechanical engineering.
Racherla led a team of 50 students that designed the model, as part of a project funded by industrialist and IIT alumnus Purnendu Chatterjee, the founder and chairman of The Chatterjee Group.
The prototype has been named DELSHA, meaning the Desi (Indianised) version of Telsa, Elon Musk's automotive and energy company that specialises in electric car manufacturing.
Racherla explained how the three-wheeler his team had designed scored over the current fleet of e-rickshaws.
The e-rickshaws in India, he said, use around 1 kW DC motor with 48 V 100 Ah lead acid battery pack. "The lead acid batteries have to be replaced every eight to nine months. An operator incurs a cost of around Rs 25,000 whenever that is done. A lithium iron phosphate battery, which powers the vehicle we have designed, has a lifespan of six to seven years. It costs two to three times a lead acid battery pack. So, this ensures lower maintenance cost," said Racherla, who has been associated with the project for three years.
"Totos now can ply at up to 25kmph. The maximum speed of our vehicle is 50 kmph," said Racherla.
As for the totos, he said the "rigid axle (both wheels connected by a single axle) with the leaf springs suspension" used in them "gives you jerks" on a bad road.
The suspension mechanism used in the IIT vehicle, the professor said, will ensure a jerk-free ride. "We have come up with a design that will enhance the load-bearing capacity as well," he said.
A Calcutta High Court division bench had last year directed the Bengal government to take steps to register e-rickshaws in accordance with the Motor Vehicles Act and Patents Act or stop their operations. It's difficult to bring totos under the law because they are manufactured by unregistered units.