Ignorant of traffic rules but licensed to drive
The attempt by Calcutta police was to drive some road sense into errant bikers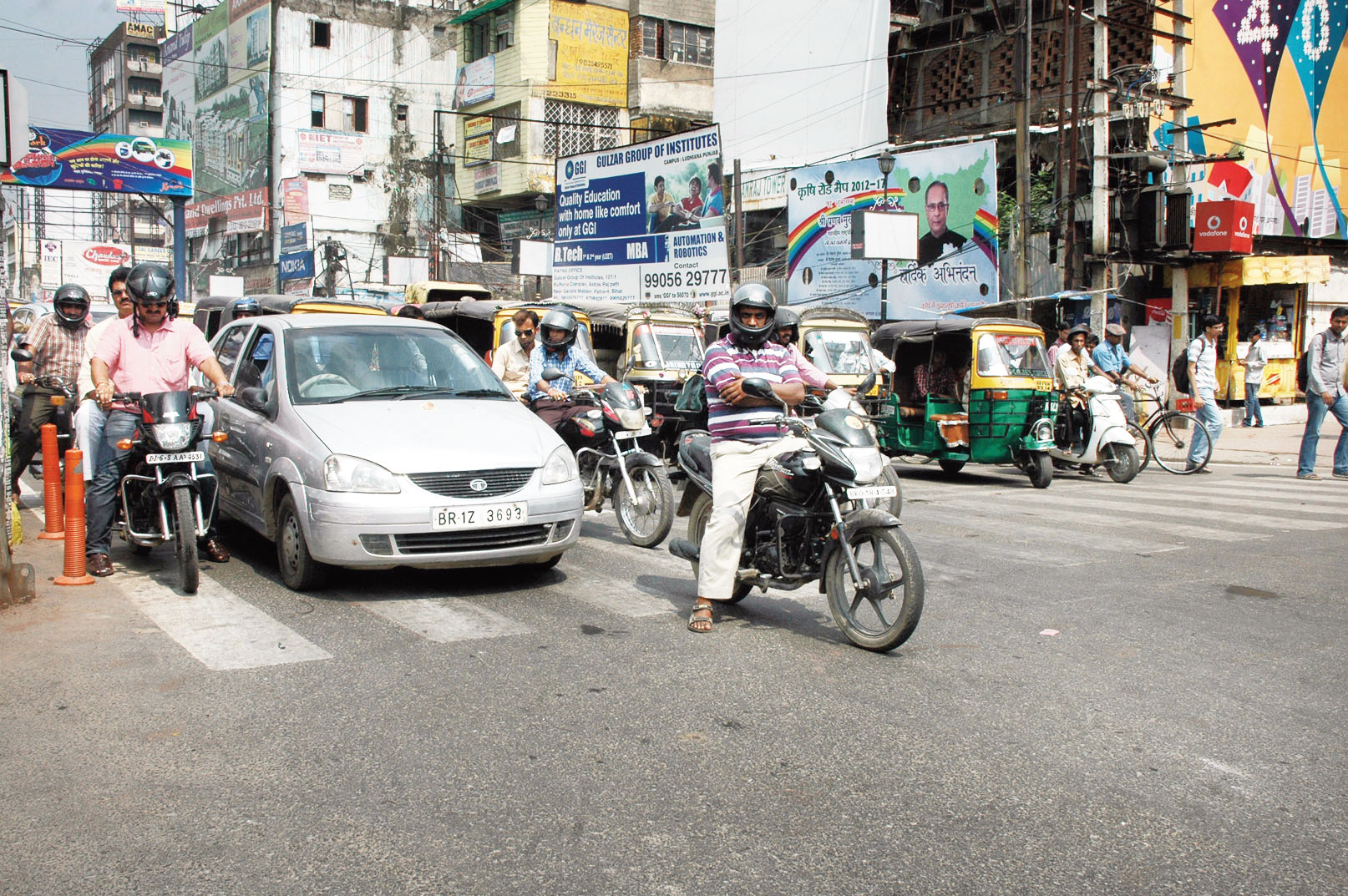 Vehicles violate zebra crossing rules at a city junction
Telegraph picture
---
Calcutta
|
Published 27.07.19, 07:34 PM
|
---
Over 200 bikers who had been caught in Calcutta for violating road rules over the past fortnight were assembled in an auditorium and quizzed on basic traffic norms and what the traffic lights meant.
Most of them flunked the test.
The attempt by Calcutta police was to drive some road sense into errant bikers. The effort, however, exposed how people in India manage to get driving licences despite knowing little about traffic rules.
At the Police Training School in Alipore, an officer who was holding a class of sorts on Saturday afternoon posed several questions to the invitees and tried to engage the participants on various types of traffic lights, signage and road markings.
"What, for instance, does a continuously blinking red light at a traffic signal mean?" an officer from Calcutta police Traffic Training School asked. "Why is there a space between a zebra crossing and a 'stop line'? What does an amber light at a traffic signal suggest?"
Most fumbled answering. Some tried vaguely.
An hour-and-a-half-long programme ended with several participants admitting their ignorance about several rules and others demanding that police organise many more such sessions.
Senior officers from Lalbazar said "awareness drives" would continue simultaneously with the crackdown on helmetless bikers.
"It was a learning experience for me. I didn't know the meaning of several road markings, including different types of cross-over signs for pedestrians," said Harsh Sachdev from Park Circus.
Unlike the other training sessions organised by Calcutta police for bus drivers and auto-rickshaw operators, participants at the Saturday's session were a mix of young students, traders, office-goers and MBA-aspirants who had been chosen from across 25 traffic guards in Calcutta and asked to attend an awareness session.
"Offenders must be made to attend classes on traffic rules, signage and traffic signals so that they don't repeat the offence," said Shaad Alam, an MBA student of a private university in New Town. "Just slapping fines won't do."
The first awareness session was tailor-made for bikers with a choice of video-grabs, CCTV footage and audio-visual messages that highlighted the perils of driving dangerously without a helmet or trying short-cuts and breaking rules at night when not too many policemen are around.
The session was capped by a question-answer session.
At the session, the police informed the invitees that 1,600-odd CCTV cameras tracked vehicles across Calcutta throughout the day and even at night when most "of you would like to think they are the only one out and everyone is at home".
The audience was then taken through a video showing how the traffic control room functions at Lalbazar with eyes glued to computer-screens and man-packs (walkie-talkie) crackling away.
"All of you must be cricket fans? Have you seen Sachin Tendulkar batting without a helmet?" asked Santosh Pandey, deputy commissioner, traffic. "We are insisting on helmets not for us. It's for you, your family and your loved ones."
At the end of the session, several participants said they were unaware that so many signals and road-markings existed. A few others said the knowledge about signage and the video-grabs of bikers crashing would remain with them.