Identity crux of celebrations: Darjeeling rings in Nepali New Year
Bharatiya Gorkha Prajatantrik Morcha (BGPM) and Bimal Gurung's Gorkha Janmukti Morcha (GJM) organised their own celebrations in a grand manner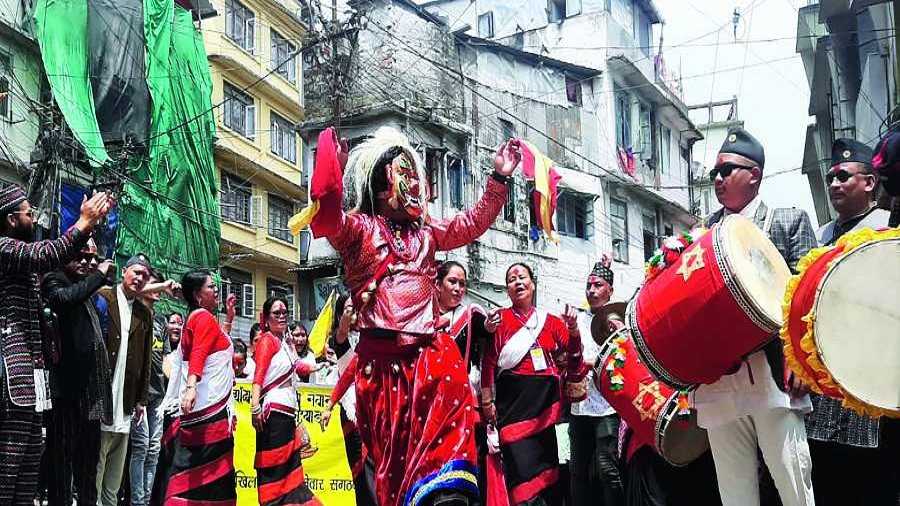 A colourful procession on the occasion of the Nepali New Year in Kalimpong on Thursday.
Telegraph photo
---
Darjeeling
|
Published 15.04.22, 01:07 AM
|
---
The Nepali New Year celebrations across Darjeeling hills were marked with unmatched fervour this year, with many attributing the new "cultural awakening" to the politics played out in the hills since the Gorkhaland agitation in 2017.
An apolitical organisation Gorkha Gaurav Sansthan organised a two-day celebration since Wednesday to usher in the 2079 Nepali year in Kalimpong. Political parties like the Bharatiya Gorkha Prajatantrik Morcha (BGPM) and Bimal Gurung's Gorkha Janmukti Morcha (GJM) organised their own celebrations in a grand manner in Darjeeling on Thursday, the official New Year day.
Such celebrations and involvement by political parties had not been witnessed in the hills in the past.
Most of the prominent politicians from the hills were on the ground to celebrate the new year.
Kalimpong MLA Ruden Sada Lepcha and civic chairperson Rabi Pradhan, both from the BGPM, were present at the Kalimpong event along with Hamro Party president Ajoy Edwards.  Anit Thapa, the president of the BGPM, took part in a rally in Kurseong which was organised by the apolitical Gorkha Sanskritik Sansthan.
The BGPM also organised their own celebrations at the Gorkha Dukha Niwarak Sammelan Hall in Darjeeling.
Bimal Gurung's GJM celebrated the day as Gorkha Unity Day at Tukvar in Darjeeling.
"We are asking for our identity. The Centre must clarify their stand on our demand as early as possible. I will not talk much about the state government as they have already said that the issue lies in the Centre's court," said Gurung obliquely referring to the Gorkhaland demand.
People present at the celebrations by apolitical parties in Kalimpong blamed politicians for the present "cultural crisis" in the hills.
"I made it a point to attend the event here in Kalimpong because I feel the politicians have failed to safeguard the interests of our community, which has led us to feel that a cultural awakening is needed now," said Milan Sharma, a schoolteacher.
Many participants were of the opinion that with the hill parties aligning either with the BJP or Trinamul, the local leaders have not been able to raise community-centric issues in an unbiased way.
"The feeling of a lack of a political guardianship among us is definitely there," said Prashant Lakhandari, a member of the Parichay band.
"In the past two-three years there have been many instances when our leaders had to remain quiet on many issues like centralised admission in nursing schools because of their compulsion arising out of their affiliation to a political party," said Ravi Rai, a businessman.
Some residents thought that the enthusiasm for the Nepali New Year indicated that the GTA elections were round the corner.
"The enthusiasm shown by politicians is probably because elections are round the corner," said a resident.