How to deal with e-waste
We find out at the launch of an electronic waste management initiative in AD Block that is open to all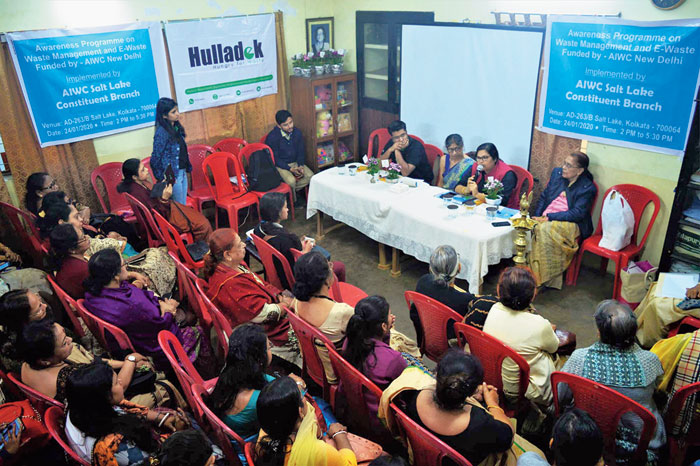 ---
---
Next time the kitchen tube light goes out, don't sell it to the chap who buys old newspapers. Deposit it at AD Block, where a certified e-waste collection centre has been set up.
E-waste can be anything from old bulbs and wires to mobile phones and washing machines. These items contain metals and chemicals which damage the environment, and eventually our health, if dumped carelessly. So AIWC Salt Lake Constituent Branch has got a company called Hulladek to chip in.
Hulladek is a producer responsibility organisation (PRO). As per the government's E-Waste (Management) Rules 2016, electrical and electronic companies are accountable for the disposal of their products that customers buy. For this, they rope in PROs like Hulladek to help with the collection of e-waste. The PROs then outsource the waste to certified recyclers who dismantle them safely.
"India generates almost 1.7 million tonnes of e-waste per year and the figure will only increase," said founder and CEO of Hulladek, Nandan Mall, at the inauguration. He blamed this on the decreasing lifespan of gadgets and consumer behaviour that makes them get bored easily and want to upgrade their devices quickly. "E-waste gets neglected as it is not generated on a daily basis."
If e-waste is dumped in the bin or sold as scrap it makes its way to rag pickers who dismantle them in dangerous ways to extract the small amounts of metals laden in them. "For that the devices have to be dipped in acid, which is later drained into ponds or fields, killing fish and plants. People eating these later can get seriously ill too," added Hulladek's chief marketing officer Sriyam Gupta. "Also, e-waste is the biggest recruiter of child labour in India and there is a huge number of women and children handling with these devices and the chemicals inside them without gloves or any other protection."
The collection point was inaugurated by Ela Chatterjee, president of the AIWC branch, and secretary Bubu Basu was the first to dump e-waste into the caged collection box. "Wires, extension cords, switchboards… we gave waste from our centre and members had got more from home. It's high time individuals did the little that is in their hands to save the environment instead of blaming the government," Basu said.
Shikha Mitra, vice president of AIWC, New Delhi, how a banana peel takes three to four weeks to decompose but a plastic bag takes between 200 and 1,000 years. "The solution is to reduce consumption of harmful substances and responsibly disposal of them all, including e-waste," she said.
Environmental engineer of the pollution control board, Mousumi Saha, said that at present 90 per cent of e-waste goes to the informal sector, where it is disposed of dangerously. "Rules have come in now that extend the responsibility of companies manufacturing e-waste to ensure they are disposed of safely but then hawkers still walk through our lanes asking to buy old computers!" she noted. Jiban Krishna Paul, assistant engineer of the corporation's conservation department, assured the audience that waste segregation at source would begin soon.
Here is what The Telegraph Salt Lake learnt about e-waste disposal.
What is e-waste?
Electronic waste is old laptops, printers, washing machines, mixer-grinders, mobile phones etc that you want to throw out. Electrical items are anything that support electronic ones such as batteries, motors, wires etc. An old toy gun that lights up and makes sounds is e-waste, as is your old blood pressure monitor.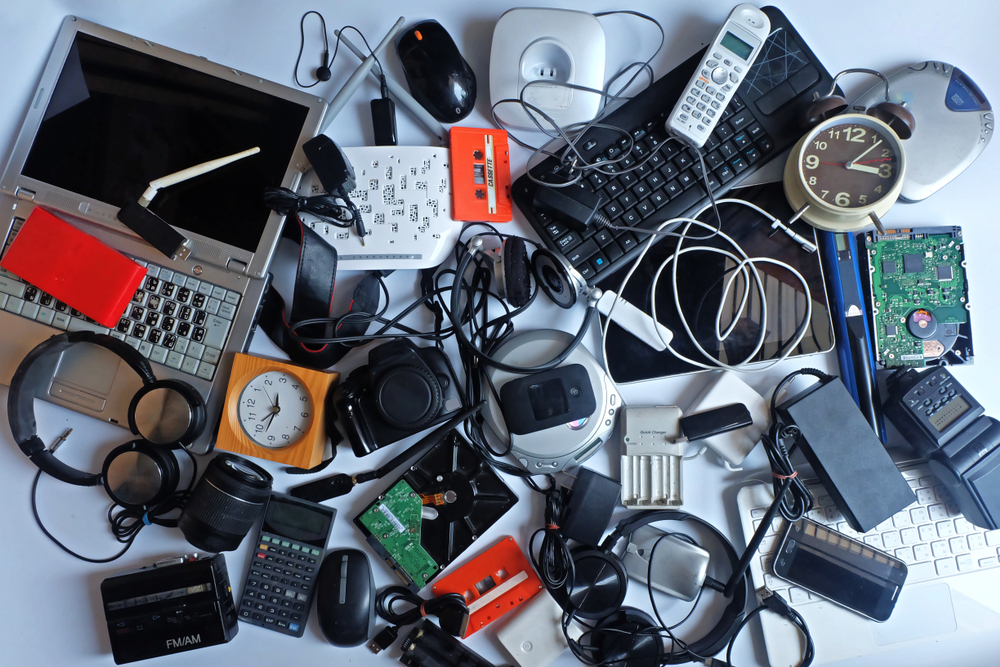 What's wrong with selling these off for scrap?
These items have chemicals and metals in them that are dangerous if exposed. The scrap dealer probably resells these to someone who has no gloves or protective gear but will pry them open anyway. It could burn his skin or worse. The metals have resale value but one has to douse the gadgets in acid to extract them. The acid is then emptied into the drain or water bodies. This kills the fish and harms anyone eating the fish later. If drained on the ground the chemicals kill plants and spoil the soil composition.
So what is the right way to dispose of e-waste?
Hand it over to producer responsibility organisations (PRO). One such is Hulladek, that has opened three e-waste collection points nearby. One is at AIWC Salt Lake Constituent Branch, at AD 263/B, next to AD Block community hall. Timings are Tuesday and Friday 5.30pm to 7.30pm; Saturday 3-5pm; Sunday 11am-2pm.
The second, also launched last week, is at Techno India in Sector V. Timings are Monday, Wednesday and Friday 2-5pm.
The third is at AIWC's Lake Town branch, near the Big Ben replica. It is open on Tuesdays, Thursdays and Saturdays 10am-6pm.
What is the procedure?
An attendant will note down the items you give along with their weight. You will be given a yellow sheet of paper as part of Form 6 of E-Waste (Management) Rules 2016. This will be your receipt. Sixty days later, you will receive a similar copy on a green sheet of paper. This will certify that your waste has been disposed of safely.
What if I want to dispose of an old fridge? I can't carry it to the collection point…
The collection point is for small items. Inform Hulladek at 1800-212-7880 about large items and they will pick it up from your doorstep.
Will I get money for this? The scrap dealer pays me for e-waste…
Hulladek is not paying cash but is giving discount coupons for restaurants and grocery stores.
How do you deal with e- waste at home? Write to The Telegraph Salt Lake, 6 Prafulla Sarkar Street, Calcutta 700001 or email to saltlake@abpmail.com