Hotter days ahead, warns Met
City records 37.2°C, Calcuttans feel 46°C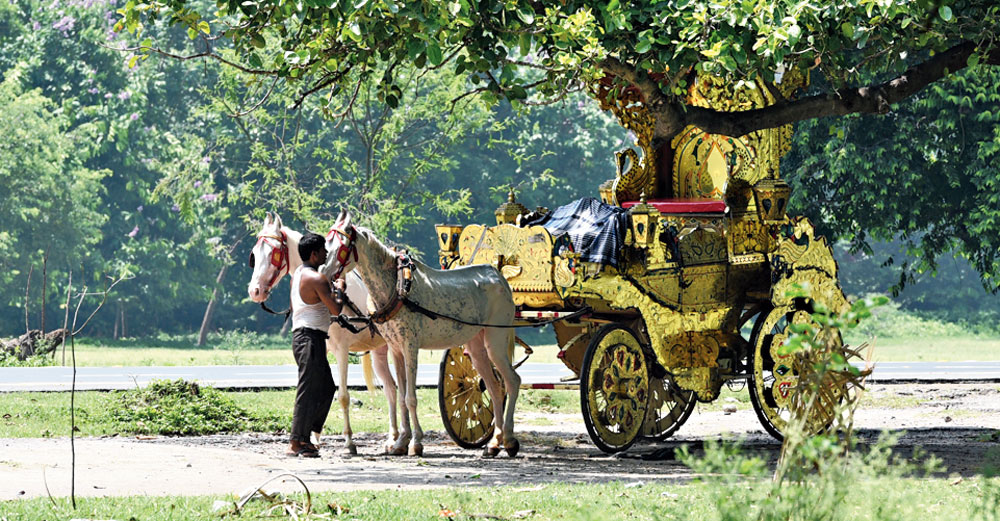 ---
|
Calcutta
|
Published 07.05.19, 10:08 PM
---
The city recorded a maximum temperature of 37.2 degrees Celsius on Tuesday but it felt like 46 degrees on the human skin because of high moisture content in the air.
The maximum temperature as well as humidity will rise in the coming days, making the weather more sultry, the Met office has said. Rain, too, is unlikely in at least the next three days.
The mercury had touched 37.9 degrees Celsius on Monday, making it the highest in the season so far. Tuesday's reading was lower but still two notches above normal and the weather turned from comparatively dry to sweaty because of a cyclonic circulation that started drawing moisture from the Bay of Bengal.
As a result, the RealFeel, calculated by weather portal AccuWeather.com, went up to 46 degrees Celsius on Tuesday. It was 44 degrees on Monday.
RealFeel is a measure of the effect of the temperature, relative humidity, wind and the angle of the sun on the human skin.
"On Monday, hot Northwesterly winds from the plains of north and central India blew into the city," G.K. Das, director, India Meteorological Department, Calcutta, said. "On Tuesday, moist Southwesterly winds began to blow. The two together pushed up the humidity levels, making it uncomfortable for people."
A cyclonic circulation pulls air towards itself because of its atmospheric pressure that is lower than its surroundings. At present, the one over north Bengal is drawing moisture from the Bay. Since the wind is passing over Calcutta and its neighbouring areas, the humidity level is high, Das said.
Records showed the minimum relative humidity, a measure of the moisture content in the air during the hottest part of the day, went up to 48 per cent on Tuesday from 32 per cent the day before.
The discomfort levels in the city will go up because the maximum temperature and humidity are both set to increase — the mercury because a heatwave is expected to start in central India and the humidity because the cyclonic circulation over north Bengal is set to be active for the next couple of days.
Discomfort levels go up when heat and humidity are high as the body's mechanism of trying to lose heat fails. "The body produces sweat to bring down its temperature when the conditions are hot. The sweat leaves behind a cool feeling when it evaporates from the skin," a Met official said. "When the humidity level is high, sweat does not evaporate easily. The mechanism fails and the body produces even more sweat making people dehydrated."
In hot and dry conditions, the maximum temperature and the RealFeel tend to be similar as there is no additional discomfort caused by the sweat lingering on the skin.