Homes in Murshidabad washed away on Madhyamik eve
Students study under tents after sudden erosion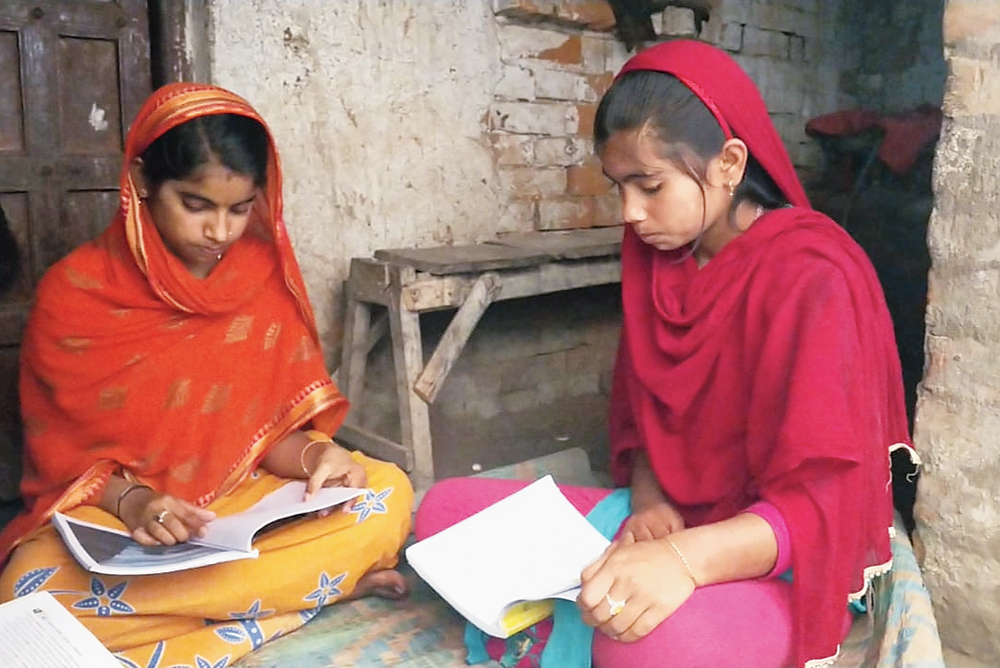 Sisters Tunjela and Unjela Khatun prepare for the Madhyamik examination at Shibnagar village in Samserganj on Tuesday
Picture by Samim Aktar
---
Samserganj
|
Published 25.02.20, 08:17 PM
|
---
The sudden erosion of approximately 400sqm of the Hooghly riverbank at Shibnagar village here on Monday night rendered at least six Madhyamik examinees homeless hours before their physical sciences exam on Tuesday.
Between 11.30pm on Monday and 2am on Tuesday, a portion of the right bank of the river near the Bangladesh border caved in. Residents were taken by surprise as the area is not prone to erosion even during monsoon floods.
District sources said that at least nine homes were permanently damaged in the erosion, and at least 20 more were at risk.
On Tuesday, six students — Sabnur Khatun, twins Tunjela and Unjela Khatun, Ruhina Khatun, Shahana Khatun, and Champa Khatun — who lived in these homes took their Madhyamik exam.
The girls are students at Nimtita G.D. Institute, and are writing their exams at the Laskarpur Baliaghata High School, which is 5km away.
When The Telegraph visited the village, which is 85km from Behrampore, on Tuesday morning, sisters Tunjela and Unjela were studying for their exam sitting at a tent that has been set up under a tree.
"We were studying late on Monday night when we heard screams asking us to run out of our homes. We somehow managed to run out with our books and testimonials. We have lost everything else," said Unjela, whose home was among the nine that were lost to the river.
"We know we have to appear for our exams, but we are clueless about how we will study or how our lives will go on from here," she added.
Samserganj-I BDO Joydip Chakraborty said on Tuesday that officials were monitoring that situation and had provided the stranded families with food grains and survival items such as lamps and tarpaulin sheets.
Sources said the administration was thinking of making permanent arrangements for the affected students and their families.
"We have advised the families living in 20 homes that are at risk to evacuate immediately," said a district official, adding that residents of the area had been scrambling to retrieve loose bricks, pieces of construction wood and household items before evacuating.
Residents said they were still in shock over the unexpected erosion, which they did not even face during the monsoon.
"I have lost my dream home and all my savings. I cannot fathom how this could have happened during the dry season," said farmer and local resident Alkes Sheikh, whose home was lost to the erosion on Monday night despite being more than 150m from the river bank.