Home quarantine clarity: must for all from abroad says Bengal government
A notification has been issued to enable forcible quarantine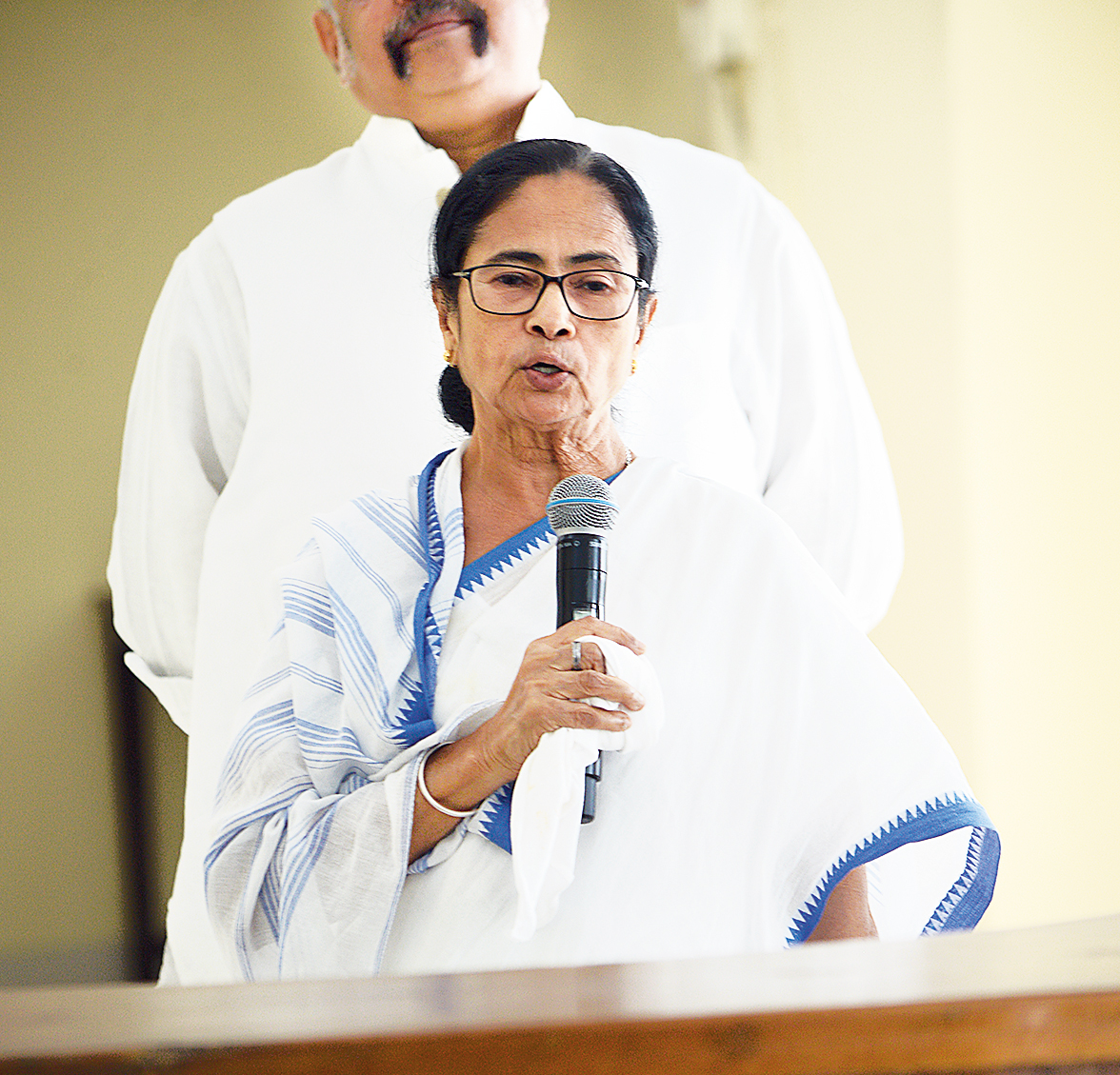 Mamata at Nabanna on Friday.
Picture by Shyamal Maitra
---
Calcutta
|
Published 20.03.20, 10:58 PM
|
---
The Bengal government has asked all persons who have returned from abroad in the recent past to quarantine themselves at home for 14 days, failing which forcible isolation will be activated.
The warning came on a day a second person tested positive for Covid-19 in Calcutta.
On the 14-day quarantine advisory for travellers from abroad, Calcutta police said: "Persons who do not follow the advice will be liable for action, including forcible quarantining…. under the West Bengal Epidemic Disease Covid-19 Regulation 2020."
A notification has been issued to enable forcible quarantine. Chief minister Mamata Banerjee said the government was "forced" to do so because not all have been taking the guidelines seriously.
The Bengal advisory covering all travellers from abroad — with stress on the UK, the rest of Europe, the US and the Gulf countries — brings clarity to the home quarantine question that has begun to affect neighbourly relations in some apartments.
The staggered travel advisories issued by the Centre, with multiple categories and norms, had caused confusion among many people who started viewing with suspicion anyone who had returned from abroad recently.
Officials and police have been receiving several alerts from residents who felt their neighbours were flouting isolation norms. Questioned, several travellers said they were not sure whether they were supposed to be in self-isolation or not. Besides, the US was added to the list of countries requiring mandatory quarantine only on Friday.
The advisory that all those who had returned from abroad should quarantine themselves for 14 days removes any room for confusion.
Mamata said: "If someone is in home surveillance, home isolation, please, doya kore (have mercy), don't go out unless there is a major emergency, like a fire at home."
The chief minister said everybody returning from abroad in the "recent past" should follow the government's advice. "Even if I don't have the novel coronavirus, what is the problem in keeping myself isolated for 14 days?" she asked.
Mamata explained at length the necessity for the notification. "Our government has issued a notification on the basis of what the Centre has said, it has become a law now…."
She added: "Suppose we get input that he came today but he has not been isolating himself. Then the government has the power to bring him and have him quarantined in a government facility. We want it not to spread, simple…. Social distancing, do we like it? But we must do it. This is a pandemic," Mamata said, adding that 17,000 people in Bengal were under home surveillance.
"Even the one found positive yesterday, brought it from the UK…. Totally, totally being brought from outside," she said.
Mamata said there was no reason to fear quarantine. "Remember, quarantine does not mean jail. Quarantine simply means to keep oneself healthy, staying in a separate space, where many people don't have access. Those there, other than them, no outsiders," she said.
The chief minister said there was no reason to doubt the facilities at the NBCC building in New Town, currently the largest isolation centre of the government.
"A brand new building, the NBCC. A high-rise. Five thousand people can stay. Only those in quarantine, nobody else. Bathrooms, beds, food… just like home. That is quarantine, like your own home. Not a jail, must remember this," Mamata said.
Flight halt appeal
The chief minister urged Prime Minister Narendra Modi to stop all international flights to Bengal immediately.
"Koto shamlabo (How much will we take care of)?" Mamata asked at a news conference in the state secretariat in the afternoon, referring to international flights still coming in from West Asia and Southeast Asia.
A central ban on all international commercial passenger flights comes into force only from March 22.
Mamata said the state had enough on its plate with over 1 lakh people already returning to Bengal from abroad. "Bengal has so many state borders, international borders with three nations. Bengal's unique conditions have to be considered seriously," she said.
After attending a videoconference of chief ministers with Prime Minister Modi in the evening, Mamata said she asked him to stop all international flights to the state immediately.
She asked for a central relief package for the unorganised sector, clearance for private operators to conduct medical tests and urged the Centre to send necessary medical kits to combat the pandemic.
Despite repeated questions, Mamata declined comment on Sunday's "Janata Curfew" proposed by the Prime Minister.
Measures suggested by chief minister Mamata Banerjee on Friday
All who returned from abroad in the recent past, especially the UK, US, Europe and Gulf nations, should confine themselves to home isolation for 14 days
Refusal can invite action, including forcible quarantine
Foodgrains will be given free for six months to 7.85 crore people eligible for subsidised PDS grain
State emergency relief fund to be set up to collect aid from willing donors
State government employees giving up holidays and leave now will be given special leave after Durga Puja
At least 50% of state government employees will work, on rotation, from home
Private sector requested to follow the work-from-home model
State public service commission exams on hold