Hill rapprochement murmurs: Tamang shares picture with Giri
They had once been the second and third in command in the Bimal Gurung headed Gorkha Janmukti Morcha that started the Gorkhaland agitation in 2007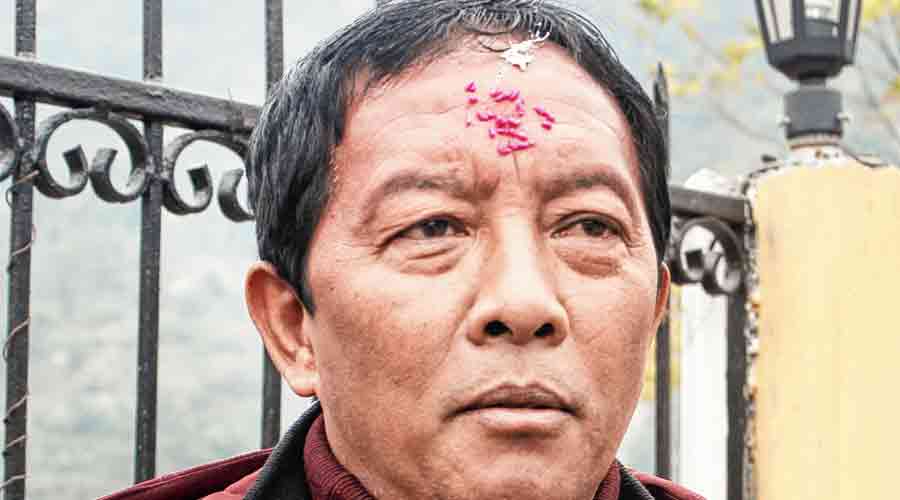 ---
Darjeeling
|
Published 23.01.22, 04:00 AM
|
---
From best friends to worst enemies to rapprochement — Darjeeling politics came a full circle in Calcutta on Friday evening.
Hill leaders Roshan Giri and Binay Tamang, who had a bitter falling out, have been pictured attending an event in the city. Giri and Tamang had once been the second and third in command in the Bimal Gurung headed Gorkha Janmukti Morcha that started the Gorkhaland agitation in 2007.
When the third round of Gorkhaland agitation started in 2017, Tamang staged a coup within the party, ousted Giri and Gurung and the duo were forced to flee the Darjeeling hills fearing arrest. Tamang went on to occupy Lal Khoti, the headquarters of the Gorkhaland Territorial Administration that had been with Gurung till he renewed the statehood agitation in June 2017.
On Friday evening, Tamang released a photograph where he is seen standing beside Giri accompanied by Bengal ministers Aroop Biswas and Malay Ghatak.
Tamang recently resigned from the Morcha faction he formed in 2017, handed over the flag to Gurung and joined the Trinamul Congress.
"There was so much bitterness and suffering among supporters then, none had thought that these leaders would pose together and circulate photographs. The only people to lose were the supporters," said a former Morcha supporter who is now "disinterested and retired" from politics.
"A special meeting was held in Calcutta in the presence of honourable ministers Aroop Biswas and Malay Ghatak where I along with Dr Rohit Sharma from the Trinamul Congress and Roshan Giri and P.T. Ola from the Gorkha Janmukti Morcha were present," Tamang said.
Only Tamang circulated the photograph while Giri and his team remained guarded on the development, probably aware of the possible adverse repercussions among supporters.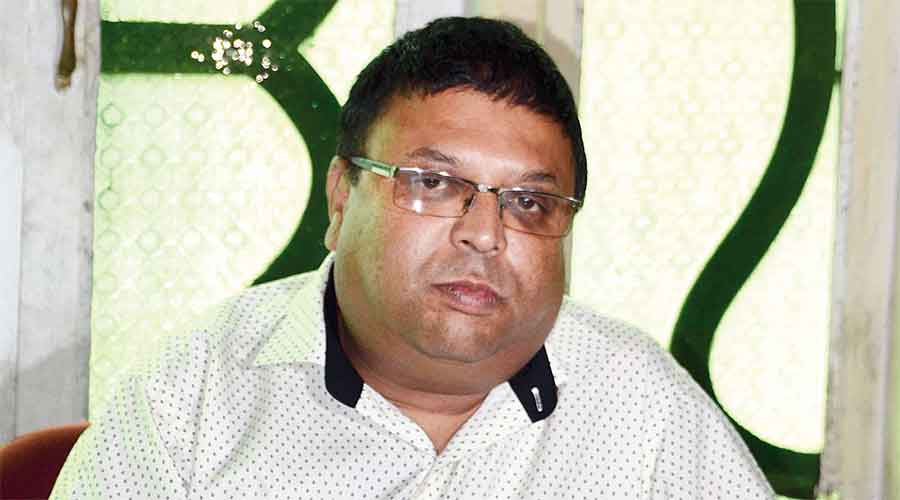 "We attended a meeting where Binay Tamang was also present. We, however, also, met the ministers separately where we raised the demand for waiver of electricity bills," said Giri.
Sources said Trinamul Congress wanted Gurung, Tamang and even Anit Thapa of the Bharatiya Gorkha Prajatrantrik Morcha to share a common platform in hill politics. The three leaders are allies of Trinamul.
Observers, however, said that given the present political equation in the hills, Thapa is in no position to accept such a proposal. "Thapa's supporters want him to remain independent of both Gurung and Tamang. Also, Gurung and Tamang, too, would not be comfortable sharing space with Thapa at the moment," said an observer.
Moreover, leaders of all the three parties are keen to prove their mandate during the upcoming municipal polls and also the GTA elections to be in power in the hills.