Hill duo quit BJP over 'empty promises'
Both Swaraj Thapa and Raju Pradhan expressed ire at the fact that no major move had been made by the Narendra Modi government to meet their statehood demand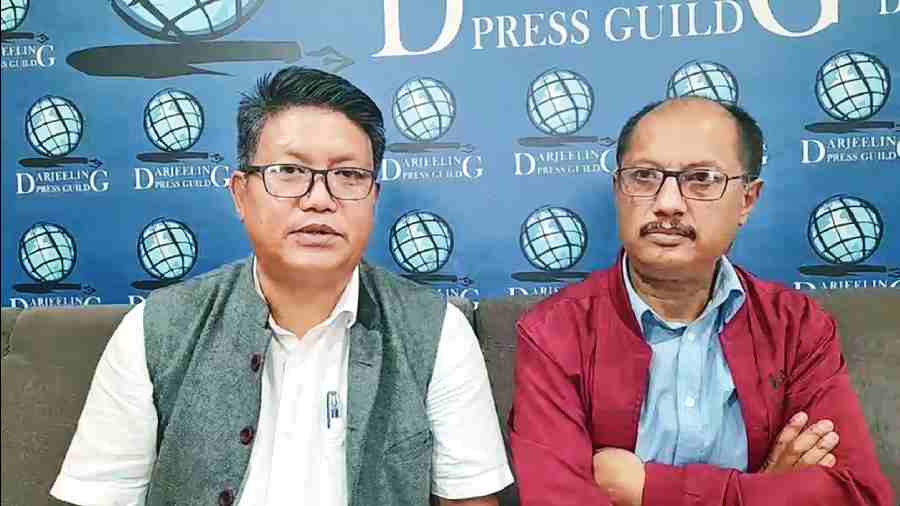 Swaraj Thapa (left) and Raju Pradhan, hill leaders who quit the BJP, at the Darjeeling Press Guild on Sunday.
---
Siliguri
|
Published 09.05.22, 01:50 AM
|
---
 Two prominent political faces of the Darjeeling hills walked out of the BJP on Sunday, within 48 hours of the visit of Union home minister Amit Shah to north Bengal.
Both Swaraj Thapa and Raju Pradhan expressed disappointment at the fact that no major move had been made by the Narendra Modi government to meet their main demand of statehood.
Thapa and Pradhan, both senior leaders who used to be close associates of Bimal Gurung, the Gorkha Janmukti Morcha president, had joined the BJP in January last year.
They left the Morcha because of Gurung's decision in October 2020 to shun the BJP — his long-time ally — and support Trinamul.
"We joined the BJP to forward our demand for Gorkhaland. But we realised we cannot press for our demand by staying in a party that has not made any major move in this regard. That is why we have sent resignations as primary members of the BJP," Thapa told the media accompanied by Pradhan.
   Thapa added they felt ignored in the BJP. "After joining the party, we shared our thoughts with various functionaries of BJP regarding the statehood issue and submitted proposals on how to move forward so that the demand is met. But eventually we felt our suggestions were not given importance," said Thapa.
Over the past few months, an anti-BJP sentiment is steadily gaining ground across the hills as the Centre has not taken any decision on statehood and Scheduled Tribe status to 11 hill communities.
Thapa and Pradhan also expressed displeasure that  Shah stayed at a hotel near Sukna (an entry point to Darjeeling hills on the outskirts of Siliguri) but did not call local people to discuss statehood. "A delegation of parties and members of the civil society could have visited him. It seems we were simply ignored," said Thapa.
Shah at the public meeting in Siliguri had briefly referred to the hill issue, saying that only the BJP could provide a permanent political solution and polls to the Gorkhaland Territorial Administration, which the state government wants, would not do any good.
Pradhan said in the coming days, they would continue to press for the demand without getting into any political platform..