Residents heave a sigh of relief as high tides spare coast damage in three Bengal districts
They were not accompanied by strong winds and the day passed off without much destruction in East Midnapore, North 24-Parganas and South 24-Parganas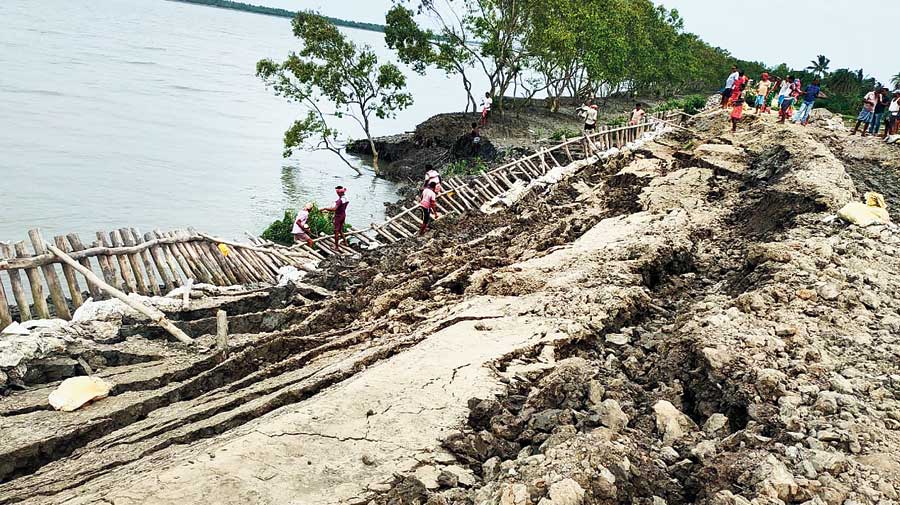 ---
|
Calcutta
|
Published 12.06.21, 01:12 AM
---
Thousands of residents of coastal areas in East Midnapore, North 24Parganas and South 24Parganas and the administration heaved a sigh of relief as high tides on Friday didn't cause much damage as had been feared earlier.
As Cyclone Yaas had breached large stretches of embankments on May 26 and they were yet to be repaired, authorities had feared that high tides on Friday would inundate coastal areas and submerge houses. There were also fears of strong winds which would aggravate the situation.
But the high tides were not accompanied by strong winds and the day passed off without much destruction.
Ahead of the high tides, the state government had last week issued an alert for the three districts, following which several people were evacuated to safe locations. However, as of Friday evening, no visible damage was observed in the three districts, except at a few places in Nandigram and Chandpur of East Midnapore, where a few dykes were breached.
"It has been a big relief for us. We were anticipating something much worse," said a senior irrigation department official.
"No major incident of damage has been reported so far. We were on high alert and are continuing to monitor the situation," said state irrigation minister Saumen Mahapatra.
Barely two weeks after Cyclone Yaas wreaked havoc in the coastal districts, protecting residents of these areas had become an impending challenge for the state and district administrations. Chief minister Mamata Banerjee had instructed the irrigation department to repair damaged dykes posthaste. Nonetheless, repairs could not be taken up at several places owing to damage as well as restrictions imposed to contain the spread of Covid19.
In North 24Parganas, district officials kept vigil throughout the day in areas, including Hansnabad, Hingalganj, Sandeshkhali and Minakha, alerting residents over loudspeaker to the high tide starting in the morning.
"At most places, people were sheltered at rescue centres. But a few of them tried to leave for their homes. Fortunately, there was no tide as of late evening," an official of the Basirhat subdivision said.
An official in the South 24Parganas administration said: "The tide had not caused major problems to embankments and livelihood at all, and water levels were nowhere near those during Yaas."
"We had been waiting for the tide for the past couple of days, and those who were evacuated will be returned their homes tomorrow morning. The first threat was over today and now we are planning for the next high tide in a few days. We will repair all the breached embankments soon after that," South 24Parganas district magistrate P. Ulaganathan said.
The South 24Parganas administration had evacuated 30,000 residents from coastal areas in and around Sagar this week. At the end of the day, the administration heaved a sigh of relief as high water did nothing more than flooding embankments at a few points of Gosaba and Mausuni. The water level, however, receded once the low tide started.
In East Midnapore, only a few villages, including Jalpai and Munchal, were inundated on Friday afternoon after water breached dykes along the Haldi river in Nandigram's Dangapara. Officials of the irrigation department rushed to the spot and repaired the damage within a few hours.
Similarly, a few villages near Sankarpur and Tajpur Marine Drive, already battered by Yaas, were waterlogged by a high tidal wave early on Friday. "A strong wind from the east created the high wave that waterlogged the area, but no major damage has been recorded," Chaitanya Ghorai, a local resident said.
District disaster management official of East Midnapore, Mrityunjoy, Halder said: "We had evacuated around 1,500 villagers, who will return home soon if the situation remains normal. There was no major incident of damage or inundation reported from the district as of Friday evening."
Additional reporting by Snehamoy Chakraborty