Heckled, Bimal Gurung keeps calm
On Thursday morning, supporters of the rival Morcha camp played a song eulogising Thapa and Binay Tamang when the GJM convoy reached the Kurseong temple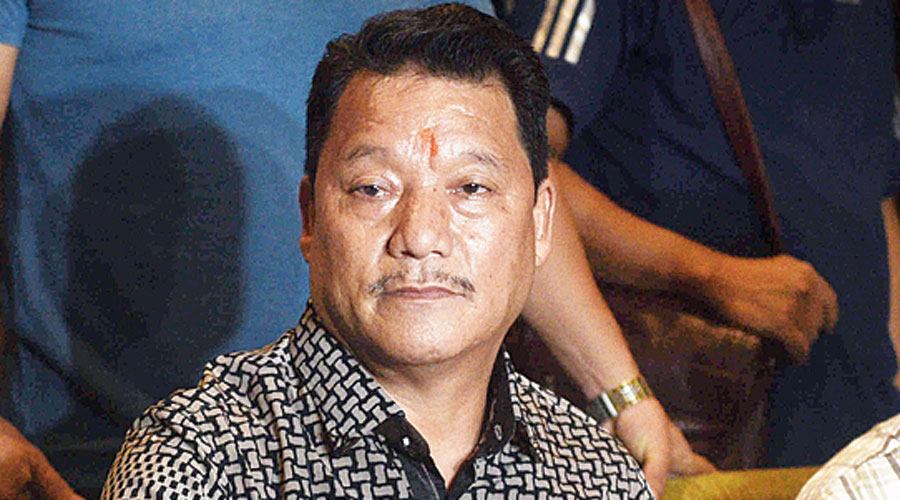 Bimal Gurung
File picture
---
Darjeeling
|
Published 19.02.21, 02:08 AM
|
---
Gorkha Janmukti Morcha leader Bimal Gurung faced pro-Anit Thapa slogans while on a visit to a Kurseong temple early on Thursday, but did not react.
Gurung, with a perception of being a "tough" person since his Darjeeling Gorkha Hill Council election win, has seldom been heckled on his face.
On Thursday morning, supporters of the rival Morcha camp played a song eulogising Thapa and Binay Tamang when Gurung's convoy reached the temple. As Gurung alighted from his vehicle, pro-Thapa slogans were raised. Gurung did not react and simply walked towards the temple.
The incident triggered shadow-boxing on social media. A section circulated videos to show Gurung's reaction to pro-Anit Thapa slogans in a bid to dent his "tough" persona. Another section circulated another clip to prove Thapa supporters had problems with Gurung visiting a temple.
This video is complete with a commentary to suggest that protesters were allegedly reeking of alcohol.
Hill observers said that the incident was reflective of the present political contours.
"It is obvious that Anit Thapa's group tried to prove that they are no longer intimidated by Gurung's perceived tough personality. Gurung's reaction also suggests he has mellowed for the moment," said an observer.
The observer also recalled that a similar heckling at Gurung's convoy in the middle of Kurseong town some years back that had resulted in an angry backlash in full public view. The two youths at the receiving end had not filed any police complaint against Gurung, the observer added.
Both Thapa and Gurung are now in alliance with Trinamul. "The state government will not want any law and order situation in the hills," the observer added on the condition of anonymity.
Many in the hills also noted that while both parties were with Trinamul, their bitterness towards each other was evident.
In reaction to Thursday's incident, Thapa said he was appealing to his supporters to maintain peace in the hills.
"I was told that Gurung's supporters raised slogans against us at Subedar busty in Kurseong last night. I think our supporters are reacting to that incident but I have appealed for peace," said Thapa, general secretary of the Gorkha Janmukti Morcha of the Tamang camp.
Roshan Giri, general secretary of the Gurung camp, countered: "Their (Tamang-Thapa) base is being eroded and the act was triggered out of frustration."