Heavy rainfall incurs Rs 138cr loss for Bengal farmers
Policy decision pending before compensation can be announced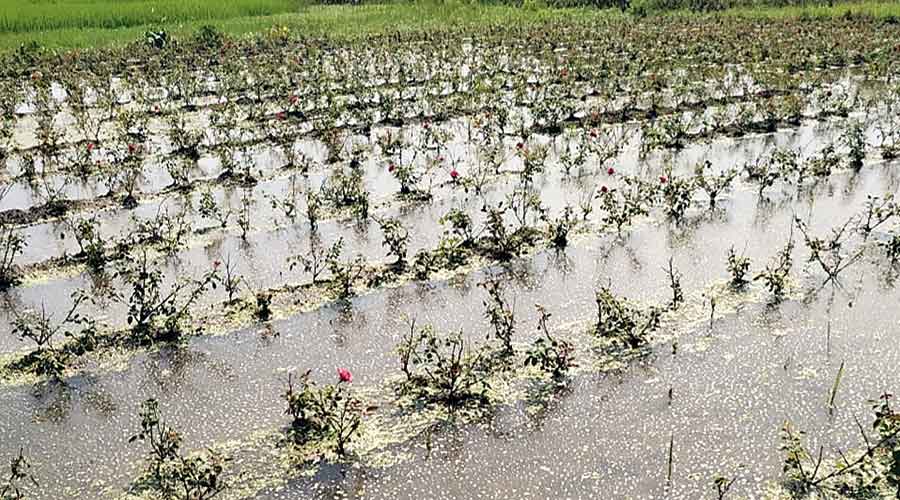 ---
|
Ghatal
|
Published 18.09.20, 02:20 AM
---
A report by the agriculture department has revealed that heavy rainfall that lashed 226 mouzas spread across three subdivisions in West Midnapore over a period of 10 days in August caused irreparable damage to farmers who were already reeling under the impact of the Covid-19 pandemic.
According to the report, a total of 14,430 hectares of vegetables, flowers and paddy were submerged and the agricultural produce suffered an overall loss of Rs 138 crore.
"Of the 14,430 hectares, nearly 50 per cent were used for vegetable cultivation. The remaining plots had flowers and paddy. The total damage has been estimated to be Rs 138 crore," said a senior district official.
Sources in the agriculture department said they had received the damage report from the district and it would be placed before the top brass of the government for taking a call in this regard.
"A policy decision has to be taken before announcing compensation for the affected farmers," said an official.
The sources said the vegetable farmers could be the worst hit as a majority of them couldn't insure their crops. "This is because insurance companies don't show interest in providing insurance coverage for vegetables which are vulnerable to even mild weather change," sad a source.
A senior government official said: "Now, hundreds of farmers have to depend on the state government with a hope that they get some compensation from the state government for crop loss."
The rain destroyed agricultural fields in East Midnapore also.
Ramaprashad Giri, the krishi (agriculture) karmadhyaksha of West Midnapore zilla parishad, said the farmers who had crop insurance would get compensation according to the procedure. "But for those who don't have the crop insurance, we will request the state government to release funds to compensate for their loss," said Giri.
The loss of production has already cast a shadow in the local markets as prices of vegetables and flowers have shot up. "Genda (marigold) flowers were sold in retail markets for Rs 50-100 a kg during the Vishwakarma Puja week last year. This year, they were sold for Rs 200," said a retailer in Ghatal's Chandrakona village.
The picture is the same for vegetables as cucumbers and ribbed gourds are being sold at Rs 50 to Rs 60 a kg while the average price has always been around Rs 20 a kg.
A source in the agriculture department said the rise in the prices didn't result in any good for the farmers as the middlemen use the demand-supply mismatch and corner the benefits from the higher rates.
The situation is also causing problems for ordinary buyers as prices have gone up throwing kitchen budget haywire.
"The problem is that West Midnapore supplies vegetables to a large part of the state. If its production is hurt, the entire state would feel the pinch during the pandemic when many people lost their livelihood," said a source.