Heard at the booth
Sights and sounds from polling booths across Salt Lake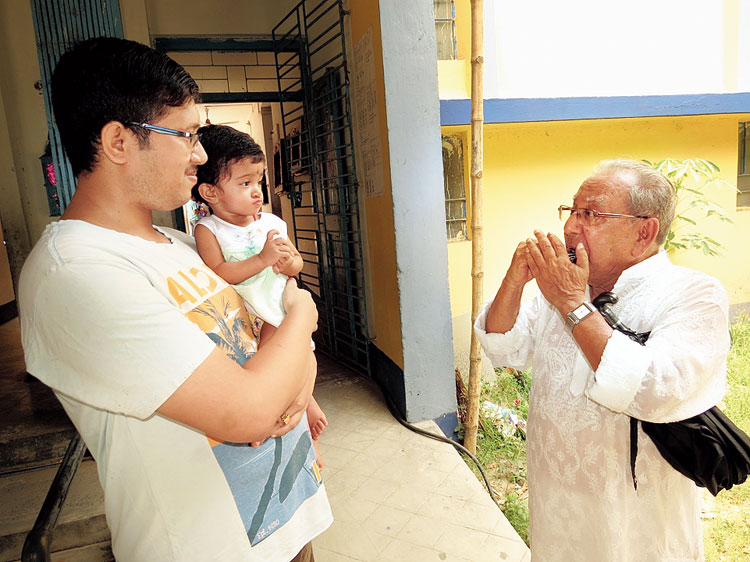 ---
Published 24.05.19, 01:48 PM
|
---
Debkumar Palit, 81, plays a mouth organ on his way out of the polling booth at Bhagabati Devi Balika Vidyalaya in AE Block as 11-month old Aarya Manna listens spellbound in her father's lap. "Uncle carries the mouth organ even to the market," said Aarya's father Subham. "I have eight mouth organs," Palit said.

Gender bender
While others took umbrellas to the booth, Suranjan Bonnerjee contemplated taking along a sari! "They've misprinted my name in the voter list as 'Suranja Banerjee' and changed my gender to female! If the officers challenge me I'll have to put on a sari and vote!" joked the 83-year-old from City Centre's The Residency.
The problem apparently has persisted over the last few elections and no number of complaints and applications have managed to rectify it.
But Bonnerjee is no stranger to voting errors. "Decades ago when I applied for my first-ever voter card, it arrived with my details but the picture of a frightening-looking old man!"
So frightening was the picture that Bonnerjee dreamt of the man the night he received the card. "In my dream the man said he was leaving but that his last picture was left with me. He wanted me to give it to his wife," said Bonnerjee, who went on to write a horror story on the incident that got published. 
Digital slip
In the smart city of New Town, live tech-savvy residents like Prithu Roy. "Unlike the last election, this year my family did not receive any slip from the political parties specifying the part number," said the resident of Balaka Abasan. "So I downloaded the slip from the election commission's website and showed it to the poling officers on my phone. The rest went off smoothly."
Chairs in need
Santwana Raychaudhuri of AL Block walked up to the booth with the help of an unusual-looking walking stick and upon seeing a long queue, pulled open the stick and sat on it. "It is a stick-cum-chair," said the lady who has arthritis. "I got it online and carry it with me wherever I go."
In the men's queue at the same booth, AL Block's Pradosh Kumar Roy sat on a colourful tool at the queue, that he had brought in his bag. "It's foldable," he showed. "It folds into a flat surface that I can slip into my bag. I bought it from a fair," he said, as others in the queue surrounded him seeking details. 
Hair-raising story
Meghna Rathi's haircut was a head-turner at CL Block's Sri Aurobindo Institute of Education. It was extremely short with vertical and horizontal lines shaved out across the head. It got long-haired women talking about how comfortable it looked this season. "Not everyone can carry it off," warned Meghna, who works in a City Centre store. "Eighty per cent of people are orthodox and give me quizzical looks about my haircut. But my family and I love it!"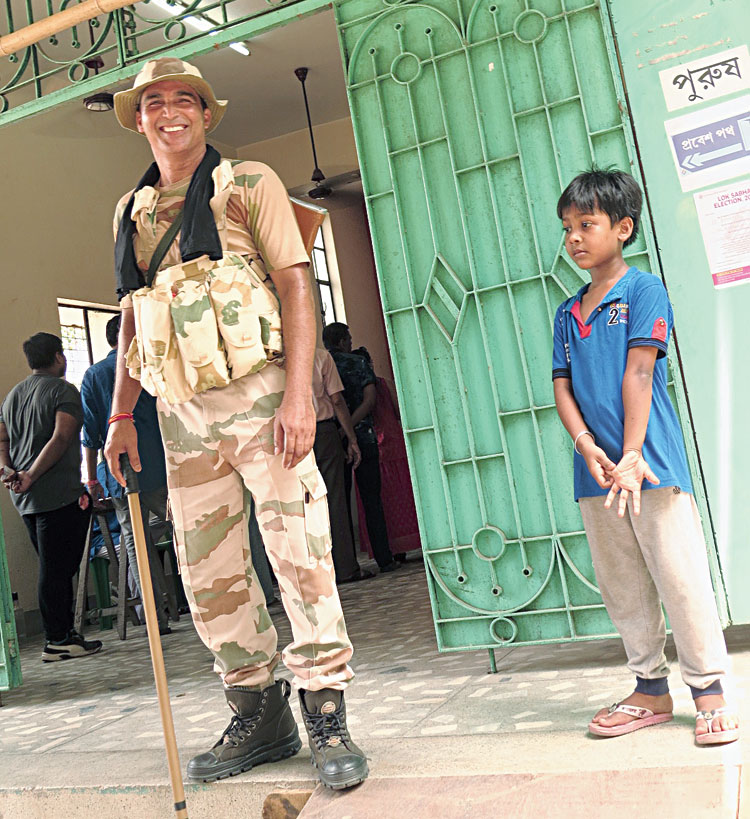 Sweet surrender
Dip Pal, a seven-year-old from CE Block, had come with his father but was not allowed into the polling booth. As he waited, the Insas rifle-bearing guard spotted an elderly voter joining the queue with a packet of sweets in hand. "Leave that on the steps," he told him. The man was worried about his packet being stolen when he would go in. Dip's father, a neighbour of his, offered to ask his son to guard the sweets. "I am worried about him eating up my sweets," the elderly man protested, making others in the queue chortle. The security guard stepped up and assured him that it would be he who would be responsible for the sweets. Finally, he was persuaded to go in and vote.