'Hard time' for enumerators of the 2021 Census, says Pronab Sen
Statistician fears 2021 Census resistance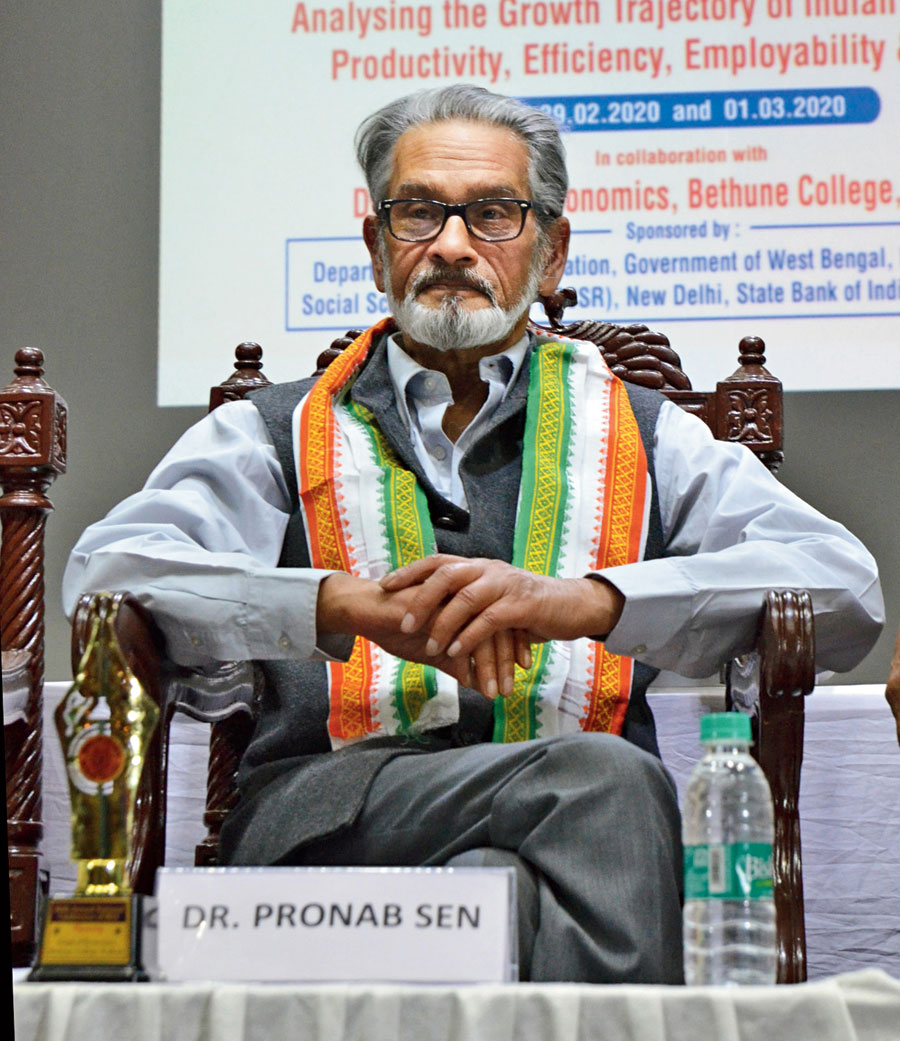 Pronab Sen at Bethune College on Saturday.
Picture by Sanat Kr Sinha
---
Calcutta
|
Published 29.02.20, 09:28 PM
|
---
The 2021 Census could be in jeopardy because enumerators will face resistance while collecting information in the wake of the CAA-NRC-NPR protests, a former chief statistician of India said on Saturday.
The house-listing work that precedes the Census is scheduled to begin from April and it could be the first casualty of this fear. That in turn can severely compromise the Census, Pronab Sen, who also was the chairman of the National Statistical Commission, said.
He was speaking at the 40th annual conference of the Bangiya Arthaniti Parishad (Bengal Economics Association) at Bethune College.
Several economists and statisticians said planning and policy formulation of the government would be hit if people refused to share details of themselves and their families.
The National Sample Surveys in India have been successful since Independence because people trusted that their details would be used for a noble purpose. But that trust is in question now, an economist said.
The centre has issued a notification that data needed for the National Population Register (NPR) would be collected, along with Census data. "The Census is a two-step process. The first part is called house-listing operation. As far as house-listing is concerned, it is already under threat because of the announcement that NPR would be linked with house-listing," Sen said.
"I have a suspicion that whoever comes... whether it is a question related to NPR or not... will be resisted."
A common call by people protesting CAA-NRC-NPR across the country is not to show any document or share any detail with enumerators unless they are convinced the sole purpose is only Census.
Any activity that required an outsider to visit a house to seek the status of the household have been facing resistance, Sen said.
If data collection or surveys are affected, even measuring the country's gross domestic product will not be possible, he said.
"Only about 10-15 per cent of our employment is formal. The rest is in the informal sector. Our principal means of gathering data for nearly half of our GDP is through surveys. There is 'no non-survey' way of getting it. If surveys are adversely affected, then a very large chunk of the economy would remain unmeasured," Sen, who was part of four Five Year Plans, in his 18-year stint at the Planning Commission, said.
"We can still do the initial GDP estimates because they are all based on the organised sector. They are using the ministry of corporate affairs' database. That you will still continue to get; but the fact is that you will have a very hard time to get the remaining half of the economy, which is in the non-corporate sector."