Halloween fever hits North Dinajpur town
'Ghouls' on bikes cheer up Raiganj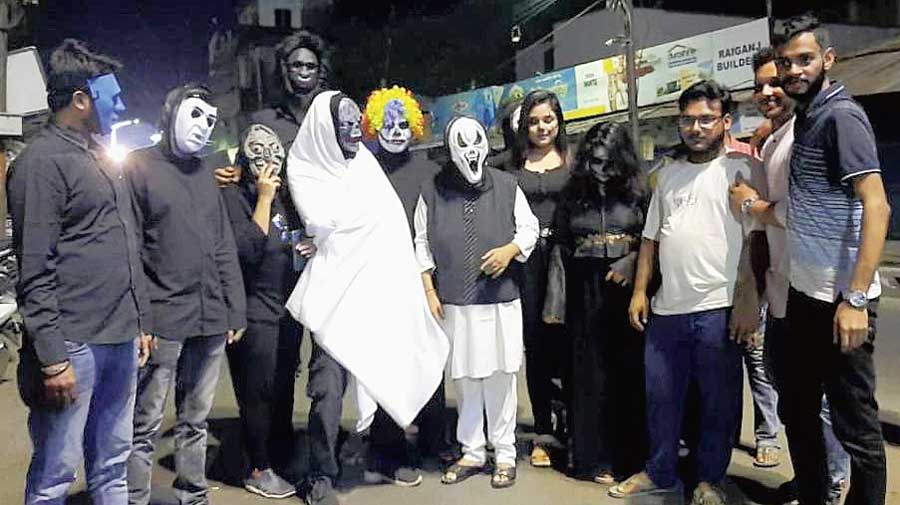 ---
Raiganj
|
Published 01.11.20, 01:06 AM
|
---
Ghouls hitting the streets of Raiganj on Friday night — many on motorcycles, many with guitars slung on their shoulders — may have caused many jaws to drop.
Halloween celebrations are not exactly common in this small town. But this year, a group of youths decided they would dress up as ghouls and zombies to entertain people "stressed out amid the Covid situation".
The youths went around some prominent locations of the town like Raiganj railway station area, the local bus stand and NS Road.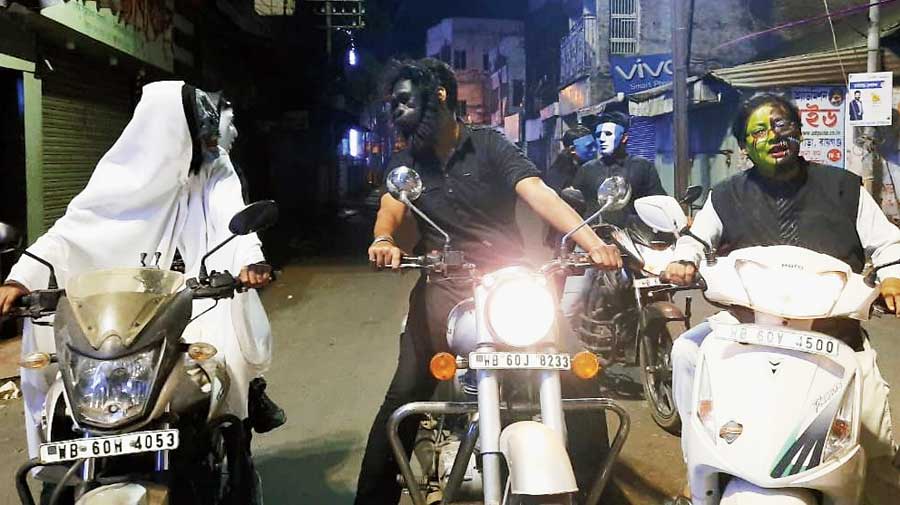 They played the guitar, sang and distributed chocolates among people.
Mahua Ghosh, a member of the "ghouls," said they had planned the celebration to help people de-stress. "Everybody is stressed these days due to the pandemic. So we thought of giving them some entertainment. I'd say people enjoyed the ambience with us," said Mahua.
Not at first, though.
Some residents, not used to youths in scary masks and face paint, initially called up the Raiganj police station.
The policemen reached the spot but they too were entertained by the group.
"We were really surprised to see a group of people wandering in the streets of the town. They had their faces covered with masks and they made strange gestures. Some of them were even playing guitars and singing. Soon we realised that it was pure fun as they approached us and offered us chocolates," said Arijit Ghosh, a trader residing in Ukilpara of the town, who was returning home with his family late night after attending an invitation.
Ghosh said he had heard about Halloween. "I knew it is celebrated abroad, especially the United States. But it is rare to see something like this here in Raiganj. It was a nice experience and gave us some entertainment amid the stress of the pandemic," he added.
Papu Mondal, who owns a garments shop at School Road, confessed to being startled when offered chocolates by "strangely dressed youths". "Initially, I got scared but then I realised by mistake. It was nice hearing them humming with guitars. They also gave me some chocolates," he said.