Haldia port back on stream as staff return
60 'marine hands', who fasten and unfasten vessels' chains, had stopped working on Sunday evening alleging staff shortage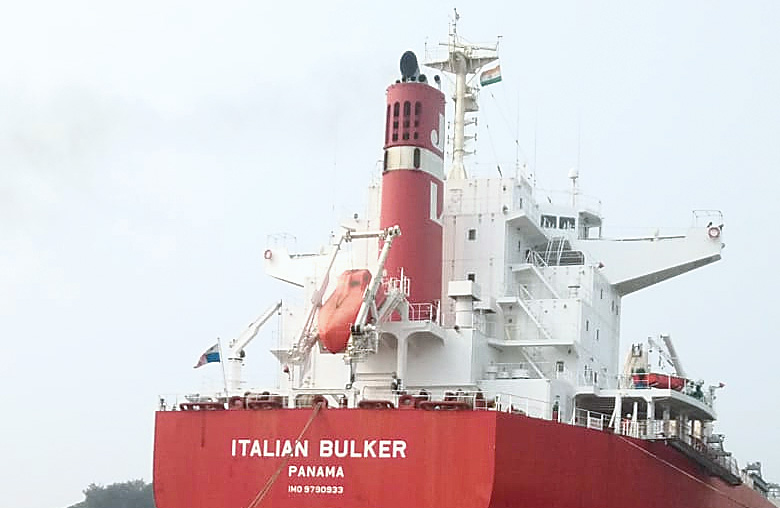 A ship at the Haldia port on Monday.
The Telegraph picture
---
Tamluk(EastMidnapore)
|
Published 22.01.19, 08:03 PM
|
---
Commercial activities resumed at the Haldia port on Tuesday with "marine hands" rejoining work following a meeting with authorities earlier in the day.
Sixty "marine hands" who fasten and unfasten vessels' chains had started the cease-work on Sunday evening alleging that they were overworked because of staff shortage. The strike had halted the movement of shops.
Trade unions did not make it clear what had prompted the workers to rejoin the work.
Sources said normalcy could be restored after the port authorities and the unions reached a consensus that no legal action would be initiated against the agitating workers.
On Monday, the Haldia Dock Complex had suspended one agitating worker and showcaused 11 others. "The disciplinary action prompted the unions to request the port authorities to convene a meeting on Tuesday," said a source.
Deputy chairman of the port, G. Senthilvel, led the officials in the talks.
General manager (marine) of the port, Swapan Saha Roy, said: "We held a meeting with unions on Tuesday but no demand was placed before us. The unions requested us not to take any legal action against any of the agitating worker for Sunday's strike. We are considering the appeal."
Debashis Chakraborty, the secretary of Trinamul-backed Calcutta Port Trust Permanent Employees' Union, said: "Issues have been resolved. We have no further demands."
The change in stance of the unions, the sources said, gives a clear hint that top brass of Trinamul was not happy with the strike.
"The chief minister does not like any kind of strike as she feels that militant trade unionism during the Left Front tenure has destroyed the work culture in Bengal. The unions must have received a stern message from the appropriate level," said a Trinamul insider.
Local Trinamul MP, Dibyendu Adhikari, wrote to the shipping secretary, Gopal Krishna, on Tuesday, claiming that no ceasework had been called by any union and the port could not function normally because the authorities had suspended calling ships to Haldia from January 19.
"I demand that an independent inquiry be ordered to find out reason as to why Haldia Port management suspended vessel movement since evening of January 19, 2019," the letter reads.