Guard sights leopard at hill Raj Bhavan
Animal spotted in Darjeeling's mall, rifleman clicks pictures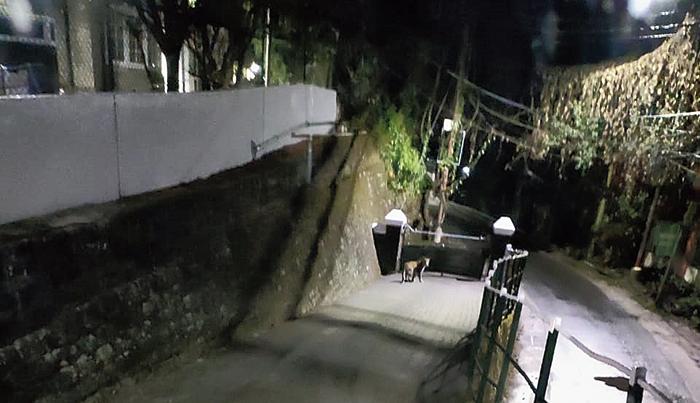 The leopard near Gate 3 of the Raj Bhavan in Darjeeling
Biju Thapa
---
Darjeeling
|
Published 19.12.19, 09:32 PM
|
---
A security guard posted at the Raj Bhavan here spotted a leopard on the premises of the governor's house after Friday midnight — the first instance of a big cat sauntering in the Mall, a must-visit spot for tourists in the hill town.
Biju Thapa, a jawan of the Eastern Frontier Rifles that comes under the Bengal police, was guarding Gate 3 of the Raj Bhavan when he fleetingly saw what he initially thought was a dog that passed by him within a handshake distance.
"It was 12.43am and I was at my post on Friday night. I was alone and thought that a dog had passed by," Thapa told The Telegraph.
After some seconds and when the animal was about 5ft away, he figured out that it was actually a leopard.
"I clicked the leopard's pictures on my cellphone for record. The animal roamed for a while, jumped over the gate and vanished near the shops that lead to the Darjeeling SP office," said Thapa.
Foresters said they had come to know about the leopard sighting on Thursday.
"We have sought permission to set up camera traps at the Raj Bhavan and will probably start doing it from tomorrow (Friday). We need to find out if it was a one-off incident or the animal is visiting the area regularly," said Jiju Jaesper, divisional forest officer, Darjeeling wildlife.
The gate 3 of the Raj Bhavan opens to Birch Hill road and residences of senior officials are in the vicinity.
The SP's office is a two-minute walk away, while additional district magistrate's residence can be reached in five minutes. The district judge's home is also so close.
Richmond Hill, the bungalow where chief minister Mamata
Banerjee stays while in Darjeeling, and the district magistrate's residence are within a radius of 150m from the spot where the big cat was sighted.
The RKSP school and the Raj Bhavan's Gate 3 are separated by a road. The area is also popular among early morning joggers.
The Raj Bhavan is contiguous to the Shrubbery Nightingale Park. "The leopard might have come from that area (park)," said Thapa, 39.
Of late, leopard sighting has become frequent in the hills. Asked if it was an indication of increase of wildlife in the hill forests, Jaesper said only a survey could provide a conclusive answer. Sources said there was already a proposal to conduct a survey of leopards.
The last time that a leopard had been found so close to the Darjeeling town was January 14. The animal was sighted at Frymal in ward 27 of Darjeeling municipality.
Marcian Joshi, a teacher at St. Paul's School, Darjeeling, had seen the animal while he was driving home late in the evening.
Frymal is just 2km from the Gate 3 of the Raj Bhavan.