Green Diwali
Display of eco-friendly fireworks at Swapno Bhor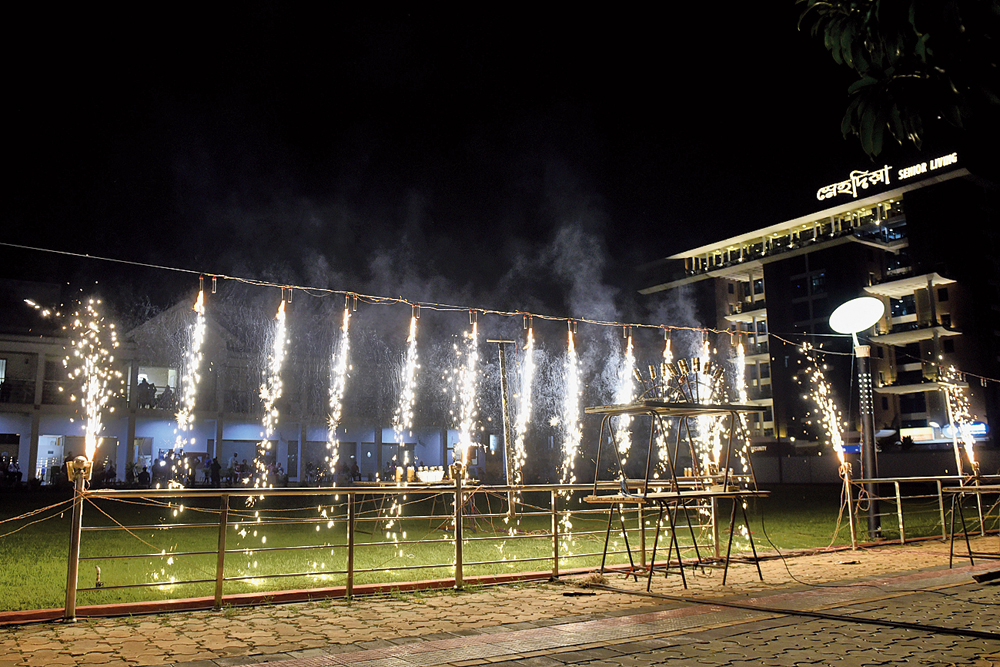 Fireworks display on Sunday evening at Swapno Bhor senior citizens' park
Picture by Sanat Kumar Sinha
---
Calcutta
|
Published 01.11.19, 01:20 PM
|
---
It was a fireworks display as bright as any other except that the dark night did not get engulfed by white clouds of smoke thereafter. Visitors neither had to cover their noses nor shield their ears from a string of loud bursts.
Residents of Snehodiya senior citizens' home and members of Swapno Bhor senior citizens' park celebrated an almost smokeless and noiseless Diwali without compromising on the lights. "While people want to celebrate Diwali, the environmental concerns cannot be ignored. So we decided on a fireworks display using eco-friendly crackers," said Debashis Sen, chairman cum managing director of Housing and Infrastructure Development Corporation (Hidco), that runs the twin facilities.
The gathering was seated on the ground floor and first floor verandahs of Swapno Bhor and the display took place in the park in front. In charge of the fireworks was Ma Tripura Industry of South 24 Parganas. But the men were not going up to the installations and lighting up the crackers. Sudarshan Bairagi, a partner in the firm, was bursting the crackers by remote.
Bairagi sat close to the visitors and had a numbered switchboard before him. All he did was press the switches for the tubdis and chorkis to come alive. "For instance, we burst tubdis 10 times during the 40-minute show but didn't have to run and replace the burnt-out ones 10 times. It had all been fixed to poles beforehand with cables so no one needed to run up and down during the show," he explained.
This electric system, he says, is 30 per cent costlier than the regular fireworks but is in high demand during the wedding season as they are considered safe for indoor shows. "For Diwali, we have organised such a show only once before."
They had acts which sent lights emitting in semi-circular form, or coloured lights shooting up to the sky or the old favourite Niagara Falls, which had a series of crackers burning downwards from a wire as if a waterfall on fire. "Our crackers emit little smoke, odour and noise," said Bairagi.
"There are no children in my house to burst firecrackers but I like watching them in the sky. So I completed Lakshmi puja at home and rushed here despite being tired," said Purabi Basu of New Town's AB Block.
Shyamapada Gupta was happy to know the fireworks were eco-friendly. "I suffer from a lung problem and the doctor says the condition can get aggravated by pollution. But today I can watch the show and still breathe freely," said the BF Block resident. 
Heard at the pandal
Missing mundu
One look at the Kali idol of Sukantanagar Centre for Culture and Sports on early Saturday evening and one would have thought that it was ready to be worshipped. But no, there was still a 4-ft crown to be put in place over and above the tiara.
While two men struggled to place it right, five-year-old Arin Shee had been handed the scimitar to hold as it could not be placed on the ground. It was a rare honour and even while reeling under its weight, he beamed from ear to ear.
And then someone noticed that the severed head was missing from Kali's bottom left hand. "Ki re, tora mundu anish ni? Shiggir ja Kumartuli. Noile tor mundu kete Ma er hatey jhuliye debo," thundered a senior official. The person addressed vanished in no time. Creature of habit
The BK Block pandal had brought alive the Amazon forest on fire and drew a steady stream of visitors. But one of them did a queer thing. While walking in, he raised his right hand overhead and made a swinging motion like ringing a bell by knocking the clapper against the bell's inner wall. But what would have been a perfectly normal gesture while entering a temple with a bell overhanging at the door raised eyebrows of those behind him as what the tips of his fingers touched was not the clapper of a bell but a flickering forked tongue of an Anaconda that looked ready to strike.