Govt goes all out to woo Deocha land losers, 5,100 posts created
Besides, the cabinet also approved the rollout of a Rs 10,000 crore rehabilitation package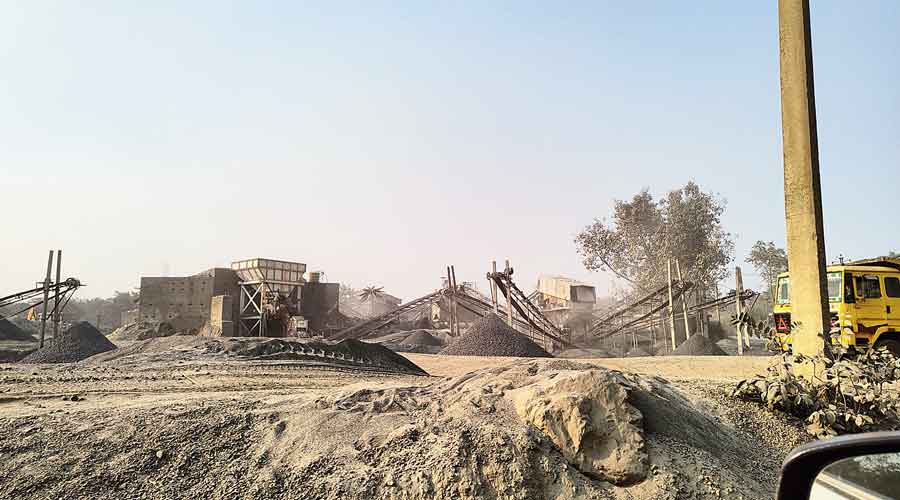 A stone crushing unit in the area proposed for the Deocha-Pachami coal mine.
File photo
---
Calcutta
|
Published 01.02.22, 03:42 AM
|
---
The Bengal cabinet on Monday cleared a proposal for creating 5,100 posts in the rank of constable and junior constable for land-loser families in the Deocha-Pachami coal mine project area in Birbhum district.
Besides, the cabinet also approved the rollout of a Rs 10,000 crore rehabilitation package for the land losers.
"The cabinet has cleared a proposal to create 5,100 posts of constables and junior constables for land losers for the Deocha-Pachami project.... One from each of the land-loser families would get a job of either constable or junior constable according to their educational qualifications," chief minister Mamata Banerjee said while emerging from the cabinet meeting held at Nabanna on Monday.
Sources said though the government had secured consent from 1,248 of 4,800-odd families, whose land falls in the project area, to part with the plots, verification of all documents could be completed for 139 families so far. So, a proposal to give compensation to those 139 families was tabled at the cabinet on Monday.
The Telegraph had reported on Monday that 1,312 families had give consent to sell the plots. Sources said the names of some land losers had been counted twice and after the correction, the figure was whittled down to 1,2481.
"In the next cabinet meeting, it is expected that proposals to give compensation to all those who have already agreed to sell their land could be put up for clearance," said a senior official.
A section of officials said the cabinet nod for the creation of 5,100 posts of constable and junior constables was significant as the government would now be able to issue appointment letters to one each from those 139 families.
"This is important because the government wants to earn the trust of the land-loser families. If the land-loser families get an appointment letter on the very first day, it would encourage more people to come forward to part with their plots. As the cabinet cleared the proposal, the process of taking over the plots could be kicked off with issuing appointment letters to the land-loser families," said an official.
According to sources, though the government secured consent from the 1,248 landowners, it has to go a long way forward as there are 4,800 families whose plots fall in the project area.
"There is some resistance from a section of local Trinamul Congress leaders and owners of stone crushing units who are misleading villagers. In such a situation, the government should react promptly and clear proposals to give benefits to the affected families. The government has already taken right steps in this regard," said a source.