Gorkha Janmukti Morcha will go solo in politics, says Bimal Gurung
Many hill politicians, however, consider the statement as a Freudian slip on the leader's part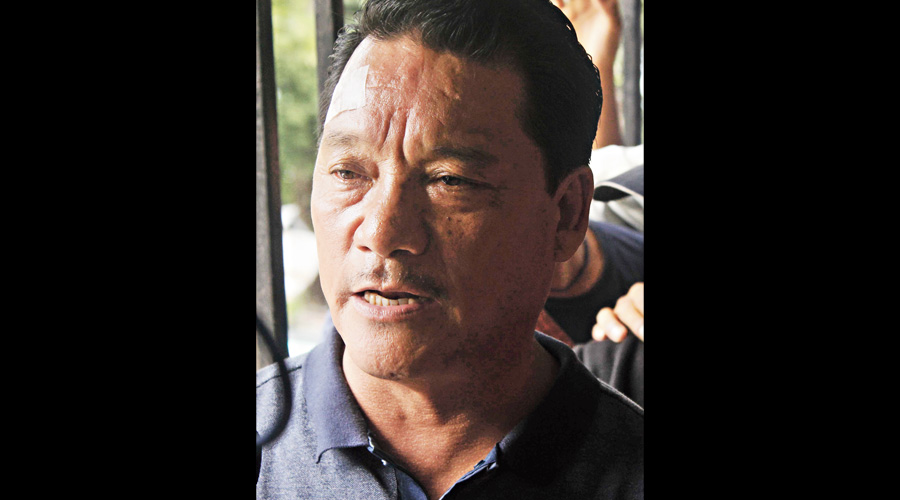 Bimal Gurung
File picture
---
Darjeeling
|
Published 20.01.22, 02:07 AM
|
---
Gorkha Janmukti Morcha leader Bimal Gurung has hinted at going alone in hill politics, one-and-a-half-years after dumping the BJP and joining hands with the Trinamul Congress.
Many hill politicians, however, consider the statement as a Freudian slip on Gurung's part.
"In 2021, we were in an alliance (with Trinamul in the Assembly polls). I had an axe to grind and the government (Trinamul) also had its own axe to grind. That is over, we have to do politics independently because I want the good of the hills, our people, business community and all," Gurung said while addressing supporters in Darjeeling.
Gurung, who had been in alliance with the BJP since 2009, snapped ties with the saffron party and joined hands with Trinamul on October 20, 2020.
Gurung's statement of going solo in politics is unambiguous but hill leaders, including some from his own party, said it was a Freudian slip. "If one is to closely go through the entire statement, it is clear that he starts his conversation by talking about working with the government before suddenly veering off to say that he wants to indulge in independent politics," said an observer.
Many also pointed out that just a few weeks back, Gurung's party had announced support to Trinamul in the upcoming Siliguri Municipal Corporation elections.
"Also, he has also talked about trying to rehabilitate Gorkhaland Personnel (the lathi wielding group formed by the Morcha during the 2007 statehood agitation) with the help of the state government," the observer said.
In the past, too, Gurung had been inconsistent with his statements. He also shared a blow hot and cold relation with Mamata Banerjee since she became the chief minister in 2011.
A central committee member of the Morcha said the "independent" politics issue had not been discussed in their meetings.
"However, any politician worth his salt in the hills understands that regional sentiments are very strong here and they will have to chart their own independent path to remain relevant in the long run," the Morcha leader added.
The leader also hinted that it was a Freudian slip by Gurung.
"The current political developments might be playing on his mind," the leader added.
After joining hands with Trinamul, Gurung has lost popular support if the 2021 Bengal election results are any indicator. Gurung's three candidates in the hills not only lost the elections but also came third in Darjeeling, Kalimpong and Kurseong.