Gold for the bold
Read more below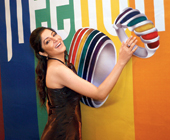 ---
---
Locket Chatterjee at the jewellery launch
If accessories are required to be a statement of the identity of the wearer, a city-based jewellery brand has a solution. Gold Factory has crafted a new form of expression for the LGBT community with a range of jewellery, appropriately called "Freedom".
The collection, launched on July 2 to celebrate the anniversary of the Delhi High Court verdict that read down Section 377 (IPC) and decriminalised gay sex, includes pendants, earrings, lapel pins, sari pins, dress pins, and cuff-links in triangular, square or heart shapes.
So what sets the range apart from jewellery from the mainstream community? They have the colours of "Freedom" or Rainbow flag (associated with the LGBT movement) enamelled on them. On offer is also a lambda locket (A Greek letter, adopted as a symbol of LGBT rights) commonly associated a gold pendant studded with six diamonds that has been designed in the form of the LGBT rights symbol. In the pipeline are ear studs, which have long been used style statement by gay people, with single stones set in gold, stone-studded silver tennis bracelets and charm bracelets. "I have many friends who are part of this community and I once saw one of them wearing a friendship band that she said she had picked up from abroad. That started me thinking, and I thought why not a special range of jewellery for them," says Brinda Ganguly Sirkar of Gold Factory.
The event, that was held at Middleton Chambers, was attended by psychiatrist Rima Mukherji, who spoke of the distress and fear of rejection that people from the LGBT community live with and the relief they felt after the verdict on Section 377. The collection was launched by actress Locket Chatterjee who described it as a "beautiful gift" for the community. Also in attendance was Arijeet, a member of the LGBT community who said, "Rainbow stands for colour and pride. Let's spread some colour." But if there is a separate range of jewellery for every identity, who should be next in line?
Last of the patuas
A pata painting by Bhaskar Chitrakar
The famous Patua Para in Kalighat may have once been the hub for pata chitra artists, men who painted on scrolls, palm leaves or earthen bowls, but now there's only one patachitrakar family there.
The erstwhile "chitrakars" have all turned idol-makers. The one family of pata painters have to multi-task, as pata artists and idol-makers. Maybe that's why the father-son duo from the family sign as both "Chitrakar" as well as "Pal" (the title most idol-makers share).
"Our family has been involved in pata painting since the time the pata painters of Midnapore shifted near the Kalighat temple to avoid religious conversion. In our voter's ID our surname is still Chitrakar. But to be part of the idol-maker's clan we use the surname Pal too," says Dulal Chitrakar alias Pal.
Kalighat pata paintings traditionally depicted social realities with sharp satire. In the 19th and 20th century, Kalighat pata paintings mainly showcased various aspects of the "babu culture", especially the "babu and bibi" (the gentleman and his consort) theme. Today what remains of Kalighat pata also features rape, neglect of parents, Mother Teresa and other contemporary issues or personalities.
The other pata tradition is rooted in Midnapore. This is becoming increasingly popular. The paintings found hanging in chic homes are usually purchased from Midnapore patuas in various fairs.
The Kalighat paintings are often costlier than the Midnapore patas, though both enjoy extensive patronage of NRIs and customers from other states.
Calcutta woman in role reversal
The Hindu Girl. (Samhita Chakraborty Lahiri)
A woman from Calcutta was marvelling at the fine craftsmanship of the statues at the Ashmolean Museum in Oxford city, the impeccable surroundings and tasteful displays of the works of art and pieces of history. The artefacts of the Indian Museum back home seemed meagre in comparison. But one little statue at the 300-year-old museum brought a smile to her lips — the bust of an Indian woman with her sari draped over her head, titled Hindu Girl.
This piece by Sir Richard Westmacott was pretty for sure, but what was striking was that it was a plaster cast of the original marble figure, erected in honour of a British merchant, housed in St John's Church in Calcutta.
Since Indian museums usually have to make do with replicas and loaned artefacts from European treasure troves, this little display seemed a tiny reversal of roles. Sadly, the woman got to know of the original in her hometown only after seeing its replica adorning a museum in a land thousands of miles away.
Raza comes to town
Syed Haider Raza
Syed Haider Raza, the current maharaja of the Indian contemporary art market (his Saurashtra fetched Rs 14.18 crore at the recent Sotheby's auction in London), lives in an ancient stone house at Charonne in Paris. He occupies two adjacent flats on the second floor of the building without a lift. His flat houses his spacious high-ceiling studio as well, where he paints early mornings, sleepless nights or any time of the day when he is up to it. His books, other publications and collectibles are scattered all over the living space.
Raza, who has been living in Paris for over decades, may be just two years short of 90, but he is still a natty dresser, padding about in Prada shoes, hosting dinner parties and going out when the occasion demands. A frugal eater he may be, but he loves his wine and dessert.
Little wonder he still paints with such energy. Over a dozen of his works on paper and canvas done between 2008 and 2010 are on exhibition at Akar Prakar. Interestingly, while Raza's work fetched astronomical prices at the international auction, prospective buyers may be delighted by the price tags of his current paper work.