GCPA protests 'removal' of Rajbanshi duo
ASI officials, when contacted, clarified that the duo were engaged not by them but by a contractor who was assigned with certain works at the site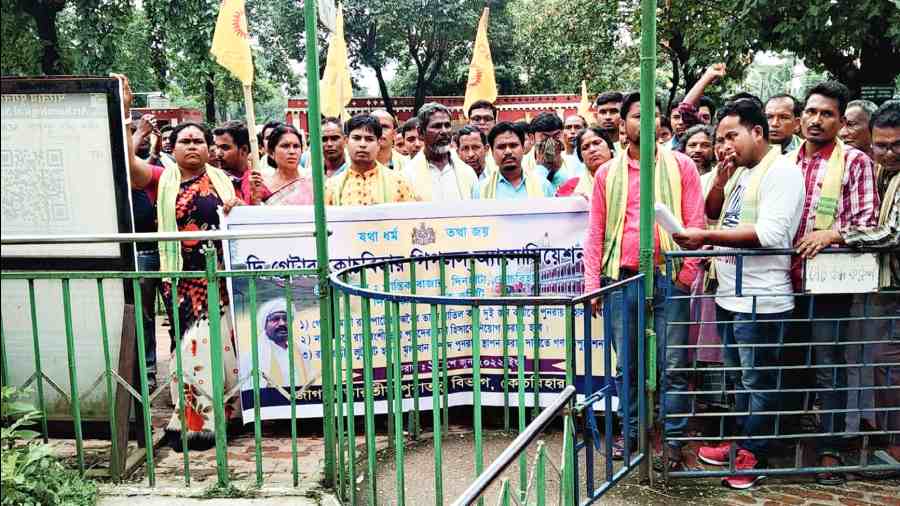 GCPA supporters demonstrate at the entrance to the royal palace in Cooch Behar on Monday.
Main Uddin Chisti
---
Cooch Behar
|
Published 21.06.22, 01:21 AM
|
---
Supporters of the Greater Cooch Behar Peoples' Association (GCPA) went up to the royal palace here on Monday and demonstrated for about an hour against the Archaeological Survey of India (ASI), alleging the "sudden retrenchment" of two Rajbanshi youths.
"Two youths of our community had been engaged at Gosanimari (a historical site in the district). However, both have been removed from their jobs suddenly. We protest against their sudden retrenchment and want them to be reinstated in their jobs," said Bikash Barman, a leader representing the GCPA faction led by Bangshibadan Barman.
ASI officials, when contacted, clarified that the duo were engaged not by them but by a contractor who was assigned with certain works at the site.
"As of now, the contractor is not carrying out the work in Gosanimari which is why they (the two youths) have been removed. In future, we will see to it that local youths are provided jobs at the site," said an ASI official.
Gosanimari, which is located around 30km from here, is a site maintained by the ASI. Excavations have been carried out at the location and a number of historical structures and artefacts have been found at the site  that is believed to be the citadel of the erstwhile Kamata kingdom.
In all, 250-odd GCPA supporters assembled in front of the palace on Monday, carrying banners and shouting slogans against the alleged retrenchment.
In course of their demonstration, they also repeated their demand of a C category state to Cooch Behar according to the merger agreement of 1949 and elaborated on the need for better conservation of the Gosanimari site.
As the demonstrations continued, representatives of the ASI asked them to send a delegation to the office. A team  met the ASI officials and submitted a memorandum.
"We want them to take necessary steps. We are against such a move as it has left Rajbanshi youths unemployed. Also, whenever there is an employment opportunity at the ASI sites of Cooch Behar, Rajbanshis should get preference," Bikash Barman added.
The GCPA, which was formed over the demand of a separate Greater Cooch Behar state, has two factions, one headed by Bangshibadan Barman and the other one by Ananta Maharaj.
Over the past few months, both the factions of the GCPA have intensified their political activities. They have been hosting rallies and public meetings at regular intervals and reasserting their demands.