Game of the name
Read more below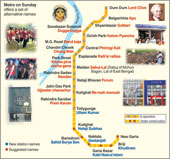 ---
Published 26.07.09, 12:00 AM
|
---
A rose can be called by any other name and still smell as sweet but rose has a nice ring in our ears. Just as Tollygunge does, conjuring up an area in our eyes. Uttam Kumar will do fine, too, though it reminds us not of studios that are mostly dead but of a superstar of yore whose memory is yellowing. Chances are you're liable to forget where you want to get off if you see Uttam Kumar on the route map.
Then why not Raygunge? After all, there's no one greater than Ray on the Bengali film firmament.
It took Sarathi Das, a woman in her 50s who does beauty treatment at clients' homes, quite a while to comprehend that the Metro station five minutes away from her home would not be called Briji any longer. "But that's what it is being called because it is so close to Briji Lane," she protested. The mention of Khudiram, the new name of the station suggested by the railway minister, cut no ice with her. She is happy that the Metro will cut her commuting cost to Tollygunge. Er, Uttam Kumar.
Artist Partha Pratim Deb, however, feels Mamata struck jackpot by renaming Tollygunge station after Uttam Kumar. "Nobody remembers freedom fighters. Their names are exploited," says this former teacher.
The new names for the four other Metro stations on the Garia extension are more arbitrary. Do we really identify Kudghat with Netaji Subhas, Bansdroni with Sahid Surya Sen, Naktala with Geetanjali, Garia Bazar with Kabi Nazrul Islam and Briji with Khudiram? These freedom fighters and poets — and one book of poems — are no doubt deserving of such honour, but the stations may feel a bit lost in their stardust-laden wake.
Original names are usually steeped in history with a story of its own to tell.
This is one reason human rights activist Maitreyee Chatterjee is dead against arbitrary rechristening. "Nobody calls Chowringhee Jawaharlal Nehru Road. Even Dharamtala's name remains unchanged to people," she exclaims.
Close shave. Thank ironclad habit, not the people.
Urban historian Debasis Bose has nothing against perpetuating the memory of celebs but worries that the new names will be misleading. Some old names already are.
"Netaji Bhavan is nowhere near the eponymous Metro station. The original Bhowanipore was more like it." Why dump Sutanuti on Sovabazar? Recording the change was a waste of public money, he said. There is also the potential danger that some visitor to the city will read about Sutanuti and hope to see it around Sovabazar. All this reinforces the utility of the geographical link of a station name.
Earlier, when the Calcutta-Digha Express was introduced, there was a move to name it after the freedom fighter of Midnapore, Matangini Hazra. But for some reason trains cannot be named after human beings, however great. So instead of Matangini Express it was called Tamralipta Express. This explains why there is no train named after the Father of the Nation, nor after Rabindranath Tagore. The names do not feature in station signs either. Santiniketan could be called Gurudeb but no one has thought of it yet.
Streets are the most convenient victims of politicians' rechristening zeal. Their names are changed from time to time, depending on the whims and fancies of the party in power and who it is trying to please. Convenience of the public or historical context be damned.
Perhaps such show of power comes naturally to the victor. After Siraj-ud-Doulah (also, delightfully, known as Sir Roger Dollar) sacked Calcutta and Fort William then situated on the site of the GPO, he renamed the burgeoning city Alinagar. Alipore still bears the burden of the pillage of Calcutta. It will until someone thinks of changing it.
Transport minister Subhas Chakraborty, whose party unleashed a bewildering flurry of street-name changes on this city, is not happy over the move to rename Garia Bazar Metro station Kabi Nazrul. He wants it to be named after Swami Pranabananda, the founder of Bharat Sevashram. The democratic way to do it is to hold a referendum in the area. No kidding.
The Tube in London is the oldest underground railway system that opened in 1863 and was one of the first to operate electric trains. It is the longest Underground route with 270 stations mostly named after the places they stop at, though there are wonderland exceptions like Elephant and Castle and Seven Sisters. The Underground in New York is no different.
British artist Simon Patterson has subtly parodied this matter-of-fact attitude. In 1992, he created the artwork, The Great Bear, which is lithograph on paper purchased by Tate Gallery. Using the official map of the London Underground, the artist replaced the names of stations with those of celebs and stars, politicians, actors and even philosophers. The Great Bear is, of course, the constellation Ursa Major, a direct reference to the "stars".
Bengalis love to flatter themselves that they have a lot in common with the French because, apparently, the French are also as much adda-loving as they are, conveniently forgetting that they are a lot else. It is also absurd to compare the Paris Metro with its 300 stations to the one in Calcutta with 17.
The architecture of some of Paris's elegant stations was inspired by the art deco movement, quite unlike our Metro stations, new and old, that resemble air-conditioned godowns. The walls of these storages are adorned with murals whose ugliness can be matched by none but the already existing Metro stations.
But the names of the Paris Metro stations are a mix of place names, neighbourhoods and landmarks plus names of celebrities and names of battles fought by France in the past. Many of these stations have been renamed, particularly after the world wars.
Academic Dhriti Kanta Lahiri Choudhury stresses the importance of the geographical link of a Metro station name. "Why not Jadubabur Bazar instead of Rabindra Sadan? Naming stations after great people does not boost their prestige."
It sinks history. Tollygunge is called so because it is named after the Englishman Colonel William Tolly who dug Tolly's Nullah. Garia's origins are less clear but a distortion of garh (fort) is a possibility. Call them something else and the bloodline disappears.
Just as has happened with street names. What is now Abdul Hamid Street in central Calcutta was renamed twice. In 1784 it was known as Raneemoody Gully, famous for its taverns and wine shops, for which it had found a name for itself in Girish Chandra Ghosh's play Prafulla. Later it became British Indian Street, and subsequently it acquired its current name.
Give us back our Raneemoody, the Capricious Queen, or whatever it means. We don't care so long as time past is present in time present.