Free-hearse plea to Mamata Banerjee
Jaykrishna Dewan and son had carried his wife's body on shoulders last week after failing pay money allegedly demanded by private ambulance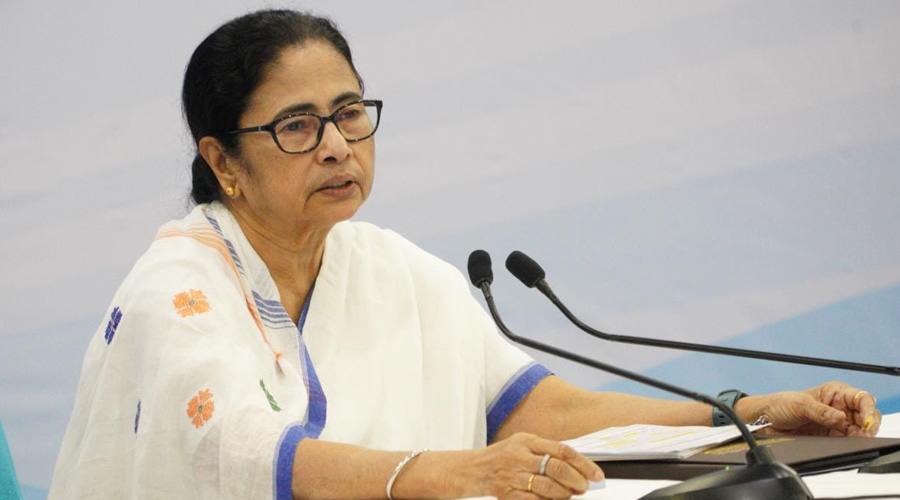 Mamata Banerjee
File picture
---
Jalpaiguri
|
Published 10.01.23, 04:09 AM
|
---
Septuagenarian Jaykrishna Dewan of Jalpaiguri district, who along with his son had carried his wife's body on his shoulders last week after failing to shell out money allegedly demanded by private ambulance drivers, has written to chief minister Mamata Banerjee requesting her to introduce a free hearse service for patients who die in the state-run hospitals.
"I have urged the chief minister to provide free transport for those who die in government hospitals and health centres across the state. Also, poor people like us will benefit immensely if patients once discharged get free ambulance service from hospitals to homes," said Dewan.
On Monday, Dewan reached Jalpaiguri town from his village in Kranti block, and went to the district collectorate to meet district magistrate Moumita Godara Basu. There, he submitted the letter to Mamata.
"We don't have any intention to malign the state government or any government institution. We simply could not meet the demand of ambulance drivers who had asked for Rs 3,000 and hence took the decision to carry my wife's body on our shoulders," Dewan said after submitting the letter.
He again said that on January 5, after his wife Laxmirani breathed her last at Jalpaiguri Medical College and Hospital, he and his son had requested the ward master for an ambulance.
"Those present there said they couldn't help. We then went to private ambulance drivers and offered Rs 1,200 that we had with us," said Dewan, who makes a living by selling earthenware in village markets.
The DM later said she would convene a meeting on Tuesday to discuss private ambulance fares.  
"We want to fix the fares of private ambulances vis-àvis the distance these vehicles travel to carry patients and bodies. The fare chart should be displayed openly to let people know so that no driver can demand any excess," she said.
Officials of the civil and police administration, district health department and representatives of ambulance owners and drivers will attend the meeting, said sources.
The Jalpaiguri medical college has set up a five-member committee to probe the case.           
"We are waiting for the report and will act on its recommendations. If we need to take steps against anybody, it will be done," said Kalyan Khan,  superintendent of the medical college.