Forest department officers in a fix on trapped tiger
Senior foresters said the big cat that had entered the human habitat on Monday was very old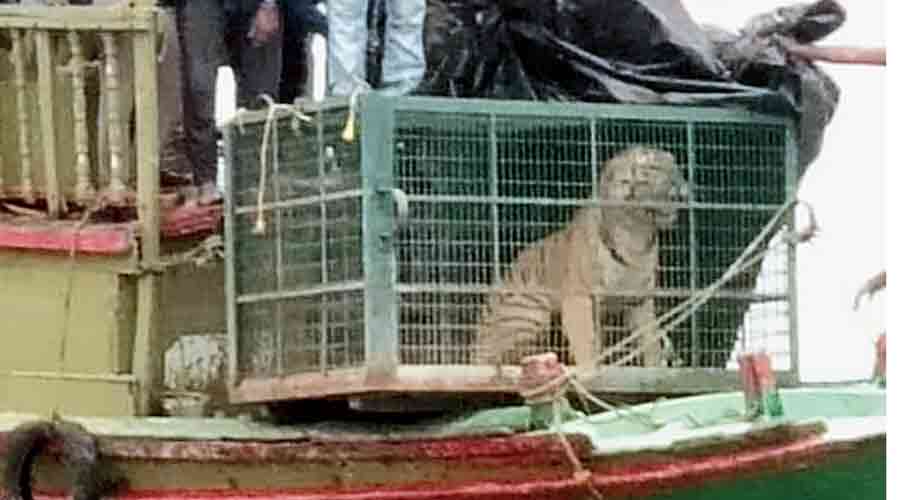 The tiger that was trapped at Mathurakhand village in Gosaba's Bali Island on Wednesday.
Hedaytulla Purkait
---
Bolpur(Birbhum)
|
Published 13.01.22, 03:57 AM
|
---
Forest department officers are in a fix whether a royal Bengal tiger that was caged early Wednesday morning at a Gosaba village would be rehabilitated in the core area of the Sunderbans Tiger Reserve (STR) or not.
Senior foresters said the tiger that had entered the human habitat on Monday was very old. They were observing its strength and behaviour to know if the animal  would fit inside the core area for its survival.
"The tiger is a male and around 10-11 years old when the average life of a big cat in the Sunderbans is around 14-15 years. In earlier cases, we had released all tigers into the reserve zones as they were much younger. But we are not taking such a decision easily. We are keeping the tiger trapped today under observation before deciding if it should be  sent  to rehab or released into the forest," said Justin Jones, the deputy field director of STR.
The royal Bengal tiger had entered Mathurakhand village of Gosaba's Bali Island late on Monday night and suspectedly killed three goats and a cow before moving into a nearby mangrove forest.
A team of foresters had surrounded the mangrove forest on Tuesday with nets and placed cages to trap the tiger. The tiger finally fell for the bait and was trapped early on Wednesday morning.
With the Bali Island incident, this was the third case of tigers entering human habitation in Gosaba in a span of 10 days. Primarily the foresters had a doubt whether the same tiger had entered the human habitat.
"We have closely observed the tiger by its stripes and confirmed that all the three animals were different. For tigers, stripes are the identification tool as all the animals have distinct design of stripes," said a senior forest official in STR.