Follower,yes man & leader
Read more below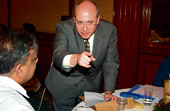 ---
---
Management guru Ira Chaleff. Picture by Aranya Sen
Courageous followers are not just implementers, they provide checks on the leader?s possible flaws, add new dimensions to define the company?s purpose and ensure better results all around. This revolutionary idea of the ?courageous follower? has been brought to Calcutta by management guru Ira Chaleff.
Chaleff, who has an intriguing theory that every corporate executive can be a successful leader as well as a follower, and collaborate for the common purpose of the organisation, was in Calcutta to conduct a two-day seminar, titled Building organisational excellence through leader-follower collaboration, at the Oberoi Grand, from October 21.
He said: ?We have the power to modify our own set of rules, which we live by. However, this is not an easy process. The rules have to be discovered first. The phenomenon of group thinking works against individual thought process.?
Author of the best-selling book The Courageous Follower, Chaleff believes that following the diktats of the leader is not enough, and does not absolve one of culpability. ?A follower is not the same as a yes-man. A follower has to have and share a common goal and commitment, to achieve the ultimate objective,? says Chaleff.
One of the most important points made by Chaleff was that no matter how much partnership and empowerment there is, the CEO of a corporate organisation has the ultimate authority and responsibility. However, in today?s fast-changing norms of corporate governance, new leadership styles, that are more democratic, are coming into existence. ?There is a clear difference between the period of dialogue and the period of implementation. Building an attitude to encourage divergent views is what should be encouraged,? remarked Chaleff.
Having coached executives of large American organisations, such as Arthur Anderson and NASA, Chaleff certainly had the attention of his audience. ?This is a novel concept of management, especially in team-building exercises. The corporate structure in India has not been conducive to independent thinking, so far. Hopefully, the mindset will change, along with the changing times,? said one participant.
With a large corporate attendance, Chaleff spoke warmly about Calcutta. ?It is a city with a great past and a fantastic future.?