Follow Bengal and stop lynchings, Mamata tells Centre
Mamata claimed the provisions of the The West Bengal (Prevention of Lynching) Act, 2019 would be sterner than the Indian Penal Code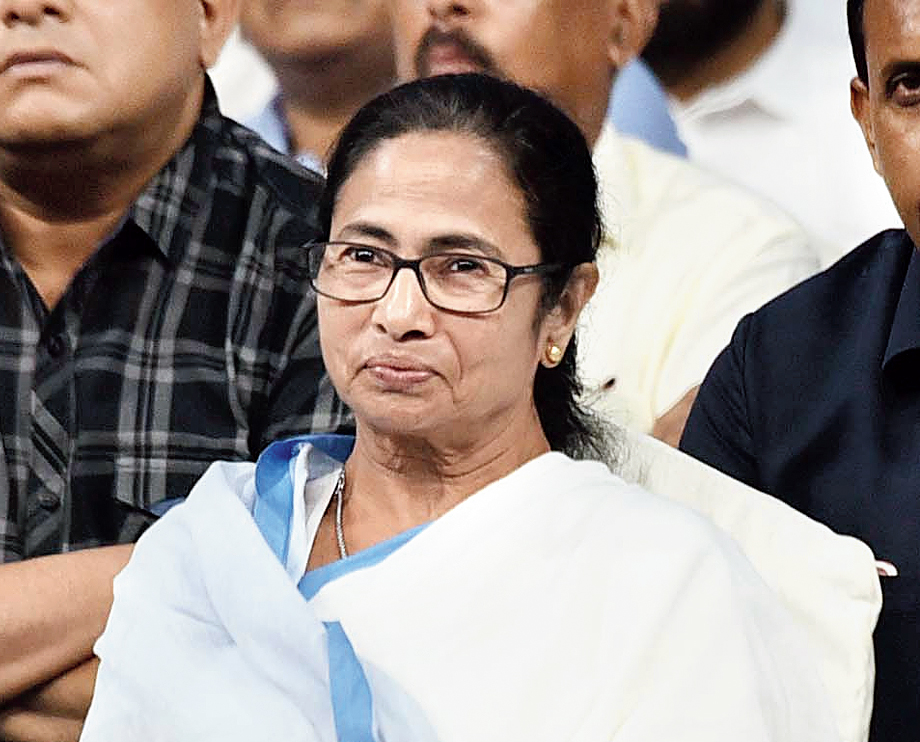 Mamata Banerjee
(The Telegraph file picture)
---
Calcutta
|
Published 30.08.19, 09:07 PM
|
---
Chief minister Mamata Banerjee on Friday urged the Centre and all states to pass laws to curb lynchings, calling it a "social evil" the Narendra Modi government should have tried to stamp out and issuing the appeal just before the Bengal Assembly passed a bill to check such incidents.
Introducing The West Bengal (Prevention of Lynching) Act, 2019, in the House on Friday, Mamata claimed its provisions would be "sterner than the Indian Penal Code".
"From pre-Independence times, Bengal has showed the way for solutions to complex problems. Bengal led from the front to have Sati outlawed. Today, Bengal is again the first state to introduce a bill against lynching…. I would appeal to the Centre and all other states to bring similar laws that will curb incidents of lynching nationwide," Mamata said.
"The Rajasthan Assembly had tried to pass a similar bill, but they had not sought the governor's consent before tabling it. We have done that," she added.
The Bengal Assembly passed the bill unanimously. For deaths, the punishment will range from rigorous life imprisonment to death, besides fines up to Rs 5 lakh. For injuries, the prison terms will be between three years and life, besides a fine of Rs 1 lakh to Rs 3 lakh.
The bill also prescribes strict penalties for aides and abettors, with maximum sentences of 10 years and fines of Rs 3 lakh. It lays down rules for police officers to monitor and prevent situations that could lead to lynching.
Mamata questioned the Centre's delay in taking up a similar initiative. "At a time the entire nation is condemning the heinous act of lynching, our otherwise verbose Prime Minister has spoken very little on this issue," the chief minister said, adding that the Supreme Court had in July this year urged Parliament to take action to prevent such incidents.
Speaking in the Rajya Sabha in June, Modi had condemned the lynching of Tabrez Ansari near Jamshedpur by a mob chanting Jai Shri Ram after the youth was accused of stealing a motorcycle. "If there had been a central bill against lynching, maybe we could have included some positive points into ours," Mamata said on Friday.
Mamata also alluded to the need to better document such crimes.
"There are no records tracking incidents of lynching across states. I checked the most recent National Crime Records Bureau report since 2017 but found nothing," she said.
Although Bengal has followed Rajasthan on bringing a bill explicitly against lynching, both states trail the initiative of Manipur, which had in December 2018 passed the Manipur Protection from Mob Violence Bill, 2018.
The bill provides for life terms for deaths. However, it didn't mention the word "lynching".