Fliers queue up for an hour at the Calcutta Airport
Three-point delay at international terminal, more chaos feared with new flights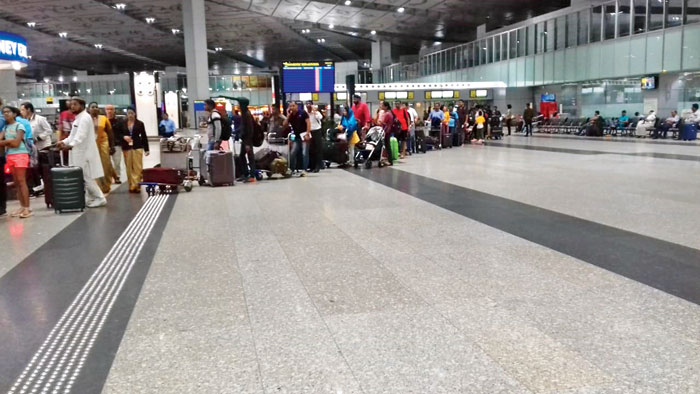 Passengers stand in a long queue at the city airport
Telegraph picture
---
Calcutta
|
Published 08.08.19, 08:59 PM
|
---
Taking an overseas flight from the city? Make sure you reach the airport with an extra hour in hand.

Temporary suspension of inline baggage scanning, coupled with shortage of manpower for immigration check and security check-in, have left passengers stuck in serpentine queues at the international terminal of the Calcutta airport.
Airline and airport sources blame the queues on lack of planning and infrastructure.
The problem is worse at night, when several flights take off back to back. There are 30 international flights from the city every day, nine of them between 11.50pm and 3.30am.
The rush could become even more chaotic later this month when more international flights are scheduled to take off. IndiGo, for instance, will add four more flights in the next few months.
"With additional flights, we are apprehending more congestion and have requested the departments concerned to increase manpower for
immigration and security check-in so that more counters can be operated," airport director Kaushik Bhattacharya said.
Metro takes a look at the problem points.
Baggage X-ray
International passengers now have to stand in an additional queue for scanning registered baggage because the inline baggage scanning system is being upgraded and therefore temporarily unavailable.
A Singapore-bound flyer had to wait in the baggage scanning queue for more than half an hour last week.
"It was a long queue and only one X-ray machine was operational. I was afraid I would miss the flight but thankfully after sometime, another machine was made operational," the passenger said.
There are three standalone X-ray machines in the international terminal but only one is operational at most times, airline officials said.
"One machine is reserved for Haj flights and another one for random checks by the Central Industrial Security Force (CISF). The one operated by the CISF is given to us on request when the queue gets too long," an official of an international airline said.
"Haj flights are planned in advance so the airport authorities should be ready to handle the rush," he said.
Airport director Bhattacharya said the inline baggage scanning has been upgraded and the authorities are waiting for clearance from a third party.
"Transportation Security Administration (TSA) of the US will check the system
later this month and give its clearance. We hope to reintroduce inline baggage scanning before Puja," Bhattacharya said.
All three portals will have inline baggage scanning.
Immigration
There are 28 immigration counters at Calcutta airport's departure level but airport officials said only 14 are operation, leading to long queues at peak hours.
"We have requested the immigration authorities to increase manpower so that more counters can be operated and the congestion cleared," said a senior airport official.
With flights to Hong Kong, Vietnam, China and Myanmar being launched over the next few months, immigration queues would get longer, airport officials said.
Immigration officials blamed lack of planning by the airport authorities for the chaos.
"Calcutta has far fewer international flights compared to other metros such as Mumbai or Delhi. So, the home ministry deploys fewer personnel here. But the congestion is because there are too many flights around the same time. If the airport authorities keep this in mind while allotting flight slots, the problem can be resolved," a senior immigration official said.
He, however, said more manpower would be deployed once the additional flights became operational.
Airlines officials pointed out most international flight take off at night because of convenient arrival around the world.
Security check-in
Chaos prevails at the security check-in counters as well, especially at night.
One of the three X-ray machines for hand baggage scanning has been lying defunct.
"We have asked the airport authorities to provide a machine," said the official.
There are four frisking booths for men and two for women, which is at times inadequate, passenger allege.
A CISF officer said more counters can be opened if space is created.