Flash floods hit Jalpaiguri after heavy monsoon downpour
The stream Sukhani has washed away a makeshift bridge and damaged a culvert at Manmohandhura locality in the Nagrataka block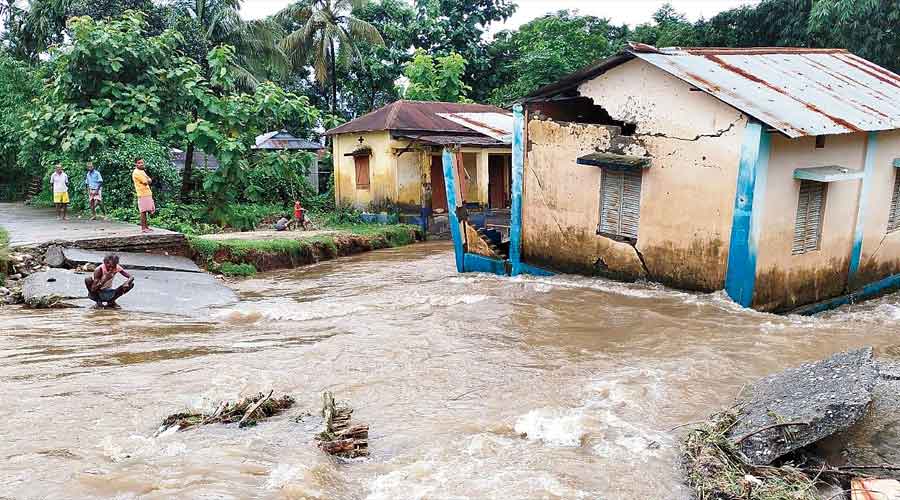 ---
Jalpaiguri
|
Published 27.08.21, 02:58 AM
|
---
Heavy monsoon downpour led to flash floods in Nagrakata block of Jalpaiguri district on Thursday, snapping connectivity between the block headquarters and a number of villages.
Sukhani, a stream flowing through Nagrataka block, has washed away a makeshift bridge and damaged a culvert at Manmohandhura locality in the block. The stream's impact also caused cracks to appear on an anganwadi and a Sishu Siksha Kendra in Manmohandhura and is flooding the area in full force.
"It started raining heavily since Wednesday morning, with many streams across Nagrakata block, including Sukhani, swelling. This morning (Thursday), we found the makeshift bridge has been washed away. Around 50,000 people of different villages of Sukhani and Sulkapara panchayats and some adjoining tea gardens move through Manmohandhura to the block headquarters. That direct connectivity has snapped," said Feroze Nur Patowari, the chief of Nagrakata panchayat samiti.
Sources at the Indian Meteorological Department (IMD) said that in past 24 hours till 8.30am on Thursday, it rained around 80mm in Nagrakata.
"The southwest monsoon is active across north Bengal. There is forecast of more rainfall in the region during next three-four days," said a weather expert.
Residents of Manmohandhura said they have time and again demanded a permanent bridge over Sukhani.
"However, our elected representatives have not listened to our requests over the years. Also, no anti-erosion work has been done on the banks and hence these two buildings (anganwadi and Sishu Siksha Kendra) got damaged," said Apu Hossain, a youth of the area.
With roads being flooded, residents are taking risky detours via farmlands to go to the highway or to the block headquarters.
"We had to trudge through muddy fields to reach NH31 and enter the block headquarters," they said.
Sources in the block administration said they had prepared an estimate for a permanent bridge over Sukhani.
"The estimate has been sent to the district administration. Once we get approval, work will start through proper process," said a source.